www.grand-slam.nl
Baseball
Headlines
Compiled and Copyright © 1997-2017 by Marco Stoovelaar

(Story & Photos by Marco Stoovelaar)

Hoofdorp Pioniers moves closer to qualifying for Championship Pool; Jeffrey Arends honored
Nederlands



HOOFDDORP (Neth.) - Hoofddorp Pioniers recorded a convincing 11-1 victory in eight innings on Saturday (June 24) against DSS, which has now lost six consecutive games. On Thursday, Pioniers won the opener of the series with a 12-0 score in seven innings. The series ends on Sunday in Haarlem.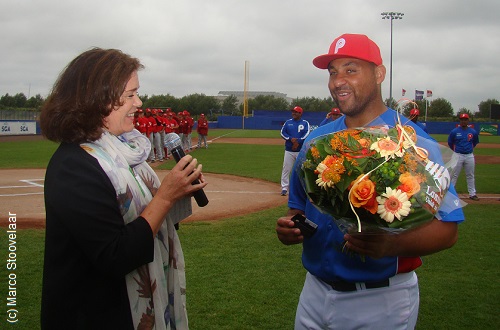 ...Pioniers first baseman Jeffrey Arends is decorated...
...by KNBSB-boardmember Petra Arends...
(© Photo: Marco Stoovelaar)

Before today's game, Pioniers-player Jeffrey Arends was honored. Recently, the veteran first baseman played in his 500th career-game at the highest level. When players reach that level, they will be honored by the Royal Netherlands Baseball and Softball Association (KNBSB). Before the game, the players of both teams were introduced and lined up on the base-lines. Jeffrey Arends was then decorated by Petra Arends (no family), who is the KNBSB-boardmember for Softball Affairs. Arends made his debut in the highest division in 2003 playing for Neptunus. In his career, he also played for Sparta-Feyenoord, Kinheim and last season for Twins.

Pioniers collected 16 basehits today, including four by Joey Eeman, who also scored once and batted in two runs. Eeman hit a basesloaded, walk-off single that made it a 10-run difference in the bottom of the eighth inning to end the game. Eeman is the fifth player of Pioniers since May 28 to register four basehits in one game. The others were Mervin Gario (May 28), Shurman Marlin (June 3), Mark Smit (June 3) and Dudley Leonora (June 22).

DSS had six basehits today, including three by Koen Halderman.

Despite the loss, DSS still has a small chance of reaching the top-4, but in order to do so, it has to win Sunday's game against Pioniers. When DSS ends up empty-handed again on Sunday, it will be eliminated for the Championship Pool.

With today's win, Pioniers moved closer to qualifying for the Championship Pool. Theoretically, both DSS (5th place) and Pickles UVV (6th place) can still end above the Hoofddorp-team. De Glaskoning Twins (7th place) today became the first team to be eliminated. When Pioniers also wins on Sunday, DSS will be eliminated. UVV then will be the lone team to move ahead of Pioniers, but has to win all remaining nine games of the regular season, while Pioniers has to lose all their remaining ten games. In case, Pioniers and UVV end up in a tie for fourth place, Pioniers will advance based on the record of the head-to-head games, which is 5-1.

The earliest date that the decision for fourth place can fell will be Thursday, July 20. After Sunday's games, the season will be interrupted for the World Port Tournament. The season then resumes again on July 13 with a series between L&D Amsterdam PIrates and Curaçao Neptunus. The other teams resumes their season a week later.

(June 24)

Pioniers open the score with two runs in the bottom of the first inning of the game that was played with some strong winds. With one out, DSS-starter Lars Vogelaar gave up singles to Mervin Gario and Dudley Leonora. With runners at the corners, the latter advanced on passed ball, but then was eliminated trying to advance on a grounder by Jeffrey Arends. In this situation, Gario scored the first run, which earned Arends his 350th career run batted in. Hereafter, Arends went on to score himself on singles by Shurman Marlin and Glenn Bakker.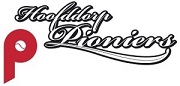 In the top of the second inning, DSS cut the deficit in half off of starter Chris Pfau. DSS got the bases loaded when Tino van Erk led off with a walk, Djewi Appelman singled and Omar Williams also walked. With one out, Van Erk scored on a wild pitch, but Pfau then closed the at bat with two strikeouts. For DSS, this would be its lone run in the game.

Pioniers left a runner behind on third base in both the second and third inning, but then rallied for four runs in the fourth to take more distance. Max Draijer led off with a double and scored on a following single by Sander Paap. The bases then got loaded when Joey Eeman also singled and Brennan Nijhof walked. A force play at the plate followed and another force play was made on a grounder by Dudley Leonora, but that also brought in a run. With runners on first and third base, Leonora stole second base and when a throwing error followed, Nijhof scored. Moments later, Leonora scored the next run when a balk was called.
Pioniers added another run in both the fifth and sixth inning. In the fifth, off of new pitcher Gijs Timmer, Glenn Bakker singled and went on to score on a 2-out single by Joey Eeman. In the sixth, Tim Halderman took over the pitching for DSS. He walked Dudley Leonora with one out, then gave up a ground-rule double to Jeffrey Arends and a sacrifice fly by Shurman Marlin that made it an 8-1 score.
After giving up the run in the second inning, Chris Pfau got several baserunners in the following innings, but all stranded or were eliminated. The lefthander gave up a 2-out single to Koen Halderman in the third and a 2-out ground-rule double to Sven van de Sanden in the fourth. In the fifth, DSS again reached base with two outs when Odion Gouverneur singled and Koen Halderman doubled. In the sixth and seventh inning, Pfau was supported with a double play.
Leading 8-1, Pioniers reached the 10-run difference in the bottom of the eighth. The DSS-defense first turned a double play, but hereafter, Tim Halderman gave up a single to Jeffrey Arends and walked Shurman Marlin. A runscoring single by Mark Smit and an RBI-double by Gianni Frolijk followed to make it a 10-1 score. The bases got loaded when Sander Paap walked and Joey Eeman then delivered a walk-off single that made it 11-1 and ended the game.

...Game-officials Rienette Hamers (Play-by-Play Scorer), Peter de Haan (1B Umpire), Edwin Louisa...
...(Home Plate Umpire), Guus Slauerhof (Technical Commisioner), Jos van Eijsden (3B Umpire) and...
...Leo van den Brun (Official Scorer) pose together before the game, all wearing this years new official-polos...
...Left: Jeffrey Arends greets the spectators when he is introduced...
...Right: Pioniers-starter Chris Pfau delivers a pitch...
(© All Photos: Marco Stoovelaar)
Hoofddorp Pioniers - DSS 11-1 (8 inn.)
R
H
E
DSS
010
000
00
-
1
6
2
Hoofddorp Pioniers
200
411
03
-
11
16
2
(two outs when 10-run difference was reached in the eighth inning)
pitchers DSS
inn.
SO
BB
H
R
ER
Lars Vogelaar, L (1-3)
4
3
2
8
6
4

---

Gijs Timmer
1
-
1
2
1
1

---

Tim Halderman
2.2
-
3
6
4
4

---

pitchers Pioniers
inn.
SO
BB
H
R
ER
Chris Pfau, W (3-2)
7
7
2
5
1
1

---

Darryl Jamoena
1
1
-
1
-
-
Umpires:
HP-Edwin Louisa, 1B-Peter de Haan, 3B-Jos van Eijsden.
Official Scorer-Leo van den Brun.
Play-by-Play Scorer-Rienette Hamers.
Technical Commissioner-Guus Slauerhof.
Public Address Announcer-Hans Heil.
Scoreboard Operator-None (scoreboard didn't work as it was struck by lightning on Thursday).
Starting Time-2:00 PM.
Time Played-2:26 hrs.
Site-Pioniers Honkbalstadion, Park21, Hoofddorp.

Game Notes:


Before the game, Jeffrey Arends (Pioniers) was decorated by KNBSB-boardmember Petra Arends for recently playing his 500th game in the Dutch big league.
Weather conditions at game time: Cloudy, 18,3° C (64,9° F); wind direction southwest;
wind speed 32 kmh (19,5 mph); wind force 5 Bft; humidity 81%.

Thank you for visiting this site.
Mail your suggestions and questions to stoov@wxs.nl
Copyright © 1997-2017 Marco Stoovelaar / Grand Slam * Stats & News.