The first seven innings of the attractive game were a pitching-duel between Kaj Timmermans and Elton Koeiman. There was only one strikeout (thrown by Timmermans), but both starters did well and got the defensive support they needed. Timmermans gave up only three hits, while Koeiman gave up six basehits. In these seven innings, both teams scored twice, resulting in a 2-2 tie when the eighth inning began.

In the bottom of the first inning, HCAW opened the score off of Koeiman. With two outs, the veteran righthander gave up a triple to Vince Rooi, who then scored on a following single by Rossini Frolijk.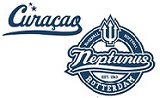 Neptunus came alongside in the top of the second inning off of Timmermans. Dwayne Kemp led off with a double, advanced on a grounder by Gianison Boekhoudt, then scored in a close play at the plate on a fielder's choice-grounder by Gregory Muller to third base.
In the bottom of the second inning, HCAW re-took the lead. With two outs, Koeiman again gave up a triple, this time to Kevin Dirksen, who then scored when next batter Boyd Tuhumury doubled.
Neptunus again reacted with a run in the next at bat to make it a 2-2 score. With one out, Stijn van der Meer singled and Benjamin Dille walked. Van der Meer then advanced to third base when Dille was forced out on a grounder by Christian Diaz. Moments later, he scored on a single by Dwayne Kemp, but Neptunus then stranded two runners.

In his next five innings, Koeiman gave up only two basehits to HCAW, which got into scoring position only once. From the second inning on, Koeiman retired nine batters in a row. With two outs in the fifth, he gave up a single to Roelie Henrique, whole stole second base, but then was left behind. With two outs in the seventh, Koeiman gave up a single to Raoell Kortstam, but he was caught stealing moments later.
Timmermans retired the side three times from the fourth through seventh inning. In the sixth, he walked Christian Diaz, who was forced out on a grounder by Dwayne Kemp. Shortly hereafter, Kemp stole second base and moved to third base on a grounder, but also stranded.
Neptunus then decided the game in the eighth inning, just as it did in the opener on Thursday-evening. In the eighth, Timmermans walked lead-off hitter Stijn van der Meer, who moved on a sacrifice bunt by Benjamin Dille and a grounder by Christian Diaz. Hereafter, Dwayne Kemp walked and stole second base. With first base open, a force play was created by walking Gianison Boekhoudt intentionally, which loaded the bases. On Thursday, Neptunus also did its scoring after Boekhoudt had been walked intentionally. With the bases loaded, a pitching change followed, as Oscar Meuris took over from Kaj Timmermans. Meuris was greeted with a 2-run double by Gregory Muller, just out of reach of centerfielder Raoell Kortstam, that put Neptunus ahead, 4-2.
Neptunus added an insurance run in the ninth, Daniel Fernandes led off with a walk, stole second base and advanced when a throwing error followed. With one out, Fernandes tried to score on a grounder by Stijn van der Meer to second base, but was elimimated at the plate. After Benjamin Dille had walked, Van der Meer scored on a single by Christian Diaz to make it a 5-2 score.
With a 4-2 lead, Misja Harcksen took over for Elton Koeiman in the bottom of the eighth. With one out, he gave up an infield-hit to Dylan Koster on a ball that changed directions after hitting the pitching plate. With two outs, Rossini Frolijk also singled, but both runners were left behind.
In the ninth, Harcksen retired the side to earn his fourth save of the season. With this, he shares the league-lead with HCAW-closer Sedley Karel.
Elton Koeiman earned his seventh victory of the season and shares the lead in this category with another veteran, Rob Cordemans of L&D Amsterdam Pirates. It is a remarkable fact that these two pitchers are leading in wins, as Koeiman is 44 years old and Cordemans is 43!