Before the game, there was a special moment. Starting pitcher Orlando Yntema was back in uniform again with Neptunus, as he also was a week ago. Before the start of the season, Yntema battled with health problems, was hospitalized, underwent surgery and is now recovering. Today, Yntema was honored by his club.

Neptunus opened the score off of starter Ian Delemarre in the bottom of the first inning, scoring an unearned run. Lead-off hitter Stijn van der Meer reached on an error, moved to third base on a single by Benjamin Dille, then scored when the latter was forced out on a grounder by Christian Diaz.

Neptunus added two runs in the second at bat. Gianison Boekhoudt led off with a walk, Gregory Muller followed with a single and next batter Ruar Verkerk delivered a 2-run double. With one out, Shaldimar Daantji reached on an error. Neptunus left two runners behind, but taken an early 3-0 lead.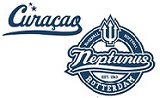 HCAW got a chance to open the score in the top of the first inning off of starter Kevin Kelly. With one out, Roelie Henrique singled, stole second base and advanced on an error, but was left behind.
After leaving a runner on first base in the second inning, HCAW came alongside in the third at bat. Raoell Kortstam led off with an infield-hit and Roelie Henrique walked with one out. Vince Rooi followed with a 2-run double. The veteran powerhitter moved to third base on an infield-hit by Rossini Frolijk, then scored the tying run on a force play-grounder by Kevin Dirksen.
After Neptunus had left two runners behind in the bottom of the third, HCAW added two more runs in the fourth to take a 5-3 lead. With two outs, Raoell Kortstam and Delano Selassa both singled. Kortstam then scored on a single by Roelie Henrique, which led to runners at the corners. Moments later, Henrique stole second with the pitch ending in a passed ball. Catcher Gianison Boekhoudt and pitcher Kevin Kelly didn't react immediately and that enabled Selassa to score from third base.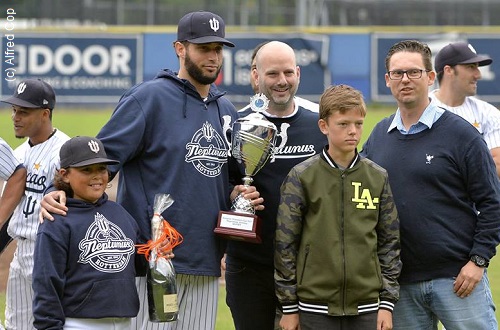 ...Neptunus-pitcher Orlando Yntema, who recently returned...
...back in uniform, is honered before the game...
(© Photo: Alfred Cop Fotografie)

Kelly retired the side in the fifth, walked a batter in the sixth, but didn't encounter further problems.

Trailing 5-3 in the fourth, Daniel Fernandes led off for Neptunus with a single, but was eliminated when a line drive from Shaldimar Daantji ended in a double play. Stijn van der Meer followed with a triple, but was left behind. Neptunus stranded a runner on second base in the fifth.

The home team then scored three unearned run in the bottom of the sixth on two costly errors. Giovanni Tensen took over the pitching from starter Ian Delemarre. He saw lead-off hitter Ruar Verkerk reach on an error, then walked Daniel Fernandes. The bases got loaded when another error followed on a sacrifice bunt by Shaldimar Daantji. Hereafter, Stijn van der Meer flied out, which would have been the third out. But now, it became a sacrifice fly, as Verkerk scored. Benjamin Dille followed with a runscoring single that made it a 5-5 tie. Neptunus then took a 6-5 lead on a sacrifice fly by Christian Diaz.

In the final three innings, the HCAW-bullpen held Neptunus scoreless, while the offense of the Bussum-squad turned the game its way from the eighth inning on.

In the top of the seventh, with Neptunus leading 6-5, Roelie Henrique led off with a bunt-single. After next batter Vince Rooi flied out, Loek van Mil took over the pitching from Kevin Kelly. A week ago, Van Mil made his first appearance of the season after recovering from a hernia-injury and had a rough outing. In today's appearance, he struckout the first batter he faced, then got a grounder from the next one.

In the bottom of the seventh inning, Moreno Vork became HCAW's third pitcher in the game and retired the side.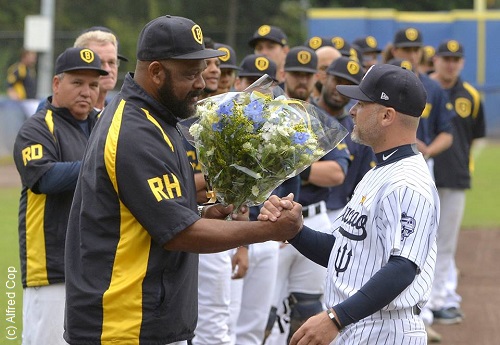 ...HCAW's Head Coach Roeland Henrique congratulates...
...Neptunus' Head Coach Ronald Jaarsma with the recent...
...winning of the European Champions Cup...
(© Photo: Alfred Cop Fotografie)

Still with a 6-5 lead, Misja Harcksen became the new pitcher for Neptunus in the top of the eighth inning. He walked lead-off hitter Kevin Weijgertse and then allowed him to reach third base on a wild pitch. Next batter Rachid Engelhardt reached on a fielder's choice that kept Weijgertse at third base. The bases got loaded when Harcksen also walked Rowan van Hoek, which led to a pitching change. Berry van Driel took over and got a foul-out from the first batter he faced. Hereafter, Dylan Koster reached on an infield-hit, which might have been a force play at the plate. While trying to field the ball, Van Driel slipped and with that Koster reached first base safely, Weijgertse scored the tying run and the bases remained loaded. The inning ended when Roelie Henrique grounded into a double play, but it had become a new ball game.

Tim Niekerk took the mound for HCAW in the bottom of the eighth. He walked lead-off hitter Daniel Fernandes, but then retired the next three batters. Moments later, Niekerk became the winning pitcher, as HCAW staged a 5-run rally in the top of the ninth inning.

Vince Rooi led off the ninth with a double, then Kevin Dirksen was walked intentionally with one out. The bases got loaded when next batter Kevin Weijgertse received a 'normal' walk. Neptunus struck in the eighth inning on both Thursday and Saturday after an intentional pass, HCAW now did it in the ninth. With the bases loaded, Van Driel gave up a 2-run single to Rachid Engelhardt that made it an 8-6 score. With two outs, the next run was scored on a single by Boyd Tuhumury. Next batter Dylan Koster also delivered a runscoring single and when an outfield-error followed, another run was added to make it an 11-6 score.

The 5-run difference was threatened in the bottom of the ninth inning, as Neptunus got the bases loaded. Closer Sedley Karel took over the HCAW-pitching in this at bat, but he walked Dwayne Kemp and Gianison Boekhoudt with one out. The bases got loaded with two outs when Karel also walked Ruar Verkerk. He was then relieved by Oscar Meuris, who struckout Daniel Fernandes to end the game and earn a save.