(Story by Marco Stoovelaar; Photo by Henk Seppen)




Jurickson Profar, Spencer Kieboom play first game; Juremi Profar added
Nederlands







FORT MYERS / SARASOTA / TAMPA, Florida / GOODYEAR / MESA / SURPRISE, Arizona (USA) - On Sunday (February 26), infielder Juremi Profar was assigned to the main-squad of the Texas Rangers for today's exhibition game. He didn't play, but his older brother Jurickson Profar played in his first game of the Spring Training-season. Profar was one of six players from the Netherlands who got into action on Sunday.
At Tampa, Didi Gregorius was the starting short stop for the New York Yankees in a home-game against a split-squad of the Toronto Blue Jays. The Yankees won 7-2 on only five basehits, including a 3-run homerun by Starlin Castro and 2-run homerun by non-roster player by Billy McKinney. The two Toronto-runs were scored on a homerun by Jarrod Saltalamacchia. Gregorius was 0-for-2.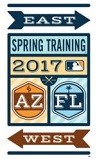 At Fort Myers, Minnesota Twins won 5-2 against Washington Nationals. American-born Dutch catcher Spencer Kieboom took over the catching for Washington in the bottom of the fifth inning. He walked with two outs in the sixth inning, but was left behind. Kieboom grounded out in the eighth inning. German Max Kepler started in rightfield for the Twins and was 0-for-3, but batted in a run.
At Sarasota, Jonathan Schoop was the starting second baseman for Baltimore Orioles in the game against Pittsburgh Pirates. He batted 1-for-3 in the 8-3 victory for the O's, who broke a 3-3 tie with a 5-run rally in the seventh inning. In the second inning, Schoop doubled with one out and scored on a 2-out single by Hyun Soo Kim, which gave Baltimore a 2-1 lead. Schoop struckout in the fourth inning and grounded out in the sixth.
At Goodyear, San Francisco Giants won 9-5 at Cincinnati Reds. San Francisco trailed 4-2 after two innings, then rallied for four runs in the third and added two more in the fourth. In the bottom of the seventh, Shawn Zarraga entered the game as pinch-hitter for the Reds and struckout. Zarraga became the new designated hitter and got his second at bat in the ninth. With one out and a runner on first base, Zarraga grounded into a double play that ended the game.
At Mesa, Los Angeles Angels of Anaheim won 5-3 at Oakland Athletics. The Angels broke a 2-2 tie with a 3-run rally in the seventh inning. Andrelton Simmons was the starting designated hitter for the Angels and was 0-for-3 with one strikeout.
(February 26)
Related Articles:


Daniel Arribas & Chris Pieters make Spring Training-debut. (February 25)


Didi Gregorius homers in first Spring Training at bat. (February 24)


Xander Bogaerts first Dutch player in Spring Training-action. (February 23)