The first three innings went by quietly for the Revolution Team. Roelie Henrique led off the first inning with a single, but was eliminated in a double play. The team was then retired in order in the next two at bats.

Revolution then opened the score in the bottom of the fourth inning off of Kenimar Martina, who had relieved starter Ruderly Manuel in the third inning. In the fourth, Roelie Henrique led off with a walk. He was then awarded second base on a balk and scored on an one-out single by Danny Rombley. This would be the lone run for the Revolution Team tonight.
In the fifth, with one out, Kevin Dirksen was hit by a pitch and next batter Shurman Marlin walked. The two advanced on a grounder, but then were left behind.
In the sixth, with one out, Danny Rombley reached second base on a throwing error, but also stranded.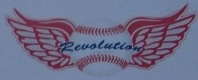 Revolution-starter Nick Keur got several baserunners, but held Curaçao scoreless. The lefthander was supported with a double play in the first and third inning. In the first four innings, Curaçao left three runners behind in scoring positon.
In the top of the fifth, Keur gave up a lead-off double to Rojean Cleofa. After he moved to third base on a sacrifice bunt, Keur was relieved by Reggie Bomberg. He retired the next two batters to end the inning. In the sixth inning, Bomberg also was supported with a double play.
Still leading only 1-0, Glenn Wassink took over the Revolution-pitching in the seventh. He walked Ulrich Snijders and Rojean Cleofa, who then moved into scoring position on a sacrifice bunt by Dennis Gustina. With first base open, Raywendly Van Gurp was walked intentionally. His sister Suka Van Gurp is currently participating with the Netherlands Softball Team in the European Softbal Championship in Italy. With the bases loaded, Wassink was relieved by Maickel Rietel. The righthander was greeted with a 2-run single by Denzel Richardson that gave Curaçao a 2-1 lead. The next run was then added on a sacrifice fly by Ardley Jansen and a double by Johnny Gregorius lifted the lead to 4-1. Gregorius is the brother of New York Yankees-short stop Didi Gregorius. Their father Didi Gregorius (Sr.) is the Pitching Coach of Team Curaçao.
Now trailing 4-1, Team Revolution got on base again in the bottom of the seventh. Linoy Croes led off with a single and stole second base. With one out, Daniel Fernandes walked, but a flyout and force out followed.
Before the game, it was agreed to play only seven innings, but Curaçao got one more at bat in the eighth and then was retired in order.