(Story by Marco Stoovelaar)

HCAW wins Ringvaart Tournament after Day 2 rains out
Nederlands



HEEMSTEDE (Neth.) - HCAW was declared winner of the annual Ringvaart Tournament on Sunday (April 1) after all three games scheduled for today were canceled due to weather and/or field conditions.
HCAW recorded two wins on Saturday, beating Hoofddorp Pioniers 3-0 and then host RCH-Pinguïns 4-3.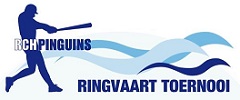 Today, the three teams were to meet each other again and play two more games each. Unfortunately, rain early in the morning made the field unplayable, resulting in the cancelation of the first game between Hoofddorp Pioniers and RCH-Pinguïns. As the field remained unplayable, shortly thereafter, it was decided to also cancel the remaining two games of the event.
With that, HCAW became the winner of the event based on Saturday's results. Pioniers finished in second place and RCH-Pinguïns followed in third position.
For RCH-Pinguïns, this ended its exhibition season. The team opens its new season in the second highest league ('Overgangsklasse') next Saturday at home against The Hawks.
Coming weekend, HCAW plays two exhibition games against Silicon Storks, while Pioniers will play two games against DSS. They will open their new season in the big league on Thursday, April 26.
(April 1)
Scores
Complete Schedule Exhibition Season & Regular Season
Related Articles:


Twins records two victories on Day 2 in Enschede. (March 31)


HCAW wins twice on 1st day Ringvaart Tournament. (March 31)


Tex Town Tigers loses opener Mastenbroek Tournament. (March 30)


Busy Easter-weekend ahead for baseball and softball. (March 29)


Omron Pioniers finishes 2nd in international tournament. (March 25)


Hoofddorp Pioniers wins Van de Vegte Memorial Tournament. (March 25)


Neptunus shuts out Brno in final game. (March 25)


Quick Amersfoort shuts out DSS in second game. (March 25)


Storks suffers first loss of exhibition-season. (March 25)


Neptunus empty-handed against Draci Brno. (March 24)


Hoofddorp Pioniers splits on Day One in Nijmegen. (March 24)


Amsterdam Pirates comes from behind to win vs. Twins. (March 24)


DSS nips Quick Amersfoort in exhibition-opener. (March 24)


Final exhibition game on Sunday also cancelled. (March 17)


Nine of ten exhibition-games coming weekend cancelled. (March 16)


2nd exhibition game between Neptunus and Storks cancelled. (March 11)


Storks opens exhibition season with win vs. Neptunus. (March 10)


First Dutch exhibition baseball-games-cancelled. (March 2)