(Story by Marco Stoovelaar)



Neptuns wins North Sea Cup
Nederlands



THE HAGUE (Neth.) - On Sunday (April 1), Curaçao Neptunus won the 2-day international tournament of the North Sea Cup, which was organized for the third consecutive year by Storks in The Hague.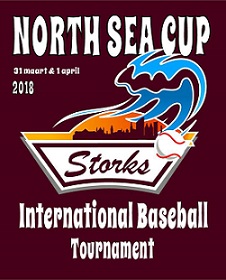 Last year, Neptunus also won the event when it was called North Sea Cup for the first time. In 2016, Storks organized the first edition under the name of The Hague Baseball Days. Due to weather conditions, several games had to be cancelled then and no winner was named for the first edition.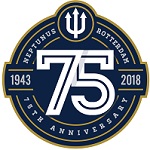 On Saturday, Neptunus, which celebrates its 75th anniversary this year, opened the tournament with a 6-0 shutout-win against host Silicon Storks. In that game, Diegomar Markwell went the distance for Neptunus in the 6-inning game. ,,We hit very well in this game and Diego was sharp, he threw good'', Neptunus' Head Coach Ronald Jaarsma looked back. Darryl Jamoena started for Storks, threw three innings and gave up two runs. He was relieved by Nick Winkel (2 innings, one run) and José Moreno (1 inning, 3 runs). In this game, 17-year old Joel Hernandez made his debut in the Neptunus-squad and did the catching. He was with the team several times last season as the bullpen-catcher, but today, he played. Hernandez, who played for Unicorns, was added to the squad for this tournament, as Gianison Boekhoudt is currently injured. Boekhoudt, who shares the catching-duties with Quintin De Cuba, sustained a shoulder-injury a few days ago while at work. It is hoped that the injury is minor. Jaarsma: ,,We hope he will be back within two or three weeks, but out of precaution, he didn't play this weekend and we took Hernandez with us".
In the second game, Rouen Huskies from France won 6-1 against Mortsel Stars from Belgium. Hereafter, the French squad nipped Neptunus with a 2-1 win. Orlando Yntema started for Neptunus. The righthander threw three innings in which he gave up one run. Jaarsma: ,,Yntema is still throwing on a pitch-count of around 45, so we took him out after three innings''. Berry van Driel took over and threw one scoreless inning. With the score at 1-1, Loek van Mil took over in the fifth inning and gave up the second French run in his first pitching appearance of the season. Hereafter, Jiorgeny Casimiri completed the game by throwing the sixth inning. Owen Ozanich pitched for Rouen and did a good job in limiting Neptunus to only one run.
The first day ended with a 5-0 win for Storks against Mortsel Stars in a 7-inning game. Winning pitcher Martin Kram started for Storks and threw five innings. Ricky Voorn and Gijs Timmer then both threw one inning to complete the game.
On a chilly Sunday, Rouen Huskies opened with a 7-3 win in five innings to stay unbeaten and finish in first place after the preliminary round and reach the Final. Veteran righthander Jurrian Koks started for Storks and gave up six runs in 2 2/3 inning. Following him on the mound were Ricky Voorn (1 1/3 inn.) and José Moreno (1 inn.), who gave up the seventh French run.
Next, Neptunus recorded a big 10-1 win against Mortsel Stars in what was only a 2-inning game. Both innings were pitched by Stefan Iannelli, who made his first appearance of the exhibition season. Iannelli has just returned from Barcelona (Spain), where he participated with the Netherlands Academy Team in the MLB Academies Spring Tournament. He pitched for the Dutch Team last Wednesday and today, he was on the mound for Neptunus. Rookie Joel Hernandez did the catching again for Neptunus. With the win, Neptunus finished in second place to become the second finalist.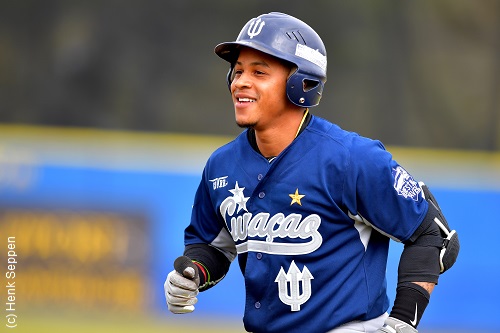 ...Dwayne Kemp homered for Neptunus in the Final...
(© Photo: Henk Seppen)

In the game for third and fourth place, Storks recorded a big 12-1 win against Mortsel Stars in a 4-inning game. The Storks-pitching did very well. Aaron de Groot started and threw two innings, then Kendrick Delima and Nick Winkel both pitched one inning. The Belgians scored their lone run off of Delima.

In the Final, Neptunus won 5-2 against Rouen Huskies in a 5-inning game to become the tournament-winner. 44-year old veteran Elton Koeiman did very well for Neptunus and threw four fine innings. He was supported with a 3-run homerun from Dwayne Kemp in the third inning. 16-year old Rafael Blom, who last season pitched for Euro Stars, took over for Koeiman in the fifth inning. The rookie gave up two runs and was relieved after 1/3 inning by Jiorgeny Casimiri with one out and the bases loaded. Casimiri faced only one hitter, as the game ended with a double play and with that, he earned a save.

Jaarsma: ,,We played some good games. This was a strong tournament, much better than a year ago with good teams. What made it more interesting was that the time-limit for each game this year one hour and 45 minutes. Last year, that was one hour and 15 minutes. With a longer playing time, you get more interesting games and you can do several things with your team.''

For the record, the umpires on Saturday were Martijn Bosschaart, Stenar van Groningen Schinkel and Edwin Louisa. On Sunday, the umpires were Winfried Berkvens, Martijn Bosschaart, Stenar van Groningen Schinkel and Edwin Louisa.

Final Standings:
1. Curaçao Neptunus, 2. Rouen Huskies, 3. Silicon Storks, 4. Mortsel Stars.

(April 1)

Scores
Complete Schedule Exhibition Season & Regular Season

Related Articles:


Twins records two victories on Day 2 in Enschede. (March 31)


HCAW wins twice on 1st day Ringvaart Tournament. (March 31)


Tex Town Tigers loses opener Mastenbroek Tournament. (March 30)


Busy Easter-weekend ahead for baseball and softball. (March 29)


Omron Pioniers finishes 2nd in international tournament. (March 25)


Hoofddorp Pioniers wins Van de Vegte Memorial Tournament. (March 25)


Neptunus shuts out Brno in final game. (March 25)


Quick Amersfoort shuts out DSS in second game. (March 25)


Storks suffers first loss of exhibition-season. (March 25)


Neptunus empty-handed against Draci Brno. (March 24)


Hoofddorp Pioniers splits on Day One in Nijmegen. (March 24)


Amsterdam Pirates comes from behind to win vs. Twins. (March 24)


DSS nips Quick Amersfoort in exhibition-opener. (March 24)


Final exhibition game on Sunday also cancelled. (March 17)


Nine of ten exhibition-games coming weekend cancelled. (March 16)


2nd exhibition game between Neptunus and Storks cancelled. (March 11)


Storks opens exhibition season with win vs. Neptunus. (March 10)


First Dutch exhibition baseball-games-cancelled. (March 2)