After the game went underway ten minutes late due to rain, Storks opened the score in the top of the first inning off of Diegomar Markwell. The lefthander gave up a lead-off double to Gino Gil, then an infield-hit to Quinlan de Windt. Hereafter, Kendrick Delima followed with a 2-run single to give the team from The Hague an early lead. The Neptunus-defense then turned a double play and a flyout ended the at bat.

The lead was shortlived, as Neptunus answered with a 7-run rally off of starting pitcher José Moreno. He made his first start of the season after having pitched in relief in nine earlier games. Storks had some injuries in its pitching staff, including Aaron de Groot, Eduardo Guerra and Darryl Jamoena. Initially, Martin Kram was announced as possible starter for tonight, but Moreno started instead.
With one out, Moreno gave up five consecutive basehits. First, Benjamin Dille reached on an infield-hit, then Dwayne Kemp reached on a bunt-single. Gianison Boekhoudt followed with a 2-run double to tie the score. Next hitter Dudley Leonora also delivered an RBI-double and Shaldimar Daantji added a runscoring single. The bases got loaded when Quintin De Cuba walked and Gregory Muller was hit by a pitch. Moments later, Daantji was forced out at the plate on a grounder by Jochem Koedijk, then Stijn van der Meer followed with a 3-run double in his second at bat in this inning to make it a 7-3 score.
Neptunus scored its next run in the third inning when Quintin De Cuba homered with one out.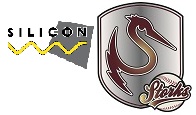 Despite already having given up eight runs and ten basehits, José Moreno was left in the game and returned to the mound in the sixth. In that at bat, Neptunus staged another big rally, this time scoring nine runs on five hits. With runners on second and third base, Benjamin Dille delivered a runscoring single. The bases got loaded when Dwayne Kemp also singled. Gianison Boekhoudt then also singles to bring in another run. A pitching followed, as Ivar Meijer was brought in to make his big league-debut. Meijer joined Storks earlier in the week. With the bases loaded, Meijer walked Dudley Leonora and Ruendrick Piternella, resulting in two more runs. Meijer struckout the next hitter, but then gave up a sacrifice fly to Gregory Muller and walked Jochem Koedijk, which loaded the bases again. During the at bat of next hitter Stijn van der Meer, Meijer got to a count of three-balls-and-one-strike, but sustained a minor injury and another pitching change followed. This time, Ricky Voorn, one of the two Pitching Coaches of the team, took the mound, but he ran into problems. He first completed the walk to Van der Meer (which was credited to Meijer), then also walked Benjamin Dille and Dwayne Kemp to bring in three more runs. Hereafter, a single by Gianison Boekhoudt (his second in this at bat) accounted for the ninth run in the inning. A force play finally ended the long at bat.
After having giving up the two runs in the first inning, Diegomar Markwell retired the side in the second at bat. He was supported with a double play in the third and retired the side again in the fourth.
In the fifth, Storks got into scoring position again. With one out, Jurriaan Dijk walked and Tyron de Windt was hit by a pitch, but they stranded on second and third base.
Elton Koeiman took over the pitching for Neptunus in the sixth and also was supported with a double play. The righthander gave up the third run of Storks in the seventh inning. With one out, Aldi Guzman singled and scored on a 2-out double by Tyron de Windt. Hereafter, Koeiman closed the inning and the game with a strikeout.