(Story by Marco Stoovelaar; Photo by Henk Seppen)

Former pro-pitcher JC Sulbaran joins Storks
Nederlands



THE HAGUE (Neth.) - Former professional pitcher Juan Carlos (JC) Sulbaran will join the big league-squad of Silicon Storks in the coming series of games that begins on Thursday. The addition of Sulbaran, who also pitched for the Netherlands Kingdom Team, was confirmed on Saturday-evening (June 2). Sulbaran will arrive on Sunday and probably will be eligible to pitch in Thursday's game against DSS.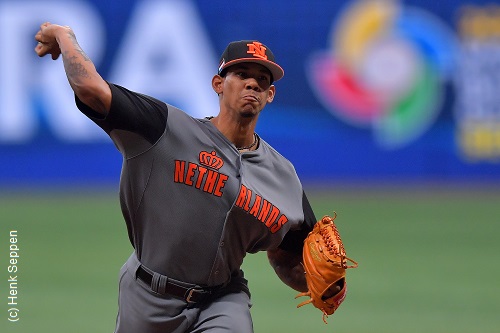 ...Juan Carlos Sulbaran pitching for the Netherlands during...
...the 2017 World Baseball Classic...
(© Photo: Henk Seppen)

The 28-year old righthander, who was born on Curaçao, played in the Minor Leagues from 2009 through 2016.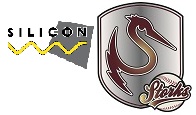 As a High School-student in Florida, he was drafted in the 2008 MLB June Amateur Draft by Cincinnati Reds. Sulbaran played in the Reds-organization in 2009-2012 at the Single-A level.
During the 2012 season, the pitcher was traded to Kansas City Royals. In that organization, Sulbaran played in 2012-2015 mostly in Double-A, but he reached Triple-A in 2015.
After becoming a Free Agent in December 2015, he was signed by St. Louis Cardinals. There, he played in Double-A and Triple-A in 2016.
In eight Minor League-seasons, Sulbaran threw in 202 games, most of them as a starter. The righthander was 49-65 with a 5.48 ERA and struckout 859 hitters in 925 2/3 inning, giving up 959 basehits.
Sulbaran pitched for the Dutch Caribbean Team in the 2008 Haarlem Baseball Week. Hereafter, he was added to the roster of the Netherlands Team, with whom he then participated in the Olympic Games in Beijing (China) later in the year.
Sulbaran also was a member of the successful Netherlands Team that captured the title at the World Championship in Panama. In following years, Sulbaran pitched for the Orange squad during the 2009 and 2017 World Baseball Classic, the 2015 Premier12 and 2016 Japan Warm-Up Games.
(June 2)