(Story by Marco Stoovelaar)

Storks vs. Neptunus game cancelled in The Hague
Nederlands



THE HAGUE (Neth.) - The third game of the 3-game series between Curaçao Neptunus and Silicon Storks was cancelled on Saturday (June 2) in The Hague.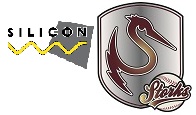 It had rained overnight and in the morning, which resulted in the field becoming unplayable. It was reported that the outfield was 'swamp'-like. In the hours leading up to the scheduled starting time of 2:30 PM, there was some drizzling rain. Despite that, it was attempted to make the field playable, but in the end, that was not successful. And that resulted in the cancellation of the game, which now has been re-scheduled for Tuesday, June 19. The game will then be made up at the site of Neptunus in Rotterdam, as there is no light-installation on the site of Storks in The Hague.
On Thursday-evening, Neptunus trailed halfway the fourth inning, but went on to record a comfortable 13-4 victory in the opener.
On a rainy Friday-evening, Neptunus recorded a big 17-3 win in 6½ inning in the second game, which started 10 minutes late due to maintenance to the playing field after rain.
(June 2)
Scores
Complete Schedule Regular Season