Twins opened the score in the third inning, but the team already got into scoring position in the second at bat. After being retired in order in the first inning by HCAW-starter Kaj Timmermans, Twins got on base with two outs in the next inning. Bob van der Meer and Dave Janssen both singled, but were left behind.

In the top of the third inning, Twins took an 1-0 lead. Brian Biezen led off with a walk and moved on a sacrifice bunt by Jarreau Martina. Hereafter, Biezen scored on a double by Ruar Verkerk, who later advanced to third base on a wild pitch, but then stranded.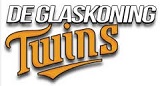 After giving up the run, Kaj Timmermans threw some fine innings, as he retired the side in the next four at bats. With that, the righthander held Twins both hitless and scoreless. But he gave up a second run in the eighth at bat.
In the meantime, HCAW was unable to do something back.

In the first five innings, HCAW recorded only three basehits off of starter Mic van de Ven and got into scoring position only once. In both the first and second inning, Van de Ven was supported with a double play. In the third at bat, (former Twins-player) Denzel Bryson led off with a walk. With one out, he advanced to third base when an outfield-error followed a single by Julian Rip to get runners at the corners. However, Rip was caught stealing and a grounder ended the at bat. HCAW left a runner behind on first base in the fourth inning, then was retired in order in the fifth.
Trailing 1-0, HCAW got a chance to come alongside in the sixth, but failed to do so. Jakob Syrén took over the pitching for Twins and began with a strikeout. The Swedish righthander then also struckout next hitter Jeandro Tromp, but he reached first base on a wild pitch. Tromp was then forced out on a grounder by Delano Selassa. Hereafter, a grounder by Roelie Henrique ended in a throwing error, which gave HCAW runners on second and third base. They were left behind, as Syrén struckout veteran powerhitter Vince Rooi to end the inning.
In the top of the eighth inning, Twins added an unearned run to double its lead after 14 consecutive hitters had been retired in order. Lead-off hitter Nick Peels reached on an error, then moved to third base on a single by Brian Biezen and scored on a sacrifice fly by Jarreau Martina. Moments later, Biezen stole second base, but he was picked off shortly thereafter. During the pick-off, Biezen slided back towards the base, but that led to a collission with short stop Delano Selassa, who sustained an ankle-injury. Selassa was unable to continue playing and had to be supported off the field. He went to a hospital for a check-up, but it will take a few additional days to determine the status of the injury.
In the bottom of the eighth inning, Japanese righthander Shogo Nakashima took the mound for Twins. He saw lead-off hitter Julian Rip reached on an error, but a double play followed.
Twins added an insurance run in the top of the ninth inining off of reliever Oscar Meuris. He gave up a lead-off single to Sam Kennelly, who moved on a sacrifice bunt by Dennis De Quint and scored on a single by Jarreau Martina. Another single by Bob van der Meer followed, but Meuris then closed with two strikeouts.
In the bottom of the ninth, HCAW managed to score its lone run. Roelie Henrique led off with a bunt-single and advanced on a wild pitch. With one out, he moved to third base on a flyout, then scored on another wild pitch. But that was to be it for HCAW.