Initially, DSS trailed 1-0 halfway the second inning. The team then rallied for five runs in the fourth at bat and took more distance in following innings.

In the top of the first inning, Quick Amersfoort opened the score with an unearned run off of starter Scott Prins, who made his second appearance (and first start) for DSS. Prins started instead of righthander Tom Stuifbergen. A week ago, he wasn't used out of precaution due to a minor injury. For this series, he was tentatively announced as the starter for Game 3, but wasn't used again.

For Twins, lead-off hitter Jordy Burger reached on an error in the first inning, moved on a sacrifice bunt by Jelle Blaauw and stole third base with two outs. Burger then scored on a single by Joran Berkhout.

The lead was shortlived. Quick was retired in order in the top of the second by Prins, then DSS took the lead in the home half of the at bat. Denzel Richardson led off with a homerun off of starter Jos de Jong to tie the score. For Richardson, this was his third homerun of the season and he now shares the lead with Aldi Guzman (Storks) and Bryan Engelhardt (Quick Amersfoort). With one out, Kevin Nieveld walked and advanced when a pick-off ended in an error. With two outs, Nieveld scored the go-ahead run on a single by Djewi De Lanoi, who played in his first game since May 10. He was recovering from an injury, but today had a fine day at the plate, hitting 5-for-5 with a double, scored twice and batted in two runs.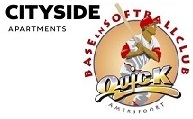 After having left runners behind on first and third base in the third inning, DSS rallied for five runs on four hits in the fourth at bat. Sander Paap and Djewi De Lanoi led of with singles and advanced on a sacrfice bunt by Mitchel Dautzenberg. They scored when Junior Martina followed with a sacrifice fly and Koen Halderman added a single. With Tommy van de Sanden in the batter's box, Halderman was awarded second base on a balk. That led to a reaction from Quick-pitcher Jos de Jong, who was ejected by Home Plate Umpire Martijn Bosschaart. With a 2-0 count, Aaron Isenia took over and walked Van de Sanden with the walk being credited to De Jong. Hereafter, Isenia encountered some problems with his control. He saw Halderman advance on a wild pitch, then scored when Isenia uncorked another wild pitch. On this second wild pitch, Van de Sanden moved to second base and advanced to third base when a throwing error followed. He then scored on an infield-hit by Denzel Richardson, who also was able to take another base on the third wild pitch by Isenia. Next, Richardson stole third base and Tino van Erk walked. The latter appeared to be forced out at second base on a grounder by Kevin Nieveld, but another error was made, everyone was safe and Richardson scored. Isenia closed the inning with a strikeout, but DSS now led 7-1.
Quick scored its second run in the top of the fourth. With two outs, Rachid Engelhardt reached on an infield-hit, then scored on a double by Jules Cremer. However, the inning ended when Cremer was eliminated after overrunning second base while Engelhardt scored.
DSS took more distance in the following three innings.
In the fifth, Djewi De Lanoi led off with a double, stole third base and scored on a wild pitch. Hereafter, Mitchel Dautzenberg and Junior Martina walked. Jasper Popken then took over the pitching and was supported with a double play.
In the sixth, with two outs, Kevin Nieveld and Sander Paap singled. A run was then scored on another single by Djewi De Lanoi. DSS got the bases loaded when Mitchel Dautzenberg hit the fourth consecutive basehit, but three runners were left behind.
DSS scored its tenth run in the seventh. With one out, Tommy van de Sanden singled and scored on a 2-out double by Tino van Erk.
In the meantime, Quick Amersfoort was held scoreless. Trailing 8-2, the team got into scoring position again in the top of the sixth off of new pitcher Mike Groen. With one out, he hit Jelle Blaauw with a pitch and gave up a single to Bryan Engelhardt, but then closed with two strikeouts.
Mike Groen retired the side in the seventh, but walked lead-off hitter Kai Berkel in the eighth. He moved on an one-out single by Jelle Blaauw, but Groen again closed with two strikeouts. Groen struckout seven hitters in the three innings he pitched.
Now trailing 10-2, Quick scored twice in the top of the ninth off of new pitcher Kevin Nieveld, who had been the second baseman in the previous eight innings. He walked Rachid Engelhardt, then gave up a runscoring triple to Jules Cremer and a sacrifice fly to Remian Denis. But hereafter, a flyout and groundout ended the game.