In tonight's game, it was Amsterdam that reached base first, but it was Neptunus that opened the score.

In the top of the first inning, Remco Draijer led off the game with a single off of starter Diegomar Markwell. Draijer moved into scoring position on a grounder, but stranded on second base.

With two outs in the bottom of the first inning, Stijn van der Meer and Dwayne Kemp hit back-to-back doubles off of starter Rob Cordemans to give Neptunus an 1-0 lead.

That lead was shortlived, as Amsterdam answered with three runs in the second at bat. Linoy Croes led off with a single, then Victor Draijer reached on a bunt-single. The two advanced on a sacrifice bunt by Rashid Gerard and both went on to score moments later. First, Croes scored the tying run on a single by Max Clarijs. Hereafter, rookie Aidan Finnegan bunted down the first base-line (squeeze), where the ball was fielded by Markwell. As Draijer was underway to the plate, Markwell realized that he had a chance for a play there and changed his mind. Instead of throwing the ball to first base, the lefthander turned, but threw the ball widely over his catcher for what could have been a costly error. That enabled Draijer to score, as he would have been out when Markwell's throw would have been correct. Clarijs advanced to second base on the bunt, but was able to move to third base on the error, while Finnegan moved to second base. Hereafter, Remco Draijer doubled to right-centerfield. Clarijs easily scored to make it a 3-1 score, but Finnegan was eliminated at the plate on a nice throw from veteran centerfielder Shaldimar Daantji. With Draijer at second base, the inning ended with a pop-fly, but Amsterdam led 3-1.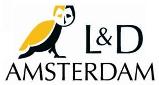 Neptunus got one run back in the bottom of the second inning off of Cordemans, who gave up some hard hits. In the second, the veteran righthander gave up a lead-off single to Dudley Leonora, who scored on a following double by Quintin De Cuba. With one out, De Cuba moved to third base on a flyout, but then stranded.
Diegomar Markwell, who several times clearly showed his difference of opinion regarding the strikezone of Home Plate Umpire Edwin Louisa early in the game, did fine from the third inning on. From the third through sixth inning, the lefthander allowed only one runner to get into scoring position. In the third, Markwell walked lead-off hitter Gilmer Lampe, who moved on two grounders, but was left behind on third base. After having retired the side in the fourth, Markwell helped himself in the fifth by turning two comeback-grounders (including a bunt) into a force out on second base.
In the bottom of the fourth, Neptunus scored twice to make it a 4-3 score in its favor. First, Dudley Leonora and Quintin De Cuba led off with singles. They then both moved when catcher Max Clarijs made a throwing error during a pick-off attempt on second base, which was costly. Moments later, Leonora scored the tying run on a sacrifice fly by Shaldimar Daantji. Hereafter, Jochem Koedijk hit a slow grounder towards Cordemans and incoming third baseman Rashid Gerard. As there was no one at third base, Cordemans was unable to make a play there, and had no chance at first base and with that, Koedijk reached on an infield-hit, while De Cuba stayed at third base. After Koedijk had stolen second base, Darryl Collins hit the ball into rightfield. De Cuba took off from third base and slid into home plate while Clarijs received the ball from rightfielder Linoy Croes on a nice throw. In a close play, De Cuba slid outside and appeared to slide past the plate to avoid the tag. But HP Umpire Edwin Louisa was on top of the play, ruled De Cuba safe and that gave Neptunus the lead. Shortly hereafter, a discussion followed with third base umpire René Ras as Amsterdam appealed that De Cuba had left his base too early on the catch in rightfield. On contact, De Cuba had returned to third base, before taking off to score, but the moment he took off was questioned by the Amsterdam-defense. Koedijk moved to third base on the flyout, but a grounder then ended the at bat.
...Dudley Leonora (left) and Dwayne Kemp both were 4-for-5 for Neptunus...
...Leonora scored 3 runs and batted in 3...
...Kemp had 2 doubles, scored once and had one RBI...
(© Both Photos: Henk Seppen)
In the fifth inning, lefthander Robin Schel took over the pitching for Amsterdam. With one out, he gave up a single to Dwayne Kemp, then walked Gianison Boekhoudt, but Schel was then supported with a double play. In the sixth inning, Schel struckout three hitters.

In the top of the seventh, Amsterdam got two baserunners off of Markwell with one out when Aidan Finnegan and Remco Draijer (bunt) both singled, but failed to score. Besides the three added players from its second team, Finnegan also belongs to that team. However, he became a regularly added player throughout the season and played in 13 games for the main-squad. With runners on first and second base, Markwell was relieved by Loek van Mil. He saw the runners advance on a wild pitch, but then struckout Nick Urbanus, then saw next hitter Gilmer Lampe go after his first delivery and groundout.

Neptunus took some more distance by scoring twice in its seventh inning. With one out, Stijn van der Meer walked and Dwayne Kemp followed with his second double in the game. Van der Meer then scored on a sacrifice fly by Gianison Boekhoudt, which led to a pitching change. Maickel Rietel took over, but was greeted with a runscoring single by Dudley Leonora that made it a 6-3 score.

Amsterdam narrowed the deficit to 6-4 in the eighth off of Van Mil to stay in the game. With two outs, Van Mil gave up a single to Victor Draijer, then threw another wild pitch. Hereafter, Van Mil walked Rashid Gerard and gave up an RBI-double to Max Clarijs. But with runners on second and third base, Aidan Finnegan grounded out to end the inning.

With Neptunus leading only 6-4, the Amsterdam bullpen failed to close the game. In the eighth inning, the home team rallied for seven runs (five unearned) off of four different pitchers to put the lead almost surely out of reach.

In the bottom of the eighth, Shaldimar Daantji led off with a single off of Maickel Rietel. He was then replaced by lefthander Nick Veltkamp to face lefthanded hitting Jochem Koedijk. Veltkamp enabled Daantji to advance on a wild pitch, then gave up a bunt-single to Koedijk and was lifted from the game again. Daan Hendrix took over, making him the third different pitcher on the first three batters in this at bat. Hendrix got a force play-grounder from pinch-hitter Gregory Muller, but then ran into problems. On the grounder by Muller, Koedijk was forced out on second base. With that, Veltkamp became the responsible pitcher from Muller in case he would score, what he indeed went on to do. With runners at the corners, Hendrix also uncorked a wild pitch that enabled Daantji to score. Hereafter, the righthander gave up a runscoring double to Benjamin Dille that brought in Muller and, as mentioned, his run was credited to Veltkamp.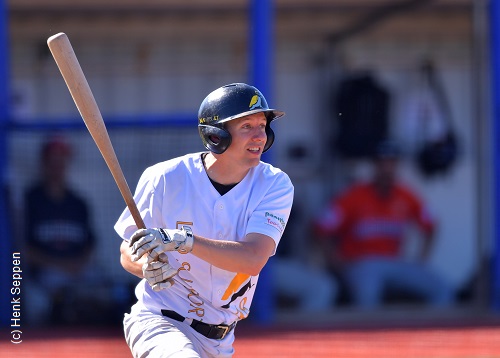 ...Remco Draijer was 4-for-5 for Amsterdam Pirates...
...Draijer doubled once and batted in one run...
(© Photo: Henk Seppen)

A grounder by following hitter Stijn van der Meer was misplayed by second baseman Victor Draijer. After Van der Meer had stolen second base, a pop-fly accounted for the second out, but could have been the third out. With first base open and a 2-0 count on Gianison Boekhoudt, it was decided to walk the powerhitter intentionally. Not only to set up a force play, but also to avoid that Boekhoudt connects well to bring in additional runs. The force play never came, but the runs did, as Hendrix gave up three consecutive basehits. First, Dudley Leonora delivered a 2-run single, then Quintin De Cuba also singled to load the bases again. That brought up Shaldimar Daantji for his second at bat in the inning. After having led off the inning with a single, he this time connected for a 2-run single.

With runners on first and third base, another pitching change followed. Hendrix was replaced by Jan-Willem Geerts, one of the added players from the club's second team. On Juy 27, Geerts also was with the main-squad of Amsterdam and then got one at bat as a pinch-hitter, hitting a force play-grounder against Silicon Storks. For Geerts, that was his first big league-appearance in twelve years! He made his only other appearance in the highest division as a pitcher during the 2006 season. Back then, he also was with Amsterdam Pirates, but after the 2006 season, he transfered to RCH-Pinguïns. Some years ago, Geerts returned to Amsterdam to play in its second team. Geerts got the bases loaded when he walked Jochem Koedijk, then saw Neptunus score another run when he also walked Gregory Muller. For Muller, this was his second at bat in the inning after having entered as a pinch-hitter in his first time around. However, in his second at bat, the American became a player without a position, as a pinch-hit appearance is only credited to a batter for his first time at bat. Once that at bat is in the books, a player is considered to be part of the game. As it of course is not known whether or not a pinch-hitter would stay in the game or what position he is scheduled to play if he does, he will not take over the position of the player he replaced as a pinch-hitter when he bats for a second time in an inning. A batter then simply has no position. The reason is also simple. A pinch-hitter is inserted for a certain reason, to create something and bring over runners. When he comes to bat for a second time in an inning, that situation exist no more. With the bases loaded and a 13-4 score, the inning ended when Benjamin Dille, the 13th batter in the inning, flied out. With that, Amsterdam avoided a 10-run difference loss.

In the top of the ninth, Loek van Mil retired the side. While the run-difference was nine, Van Mil was credited with a save. When he entered the game in the seventh, he did so in a save-situation, as Neptunus led only 4-3 at that time. For Van Mil, it was his second save in the Series, as he also earned one last Sunday.

With that, Van Mil earned his fifth Holland Series-save to set a record. With last Sunday's save, Van Mil tied Ken Brauckmiller and Michiel van Kampen for most career saves in a Holland Series.