(Story by Marco Stoovelaar)

Quick Amersfoort adds Australian infielder
Nederlands



AMERSFOORT (Neth.) - Cityside Apartments Quick Amersfoort has added 22-year old Australian infielder Ryan Dale to its active roster, the club announced on Wednesday (June 6).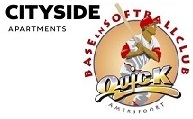 In a press release, it is stated that this is a welcome addition, especially since there are some injuries in the team. Dale will be introduced during next Sunday's home game in Amersfoort, which also will be the club's traditional American Day.
Ryan Dale played in Melbourne (Australia), but also played professionally for five seasons in the organization of the Kansas City Royals. Ryan is the son of legendary Australian baseball-player Phil Dale, who played in the National Team.
With the Royals, Ryan Dale played in the Rookie League in 2013-2017, before being released. In 159 games, the infielder batted .197 (102-for-517) with 17 doubles, one triple and four homeruns. Dale, who mostly played at first base, scored 57 runs and batted in 49.
His best professional season was in 2016 when he batted.242 with two homeruns, scored 21 runs and batted in 20 runs.
(June 6)