Initially, it was Quick Amersfoort that opened the score in the first inning off of Amsterdam-starter Kevin Heijstek. Lead-off hitter Rick Kuipers reached on an error, stole second base, moved on a grounder by Jelle Blaauw and scored on a 2-out single by Bryan Engelhardt. Hereafter, Remian Denis walked, but Heijstek closed with a strikeout.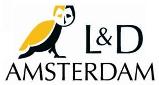 In the next five innings, Quick was held scoreless by four pitchers. In these at bats, the team reached six times, but no one got beyond first base, as the Amsterdam-defense turned a double play and forced out two other runners.
After trailing briefly, Amsterdam Pirates turned the game around from the third inning on. The team produced the necessary basehits and the Quick-defense contributed with five errors.
Amsterdam was held scoreless by Quick-starter Jos de Jong. The righthander, who had pitched for Amsterdam some years ago, gave up a lead-off single to Max Clarijs in the first inning, but was then supported with a double play. In the second, De Jong gave up a 2-out single to Rodney Daal, but he stranded on first base.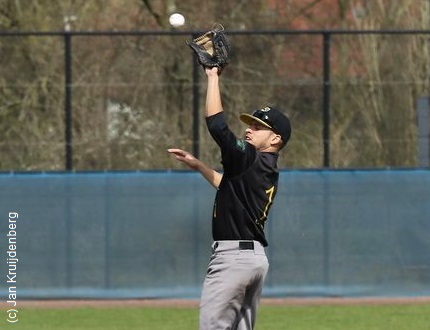 ...Zerzinho Croes reached base 6 times for Amsterdam...
(© Photo: Jan Kruijdenberg)

Trailing 1-0, Amsterdam Pirates rallied for four runs with two outs in the top of the third inning off of reliever Brian van Laar. The lefthander walked lead-off hitter Niels van Weert, then got the bases loaded with two outs when he also walked Remco Draijer and Zerzinho Croes. Pirates came alongside when next hitter Nick Urbanus also walked and took the lead when Kenny Berkenbosch reached on an error. Linoy Croes added a 2-run double to make it a 4-1 score.

Amsterdam scored two more runs in the fourth off of Jasper Popken, who had taken over after the double by Croes. With one out, Popken gave up singles to Niels van Weert and rookie Mikey De La Cruz, then got the bases loaded when he hit Max Clarijs with a pitch. A sacrifice fly by Remco Draijer and a throwing error on a grounder by Zerzinho Croes lifted the lead to 6-1.

In the next four innings, Pirates kept on reaching the bases, but Quick also turned two double plays. Amsterdam left runners behind on first and second base in the sixth. With two outs in the eighth, Amsterdam got the bases loaded when Rashid Gerard and Niels van Weert both walked and Mikey De La Cruz reached on an error. They all stranded, as a flyout ended the at bat.

Pirates then rallied for five runs in the top of the ninth inning to enlarge its lead. Like the rally in the third inning, the team scored all runs with two outs. By the way, the two runs in the fourth also were scored with two outs.

In the ninth, off of new pitcher Aaron Isenia, Zerzinho Croes singled with one out. He moved on a grounder, then scored on a 2-out double by Kenny Berkenbosch. The bases then got loaded when Linoy Croes walked and Rodney Daal singled. A passed ball then accounted for a run, which was followed by back-to-back doubles by Rashid Gerard (2 runs) and Niels van Weert (1 run). Hereafter, Mark Kolner took over the pitching, closed with a strikeout and also encountered no problems in the tenth at bat. Since this was the lone game both teams play this weekend, it was decided to play ten innings, also to enable several pitchers to get into action.

Trailing 6-1, Quick scored its second run in the bottom of the seventh inning off of reliever Robin Schel. With two outs, Jos de Jong and Rick Kuipers singled, then Jelle Blaauw followed with a runscoring single. With two runners on base, Schel closed with a strikeout.

Maickel Rietel, Daan Hendrix and Jim Ploeger then all threw a scoreless inning. In the eighth, off of Rietel, Quick's lead-off hitter Bryan Engelhardt reached on an error, but later stranded on third base. Hendrix then retired the side in the ninth. In the tenth, Ploeger gave up an one-out single to Rachid Engelhardt, but he was left behind on first base, as two flyouts ended the inning and the game.

All runs in this game by both teams were scored with two outs!

In total, 15 pitchers saw action during this game, six of them lefthanders. Remarkably enough, 10 of the 13 runs in this game were scored off lefthanded pitchers.

A few weeks ago, Quick Amersfoort added catcher Alberto Enrique Ostos to its roster for the upcoming season. Ostos is a Venezuelan with a Spanish passport, who moved to Amersfoort for his study. As Quick was having a catching-problem due to some injuries, it got in contact with Ostos, who was then added to the team. Last year, Ostos played for Potenza Picena in the second highest league in Italy.