www.grand-slam.nl
Baseball
Headlines
Compiled and Copyright © 1997-2018 by Marco Stoovelaar

(Story by Marco Stoovelaar; Photos by Henk Seppen)

Neptunus wins sixth consecutive baseball-title
Nederlands



AMSTERDAM (Neth.) - Curaçao Neptunus again is the baseball-champion of the Netherlands. On Sunday (October 7), the team broke a scoreless tie in the eighth inning to won 3-0 against L&D Amsterdam Pirates in Game 6 of the best-of-seven Holland Series. With that, Neptunus won the Series 4-2 to win its 19th Championship-title in club-history.

Amsterdam Pirates opened the Series with two victories, but then lost the next four games. The team recorded a convincing 8-2 victory against the reigning champion in Game 1. Last weekend, Amsterdam shutout Neptunus 7-0 on Saturday to win its second game. On Sunday, Neptunus broke an 1-1 tie in de fourth inning and won 4-1 to force at least a fifth game. Last Thursday-evening, Neptunus led only 6-4, then rallied for seven runs in the bottom of the eighth to record a big 13-4 win and equal the Series at 2-2. On Saturday, Neptunus took the lead in the Series by winning 4-1.

...Here you can see the live stream of Game 6...

On Sunday, the Series moved back again to Amsterdam for Game 6. The game was a pitching-duel between Kyle Ward (Amsterdam) and Elton Koeiman (Neptunus), who both had a strong outing. Both were supported with some nice defensive plays. In the end, it was the defense that decided the outcome of today's game.

In the top of the eighth inning, Neptunus got its first batter on base on a throwing error. Hereafter, the team then got the bases loaded with two outs. A drive by Dwayne Kemp then ended in a costly outfield-error, enabling all three runners to score.

Neptunus-short stop Stijn van der Meer was named Most Valuable Player of the Holland Series.

(October 7)

Recaps of previous games:


Game 1: Amsterdam Pirates opens Holland Series with convincing win. (September 27)


Game 2: Amsterdam shuts out Neptunus to take 2-0 lead in Series. (September 29)


Game 3: Neptunus wins to force fifth game in Holland Series. (September 30)


Game 4: Neptunus rallies in 8th; Equals Holland Series. (October 4)


Game 5: Strong Yntema pitches Neptunus to Holland Series-lead. (October 6)
Most Championship-titles, Clubs
Titles
Club
19
Neptunus
12
Haarlem Nicols
9
Blauw-Wit, Sparta
6
OVVO
5
SC Haarlem, Kinheim, Schoten
4
Ajax, Pirates
This was the 31st Holland Series in history. The first was played in 1987, then there was no Series in 1988, but from 1989, the championship has been decided each year with a Holland Series.

This was the seventh Holland Series in which Neptunus and Amsterdam Pirates faced each other. The two teams met in the very-first Series in 1987, which was then a best-of-three and won by Amsterdam (2-1). In 1990, Amsterdam swept Neptunus 3-0 in what was then a best-of-five.

Since 2010, when the format became a best-of-seven again for the first time since 1989, the two teams played against each other five times. All five Series (2010, 2014, 2016-2018) were very attractive with some close games, but Neptunus won all five.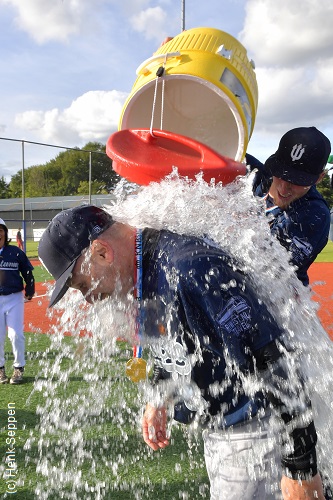 ...Neptunus Head Coach Ronald Jaarsma...
...gets showered during the celebrations...
(© Photo: Henk Seppen)

For Neptunus, this was its second title with Ronald Jaarsma as Head Coach. He took over after the 2016 season, succeeding Evert-Jan 't Hoen, who had led Neptunus to four titles in the previous four seasons (2013-2016).

Jaarsma became the fifth Head Coach with two (or more) consecutive Holland Series-wins. The others are Robert Eenhoorn (1999-2001, Neptunus), Ben Thijssen (2006-2007, Kinheim), Steve Janssen (2009-2010, Neptunus) and Evert-Jan 't Hoen (2013-2016, Neptunus).

For Neptunus, this was its sixth consecutive title. With that, it became the first team to do so twice. In 1949-1953, Amsterdam-based OVVO was the first to win five titles in a row. Neptunus then tied that record, but also broke it by winning seven consecutive titles in 1999-2005. And now, Neptunus became the first team to win the title in six consecutive years twice.
Most Championship-titles, Cities
Titles
City
33
Amsterdam
32
Haarlem
28
Rotterdam
2
Bussum
1
The Hague
1
Hoofddorp
The championship of Neptunus was the 28th captured by a Rotterdam-based club. With 19 titles, Neptunus is the most successful Rotterdam-based club. However, the most successful baseball-cities remain Amsterdam and Haarlem. Amsterdam leads the list with 33 titles, while Haarlem follows closely with 32.

In 1922, Amsterdam-based Quick won the first title. Since then, 97 teams have been crowned Dutch champion, coming from only six different cities. Amsterdam, Haarlem and Rotterdam combined won 93 of these championships!

The 97 titles have been won by 21 different clubs. Nine of them came from Amsterdam, seven from Haarlem and only two from Rotterdam.

For Neptunus, this was the 18th time that it won the title via the Holland Series. The Rotterdam-club won its first title in 1981 when the seasons were not concluded with the Championship Final. It then took ten years for the team to win its next title. It was the 24th time that Neptunus played in the Series.

Amsterdam Pirates participated in its ninth Holland Series. The team was the winner of the very-first Series in 1987 when it defeated Neptunus. Amsterdam won the Championship-title for the last time in 2011, which was the fourth in club-history. Back then, Amsterdam won in five games against Hoofddorp Pioniers.

Eight players played in the first Holland Series of their career, being Taylor Clemensia, Brendan Schoemaker (both Neptunus), Rodney Daal, Victor Draijer, Aidan Finnegan, Jan-Willem Geerts, Jim Ploeger and Maickel Rietel (all Amsterdam Pirates). Two officals also made their Holland Series debut, Umpire Antoine Loock and (Belgian) Official Scorer Brendy De Smet.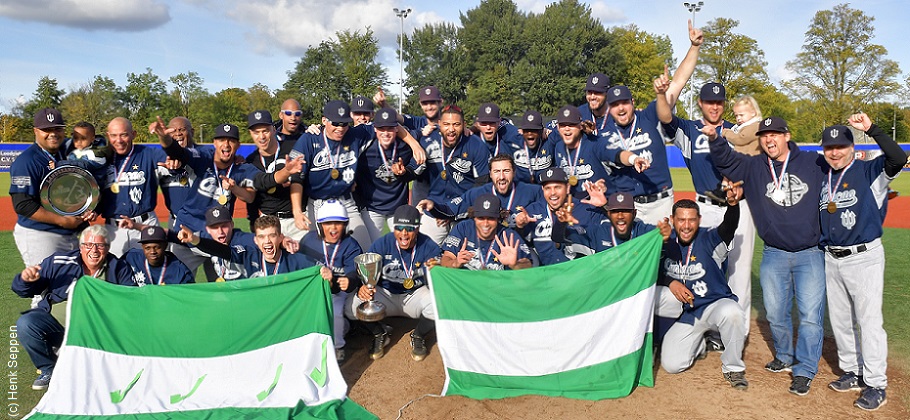 ...The players, coaches and staff-members of Neptunus celebrate the club's 19th Championship-title...
...Back: Diegomar Markwell, Wim Martinus (1B Coach), Jan Collins (Bench Coach), Taylor Clemensia,...
...Alex Parengkuan (Physical Therapist), Elton Koeiman (Playing Pitching Coach), Darryl Collins, Joey Herbold,...
...Mick Vos, Stijn van der Meer, Gianison Boekhoudt, Benjamin Dille, Shaldimar Daantji, Jochem Koedijk,...
...Loek van Mil, Brendan Schoemaker, Berry van Driel, Michel Streur (Media) and Ronald Jaarsma (Head Coach)...
...Front: Ton Meiresonne (Equipment Manager), Shuruengelo Mingeli, Den Seelbach, Joel Hernandez, Tony (bat-boy),...
...Dwayne Kemp, Orlando Yntema, Gregory Muller, Quintin De Cuba, Dudley Leonora and Kevin Kelly...
(© Photo: Henk Seppen)

Starting pitchers Kyle Ward and Elton Koeiman did an outstanding job today. Both didn't strikeout a lot, but lefthander Ward gave up only five hits in 7 2/3 inning and righthander Koeiman gave up only four in six innings. The two held their opponent scoreless and didn't encounter much problems.

However, it was Amsterdam Pirates that got some scoring opportunities early in the game. In the bottom of the first inning, with two outs, Koeiman walked Remco Draijer, then gave up an infield-hit to Gilmer Lampe. The two moved on a wild pitch, but a flyout closed the at bat.
With one out in the second inning, the 45-year old righthander gave up singles to Rashid Gerard and Rodney Daal, but hereafter, Max Clarijs grounded into a double play.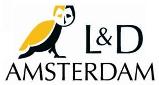 In the third, Amsterdam stranded a runner on third base. Nick Urbanus led off with a single, moved on a sacrifice bunt by Victor Draijer and a grounder by Remco Draijer. The inning ended when second baseman Benjamin Dille caught a hard line drive off the bat from Gilmer Lampe.
Hereafter, Koeiman retired the side in the next three innings. He was relieved by Kevin Kelly in the seventh, who then also retired the side. ,,For me, Koeiman was the MVP of this Series'', Amsterdam Head Coach Charles Urbanus said afterwards. ,,Koeiman held us scoreless in Game 3 and 6, that was important. He did very well.''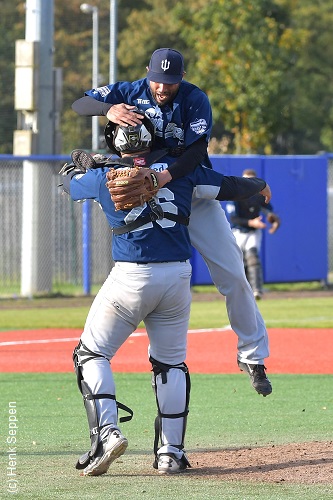 ...Pitcher Kevin Kelly and catcher...
...Gianison Boekhoudt embrace...
...after the final out...
(© Photo: Henk Seppen)

Ward allowed only one batter (first inning) to reach base in the first three innings. He then also got some defensive support in the fourth at bat. Benjamin Dille led off with a bunt-single and he advanced to third base on a following single by Stijn van der Meer. Next, Dille was eliminated in a rundown on a comeback-grounder by Dwayne Kemp. While Dille was eliminated, the runners moved to second and third base. Hereafter, Dudley Leonora lined the ball to third baseman Rashid Gerard, who not only caught the ball, but made an unassisted double play, as he stepped on third base, before Van der Meer was able to return.

Ward retired the side again in the next two innings. He gave up a 2-out single in the seventh, but that batter stranded on first base.

And so, the eighth inning went underway with a scoreless tie. But then, the Amsterdam-defense committed two costly errors. And it again was underscored that baseball is a game of inches. First, Shaldimar Daantji reached on a throwing error by third baseman Rashid Gerard. With two outs, Ward got the bases loaded when Benjamin Dille singled and Stijn van der Meer walked. Next hitter Dwayne Kemp then hit the ball down the rightfield-line for an apparent flyout. Rightfielder Linoy Croes ran towards the foul-line and caught the ball, but it then dropped into foul territory. 1B Umpire Roy van de Wateringen was on the line watching and resolutely signaled that the ball was touched on fair territory. As all three runners were in motion on contact, they all scored to put Neptunus ahead, 3-0, while Kemp ended up on third base. And that decided the game. There were some discussions whether or not Croes had control over the ball before dropping it and whether or not the ball was fair. But TV-replays confirmed that the ball indeed was touched on fair territory. For the unfortunate Croes, this was something he hadn't done the entire season. Croes, who is a very solid outfielder, was the lone regular player on the Amsterdam-roster who didn't made a defensive error in the regular season as well as the Championship Pool! With Neptunus now leading 3-0, Robin Schel took over the Amsterdam-pitching and got an inning-ending grounder.

Pirates was unable to overcome the deficit, as Kevin Kelly threw three fine innings. In the eighth, he gave up a 2-out single to Nick Urbanus, but he stranded on first base. In the ninth, Kelly retired the side to end the game and the season.

Afterwards, it was initially though that this was the final game in the career of veteran Neptunus-outfielder Shaldimar Daantji. However, he informed his teammates that he will continue for at least another season.

Another fact. This was the 25th shutout in Holland Series-history.

With today's victory, Neptunus completed a turn-around that started a week ago after the team didn't look good in the first two games. Head Coach Ronald Jaarsma: ,,We were definitely in a dip after the European Cup-tournament and didn't play well. We played bad in the first two games of the Holland Series. The next day, the players got together and looked each other in the eyes. We as coaches were not present, the players did this themselves. They talked and stated that this is not going to happen in the next games.''

Jaarsma gives a lot of credit to catcher Gianison Boekhoudt. ,,Last week, he was hit with a bat on his helmet and suffered a minor concussion, but continued playing. Our other catcher Quintin De Cuba was injured and our only back-up catcher was a 17-year old rookie. Boekhoudt didn't contribute with his bat this time, but he did a great job behind the plate''.

Jaarsma: ,,Today, we had a plan. We wanted to use Elton Koeiman for five innings. There was some pressure on him early in the game, but he went well and he gave us an extra inning. Hereafter, we were able to turn to Kevin Kelly, who did well in the remainder of the game. We were able to do some things at the right moment, create some extra pressure. It is never fun to win on an error, but for us, it came at the right moment''.

,,Of course, this is very disappointing'', reacted Amsterdam Head Coach Charles Urbanus. ,,Especially the way we lost today. On two errors, that's not really the way we can play. This was an outstanding game, Kyle Ward was pitching very well. When the errors weren't made, we might still be playing. On the other hand, when you don't score, you cannot win. We also didn't get the luck on our side, Gilmer Lampe hit a bullet, but that was caught. We started the Series very well, we were dominating in the first two games. But don't forget the misfortune we had thereafter. We had a very balanced team, but we lost Niels van Weert and Kalian Sams with injuries, while we couldn't use Rodney Daal due to sickness. With these players in the line-up, it would have been a different story. Besides that, I was not with the team myself for three games''. Van Weert sustained an elbow-injury in Game 3, while Sams sustained a wrist-injury in the same game. Both were unable to play in the remainder of the Series. Daal was sidelined with pneumonia, while Urbanus missed Games 3, 4 and 5 with an infection.

Afterwards, Urbanus confimed that he won't be back as Head Coach of Amsterdam Pirates next season, as he is not able to combine the position anymore with his regular job. Urbanus: ,,No, this is no retirement yet. I like coaching very much, so, I might come back in the future, but not next year.''
...Today's starting pitchers Elton Koeiman and Kyle Ward...
...3B Umpire Stenar van Groningen Schinkel makes it clear that 3B Rashid Gerard has completed...
...an unassisted double play in the fourth eliminating Stijn van der Meer (right)...
...Game of inches...
...Near the foul-line, Amsterdam-rightfielder Linoy Croes catches, then drops the ball (does he has control over it?) in the 8th inning...
...Left: Dwayne Kemp meets Head Coach Ronald Jaarsma after reaching 3rd base on the outfield-error...
...Right: With Neptunus leading 3-0, Robin Schel took over the Amsterdam-pitching...
...Left: Stijn van der Meer was named Most Valuable Player of the Holland Series...
...Right: Shaldimar Daantji confirmed afterwards he will be back with Neptunus for another season...
...Left: Amsterdam-leftfielder Gilmer Lampe doesn't look happy...
...Right: Brothers Remco Draijer and Victor Draijer wait their turn at bat...
...Left: Kevin Kelly celebrates after the final out...
...Right: Quintin De Cuba, Dwayne Kemp and Dudley Leonora with the Championsip Trophies...
(© All Photos: Henk Seppen)
L&D Amsterdam Pirates - Curaçao Neptunus 0-3
R
H
E
Curaçao Neptunus
000
000
030
-
3
5
0
L&D Amsterdam Pirates
000
000
000
-
0
5
2
pitchers Neptunus
inn.
SO
BB
H
R
ER
Elton Koeiman
6
1
1
4
-
-

---

Kevin Kelly, W (1-0)
3
1
-
1
-
-

---

pitchers Pirates
inn.
SO
BB
H
R
ER
Kyle Ward, L (0-2)
7.2
2
2
5
3
-

---

Robin Schel
1.1
1
-
-
-
-
Umpires:
HP-Winfried Berkvens, 1B-Roy van de Wateringen,
2B-Olav Steijger, 3B-Stenar van Groningen Schinkel.
Official Scorer-Alex van den Berg.
Play-by-Play Scorer-Linda Steijger.
Technical Commissioner-Johan Brandsma.
Public Address Announcer-Richard de Wolff.
Scoreboard Operator-Jolande Bierman.
Starting Time-2:00 PM.
Time Played-2:20 hrs.
Site-Pirates Honkbalstadion, Sportpark 'Ookmeer', Amsterdam.

Game Notes:


Game 6, best-of-seven Holland Series; Neptunus wins 4-2.


Neptunus wins 6th consecutive Championship-title and 19th in club-history.


Neptunus is the 97th overall Dutch champion.


Stijn van der Meer (Neptunus) named Most Valuable Player.


31st Holland Series.


Seventh Holland Series between Amsterdam Pirates and Neptunus.


24th Holland Series-participation for Neptunus, ninth for Amsterdam Pirates.
Weather conditions at game time: Cloudy, 16° C (60,8° F); wind direction northeast;
wind speed 14 kmh (8,7 mph); wind force 2 Bft; humidity 52%.

Thank you for visiting this site.
Mail your suggestions and questions to stoov@wxs.nl
Copyright © 1997-2018 Marco Stoovelaar / Grand Slam * Stats & News.