Neptunus and Amsterdam Pirates both scored in the first inning of the well-visited attractive and interesting game, which saw some nice defensive plays of both teams. Neptunus then broke the 1-1 tie in the seventh at bat with a homerun.

Lefthanders Kyle Ward and Riki Saito were the starters this afternoon in sunny Amsterdam and both gave up a run.

With one out in the top of the first inning, Amsterdam-starter Kyle Ward, walked Benjamin Dille. He moved to third base on a 2-out single by Gianison Boekhoudt, then scored when Dudley Leonora followed with another single.

Amsterdam immediately came alongside in its first at bat off of Riki Saito, but could have scored more. The Japanese pitcher gave up a lead-off single to Remco Draijer, then a bunt-single to Zerzinho Croes. Hereafter, Nick Urbanus connected for the third consecutive basehit to bring in the tying run. Kenny Berkenbosch then flied out to centerfield, which kept Croes on third base, but enabled Urbanus to move to second base on the throw to the plate. Moments later, Amsterdam got the bases loaded when Linoy Croes walked. The inning ended when Rashid Gerard grounded into a double play.

In the top of the second inning, Neptunus stranded two runners in scoring position. Gregory Muller led off with a single and Jochem Koedijk singled with one out. The two moved on a sacrifice bunt by Stijn van der Meer, but then were left behind.

Amsterdam then got another scoring opportunity in the bottom of the second inning, but the Neptunus-defense avoided giving up runs. Rodney Daal led off with a walk, which led to an early pitching change, as veteran Elton Koeiman took over from Riki Saito. Daal advanced on a grounder, then reached third base when a hit into the outfield by Victor Draijer resulted in a 2-base error. With runners on second and third base, Remco Draijer hit a hard grounder towards first baseman Dudley Leonora. He made a nice play, but appeared not to have enough time to eliminate the batter at first base. On Draijer's hit, Daal left towards the plate and appeared to have a chance to score a run, but ended up short. Instead of trying to eliminate Draijer at first base, Leonora turned around and got the ball in time to catcher Gianison Boekhoudt, who tagged out Daal. With runners at the corners, the inning ended when a jumping short stop Stijn van der Meer caught a line drive from Zerzinho Croes.
In the next four innings, Ward and Koeiman controlled the game. Ward allowed four batters to reach, Koeiman only two.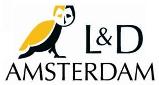 With two outs in the top of the fourth, rookie Fakir Boekhoudt reached on an infield-hit. This was the first big league-basehit for the younger brother of Gianison Boekhoudt after he had made his debut on Saturday in the home-game of Neptunus. Next hitter Jochem Koedijk also singled, but the two stranded.
Kyle Ward retired the side in the third and fifth inning. The fifth at bat began with a nice defensive play. Lead-off hitter Benjamin Dille bunted the ball in front of the plate. Ward was off the mound quickly and threw the ball to first baseman Kenny Berkenbosch. There, Dille slid head-first and a close play followed, but 1B Umpire Efrem Silvania was on top of the play and made the correct call to rule the batter-runner out.
In the sixth, Dudley Leonora and Quintin De Cuba led off for Neptunus with basehits. With one out, the inning ended when Gregory Trinidad grounded into an inning-ending double play. Trinidad last played in the big league during the 2015 season when he played for The Hawks for whom he also played in 2013 and 2014. He made his last big league-appearance in a Neptunus-uniform in 2012 after having made his big league-debut in 2011. This season, both the younger Boekhoudt and Trinidad play for Tridents, the second team of Neptunus in the second highest league. The two were added to the squad this weekend, as Neptunus missed some players, who are on the roster of the Netherlands Under-18 Team. That team was in Regensburg (Germany) in recent days, preparing for the European Junior Championship, which opens on Monday in Grosseto (Italy).
For Amsterdam, Kenny Berkenbosch singled with one out in the third inning, but stranded on first base. In the fourth, with one out, Max Clarijs hit the ball into the rightfield-corner for a triple. But hereafter, a strikeout followed, then first baseman Dudley Leonora made one of his nice plays this afternoon on a hard grounder by Remco Draijer to end the inning. From that moment on, Elton Koeiman retired ten batters in a row.
In the top of the seventh, Maickel Rietel took over the Amsterdam-pitching from Kyle Ward. However, his fifth delivery was hit well by Jochem Koedijk, who drove the ball down the rightfield-line for a lead-off homerun, which was the first in his big league-career. It also gave Neptunus a 2-1 lead. Rietel then walked Stijn van der Meer, but he was eliminated when short stop Nick Urbanus caught a line drive from from Benjamin Dille.
In the bottom of the seventh, Amsterdam got another scoring opportunity. With two outs, Remco Draijer reached on an infield-hit and Zerzinho Croes walked. Hereafter, Berry van Driel was brought in to take over from Elton Koeiman and he got another fine play from first baseman Dudley Leonora on a grounder from Nick Urbanus.
In the top of the eighth, Neptunus added an insurance run when this time Gianison Boekhoudt led off with a homerun over the big scoreboard in rightfield. With one out, Jim Ploeger took the mound for Amsterdam and retired the next two players.
Amsterdam got a run back in the bottom of the eighth. With two outs, Rashid Gerard singled. His pinch-runner Mikey De La Cruz Santana then moved when next hitter Rodney Daal walked. Another pinch-runner was then inserted, as Niels van Weert took over at first base for Daal. Hereafter, Max Clarijs singled into right-centerfield. De La Cruz scored and Van Weert advanced to third base. At that moment, Amsterdam could have had runners on first and third base with two outs. But on the throw to third base, Clarijs tried to move to second base, but was unsuccessful and was eliminated there, which ended the inning.
Because of the two pinch-runners, Amsterdam had to adjust its batting order. As De La Cruz replaced Gerard, a new third baseman had to be inserted. Daal could have been a candidate, but Amsterdam then would have lost its designated hitter. Van Weert was another candidate to take over at third base. However, Van Weert was inserted as pinch-runner for Daal and indeed became the new third baseman. This meant that the designated hitter was lost after all. It also led to a double switch, as closer Jim Ploeger entered the batting order taking over the spot of Gerard. This could have led to a situation in the ninth inning in which Ploeger's spot might have come up to hit. But almost surely, Amsterdam then would have inserted a pinch-hitter.
In the bottom of the ninth, with a 3-2 lead, Loek van Mil became the new pitcher for Neptunus. With two outs, he gave up a single to Zerzinho Croes, who stole second base moment later. But he stranded on second base, when first baseman Dudley Leonora ended the game with another fine play on a hard grounder by Nick Urbanus. Defensively, as short stop, Urbanus also had made some nice plays, including two on the rightfield-side of second base when the Amsterdam-defense played the shift on lefthanded hitting Gianison Boekhoudt.