When the game went underway, it was sunny, but after a few innings, temperatures dropped and it became a chilly afternoon in The Hague.

HCAW got another fine performance from Dennis Burgersdijk, who struckout ten batters and encountered no big problems until the seventh inning.

HCAW took a quick 3-0 lead in the top of the first inning off of Nick Winkel, who made his first start of the season after having in relief in three earlier games. In the first inning, the righthander walked lead-off hitter Jeandro Tromp, who stole second base and scored the first run on an one-out single by Roelie Henrique. Vince Rooi followed with a double down the leftfield-line to bring in Henrique and he went on to score himself on a 2-out single by Seb Visser.

In the third inning, Delano Selassa led off with a triple and Roelie Henrique followed with a homerun to lift the lead to 5-0. Henrique is not known as a homerun-hitter. This was only his eighth homerun since making his debut in 2010 when he was with Amsterdam Pirates. Including today's homerun, Henrique hit one homerun per season since 2015. His career-high is three in 2013. Henrique hit his last homerun on June 10 last year. His homerun the accounted for the lone run in an 1-0 win against UVV. After Henrique's homerun, Vince Rooi then walked, but was eliminated in an unassisted double play by first baseman Aldi Guzman, who caught a line drive from Bryce Cherry.

In the second and fourth inning, HCAW was retired in order, but the fourth at bat saw some nice defensive plays. Patrick Bok led off with a line drive, but that was caught in leftfield by Tijani Dunlop, who made a nice diving catch. With two outs, it was centerfielder Runai Coran, who made a great running catch on a line drive by Denzel Bryson to end the inning.

HCAW added three more runs in the top of the fifth. Jeandro Tromp led off with a single and Delano Selassa followed with a double. Both scored on a double by Roelie Henrique, which led to a pitching change. Eduardo Guerra took over from Nick Winkel to make his debut in the highest league. On one of the first pitches Guerra made to Vince Rooi, a balk was called and that brought Henrique to third base. Moments later, Rooi walked, but Guerra followed with a strikeout. After Henrique scored the third run in the inning on a grounder by Seb Visser, Guerra closed with another strikeout.
In the sixth inning, HCAW lifted the lead to 9-0. Kevin Weijgertse and Denzel Bryson led off with walks, then the first scored on an one-out grounder by Delano Selassa.
Dennis Burgersdijk retired nine of the first ten batters he faced. After having retired the first eight batters in a row, he gave up an infield-hit to Tyron de Windt, but he stranded on first base.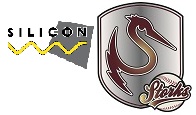 With HCAW leading 5-0, Storks got the bases loaded with one out in the bottom of the fourth and appeared to narrow the deficit. Joran Berkhout and Runai Coran opened the at bat with infield-hits. Coran's hit was followed by a throwing error, resulting in runners at the corners. Moments later, Kendrick Delima grounded out, but the runners were unable to advance. The bases then got loaded when Aldi Guzman was hit by a pitch. The HCAW-defense avoided giving up runs, as it closed the at bat with a double play.
In the next two innings, Burgersdijk got only one baserunner and he struckout four batters in a row.
With a 9-0 lead, Burgersdijk returned to the mound in the bottom of the seventh, but then he encountered some problems. First, he gave up a lead-off homerun to Aldi Guzman, which was his first in the big league. This season, the first baseman plays in the highest league for the first time since 2015. In that year, he coincidentally played for HCAW and appeared in 14 games. In the previous season, he had made his big league-debut playing in one game for Neptunus.
After having given up the homerun to Guzman, Burgersdijk walked Philip Brandl and gave up a double to Nick Nefs. With runners on second and third base, Burgersdijk struckout pinch-hitter Sergio Schoop. This was his tenth strikeout, but also the last batter he faced. Burgersdijk was relieved by rookie Sem Robberse, who made his big league-debut. The 16-year old righthander was greeted with a runscoring single by Tyron de Windt. He then saw another run being scored while De Windt was caught stealing.
In the top of the eighth, it was HCAW that scored three runs. Patrick Bok and Kevin Weijgertse walked and a pitching change followed. Gijs Timmer took over from Guerra, but the bases loaded when he also walked Denzel Bryson. Next, Bok scored on a wild pitch, then the other two runners respectively scored on a grounder by Jeandro Tromp and a double by Delano Selassa. This was his second double and third extra-basehit in this game. With that, HCAW increased its lead to 12-3.
Storks got into scoring position again in its final two at bats, which were also thrown by rookie Sem Robberse. In the eighth inning, pinch-hitter Joost van den Bergh reached on an error and with two outs, Aldi Guzman walked, but they stranded on first and third base. In the ninth, Robberse began with a strikeout, then walked the next two hitters. A force play-grounder and groundout ended the inning and the game. Robberse, who made a fine debut, missed earning a save, as he threw 1/3 inning too short. When he would have thrown the last three innings complete, he would have been credited with a save. But he threw 2 2/3 inning.