(Story by Marco Stoovelaar; Photos by Henk Seppen)


Loek van Mil in stable condition and recovering in Australian hospital
Nederlands



CANBERRA, Australian Capital Territory (Australia) - Dutch pitcher Loek van Mil is in a stable condition in a hospital in Canberra after being hospitalized in critical condition last Saturday (December 8) with ''serious head injuries he sustained in an accident unrelated to baseball''. On Tuesday (December 11), it was announced that doctors had taken Van Mil off the critical list and confirmed that a bleeding of his brain had stopped and that surgery is not required.
Van Mil, who is a member of the Netherlands National Team, plays for Couran Cove Brisbane Bandits, the reigning champion of the professional Australian Baseball League, which opened its new season on November 15. In the Dutch big league, Van Mil pitches for Curaçao Neptunus.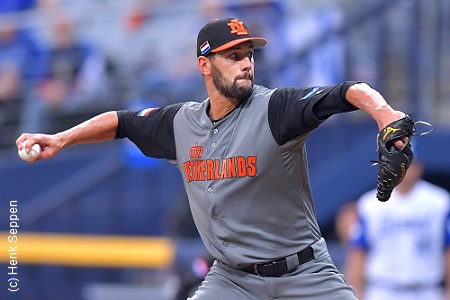 ...Loek van Mil pitching for the Netherlands during the...
...2017 World Baseball Classic in Seoul (South Korea)...
(© Photo: Henk Seppen)

On Tuesday, Baseball Australia and his team Brisbane Bandits issued the following statement:
,,Doctors have today taken Loek van Mil off the critical list and confirmed the bleeding on the brain has stopped. They have confirmed no brain surgery will be required. He is improving on daily basis and they expect an all clear and discharge in 10 days if he continues on this path. Loek looks a bit worse for wear but is sitting up, talking, smiling and cracking a few jokes. We ask you again to respect his family's privacy. Loek wants to thank everyone from Australia, Holland and the rest of the world for the outpouring of love and support.''

It has now been revealed that Van Mil sustained his injuries while hiking, hitting his head on a rock, which resulted in a brain haemorrhage. The Brisbane Times reports that ''Van Mil reportedly had been unconscious for 24 hours before being discovered by a bushwalker on the outskirts of the capital''.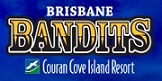 With his team, Van Mil was in Canberra for a 4-game series against Canberra Cavalry that began on Thursday at Narrabundah Ballpark. In the first game on Thursday, Brisbane won 6-4. Van Mil pitched the ninth inning and earned his third save of the season.
The 34-year old Van Mil then didn't pitch in the second game on Friday, which was won by Canberra, 2-1. On Saturday-night, Brisbane won 5-3 in ten innings. Brisbane closed the series on Sunday-afternoon with a 9-7 victory.
When Van Mil didn't show up for Saturday's game, players and officials of Brisbane grew frantic about his whereabouts. After learning Van Mil was missing, Dan Amodio, General Manager of opponent Canberra Cavalry, went to the hotel where the Bandits were staying after the game. In the Brisbane Times, Amodio is quoted: ,,Sport is funny that way, because you create a bit of a rivalry on the field, you pump each other up, you pump your teammates up by rallying against the other team. At the end of the day, these guys are all friends and these guys are all peers. When something like this happens, it really just shakes you as a whole community. This week we've been in touch with the guys at the Bandits, some of them were still in Canberra, and offered help wherever we can. We're hoping everything works out okay.''
Mark Ready, the Owner of the Bandits added that Van Mil was able to talk, sit up and smile. And that his condition slowly improved from gravely injured to critical but stable. Ready had been with Van Mil in the hospital since he was admitted until family arrived in Canberra.
On Monday, Baseball Australia and Brisbane Bandits issued the following statement after Van Mil was admitted into Canberra Hospital:
,,This past weekend in Canberra during the Bandits series against the Canberra Cavalry, Loek suffered serious head injuries in an accident unrelated to baseball, on Saturday 8th December. Loek is in a critical condition in Canberra Hospital being cared for by the hospital staff and doctors. Loek's family have been spoken to and a family member will be arriving in Australia shortly. Loek is a highly respected baseball player across the ABL here in Australia, his home country of The Netherlands and many other parts of the world where he has played baseball. Our best wishes and prayers are with Loek and his family and friends at this very difficult time. Baseball Australia and the Brisbane Bandits will provide updates on Loek's condition in consultation with his family when appropriate and we ask that the family's privacy be respected during this time.''
Both statements were signed by Cam Vale, Chief Executive Officer of Baseball Australia and Mark Ready, the Prinicipal Owner of Brisbane Bandits.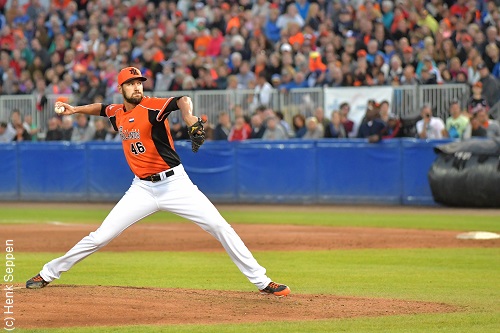 ...Loek van Mil pitching in for the Netherlands in the Final of...
...2016 European Championship in Hoofddorp (Netherlands)...
(© Photo: Henk Seppen)

On behalf of the Royal Netherlands Baseball and Softball Association (KNBSB), Technical Director Tjerk Smeets keeps in touch with Van Mil's family, Brisbane Bandits, Neptunus and the ABL. The KNBSB and Neptunus also will provide updates when appropriate after consulting with Loek's family.

This season, Loek van Mil pitched in five games for Brisbane and threw six innings. The righthander is 1-0, has earned three saves and has a 4.50 ERA. Van Mil struckout seven batters, walked one and gave up six hits (including two homeruns) and three (earned) runs.

For Van Mil, this is his fourth season in the Australian Baseball League, but his first with Brisbane. He played for Adelaide Bite in the previous three seasons.

In the Dutch big league, Loek van Mil led the pitching-staff of Curaçao Neptunus this year with an 0.22 ERA. He was 4-0 with six saves and struckout 52 batters in 40 innings. With Neptunus, he went on to win the club's sixth consecutive Championship-title after winning the Holland Series against L&D Amsterdam Pirates.

The 7-1 feet tall Van Mil plays professionally since 2006 an pitched in Triple-A in 2012, 2013, 2015 and 2016. He played in the organizations of the Minnesota Twins (2006-2010), Los Angeles Angels of Anaheim (2010-2012), Cleveland Indians (2012) and Cincinnati Reds (2013), before choosing for a career in Japan. In 2014, Van Mil pitched for Tohoku Rakuten Golden Eagles in Nippon Professional Baseball. Hereafter, he returned to the USA and was re-signed by Minnesota Twins, playing in Triple-A in both 2015 and 2016. In both years, he also played in the Dutch big league for Neptunus, which were his first two seasons with the Rotterdam-based club. Last year, he missed part of the season due to a back-injury.

Before starting his professional career, Van Mil made his debut in the highest Dutch league pitching for HCAW in 2005 and 2006. Van Mil also had been eligible to play for Amsterdam Pirates in 2008-2012, but was unable to do so due to his professional career. Van Mil made his debut in the Netherlands National Team in 2007 and has pitched for the Orange-squad almost annually since then, including participating in the World Baseball Classic in 2013 and 2017.

Besides Van Mil, two other Dutch players are active in Australia. Catcher Bas Nooij is on the roster of Adelaide Bite for his third season in Australia, while infielder Dwayne Kemp made his Australian debut this season, playing for Sydney Blue Sox.

(December 11)

Related Articles:


Loek van Mil hospitalized is critical condition in Australia. (December 10)


Dwayne Kemp & Loek van Mil win first game in Australia. (November 15)


Dwayne Kemp, Loek van Mil, Bas Nooij open season in Australia. (November 15)