(Story by Marco Stoovelaar; Photos by Henk Seppen)



Dwayne Kemp & Loek van Mil win first game in Australia
Nederlands




NEWMARKET, BRISBANE, Queensland / ROOTY HILL, BLACKTOWN, SYDNEY, New South Wales (Australia) - Dwayne Kemp and Loek van Mil were successful in their first games of the Australian Baseball League. The new professional season in Australia went underway on Thursday (November 15).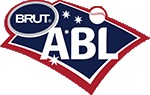 Dwayne Kemp plays in his first season 'down under' and is on the roster of Sydney Blue Sox. His team opened the season at home and won 8-1 against Geelong-Korea.
Loek van Mil started his fourth season in Australia. After having played three seasons for Adelaide Bite, Van Mil now pitches for reigning champion Brisbane Bandits. In its opening game, Brisbane won 5-3 against Adelaide, the team of catcher Bas Nooij, who will play in his third Australian season.
Geelong-Korea is one of the two expansion teams in the ABL. Earlier this year, the ABL added two new international teams to the league, which has eight teams this season. An agreement with South Korean baseball-officials led to a team filled completely with players from the Asian country. This team, Geelong-Korea, plays its home games in Geelong, near Melbourne. The other new team is Auckland Tuatara, which plays its home games in a suburb of New Zealand capital Auckland.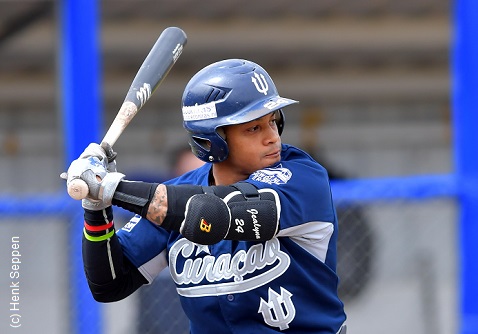 ...Dwayne Kemp was 2-for-5 in his Australian debut...
(© Photo: Henk Seppen)

Sydney Blue Sox opened the season at home at Blacktown International Sportspark. The Sportspark, which formally was known as Blacktown Olympic Park, is a multi-sports facility and includes three baseball-fields, four softball-fields, two soccer-fields, two grounds for cricket and Australian rules football and an athletics track and field venue. The Sportspark is situated in Rooty Hill, which is located in the City of Blacktown, which is part of the Greater Western Sydney region.

Dwayne Kemp was the lead-off hitter for Sydney, played as short stop and was 2-for-5 in his Australian debut. It was Geelong-Korea that opened the score in the top of the second inning off of Italian starter Alessandro (Alex) Maestri. Seung-Han Kim then led off with a single to become the first player of this new team to hit a basehit. Hereafter, Joo-Ho Lee was hit by a pitch and Kim then also became the first player to score a run for Geelong, as Yong-Wook Lee followed with a double. But the next three batters were retired, two of them with a stikeout.
In the remainder of the game, the Korean squad was held scoreless, despite getting some other runners in scoring position.
After stranding a runner on second base in the first inning, Sydney got close to the tying run in the third at bat. Michael Campbell led off with a double. Hereafter, Dwayne Kemp delivered a single. Kemp had flied out in his first at bat in the first inning. Campbell was waved home on Kemp's single, but was eliminated at the plate. With two outs, Kemp stole second base, but then was left behind.
In the fourth, Sydney rallied for four runs off of starter Jin-Yong Jang. The home-team got the bases loaded when Jack Murphy walked, Trent D'Antonio singled and Zac Shepherd also walked. A single by Jake Levin then accounted for two runs and a 2-1 lead. With one out, the team added two runs when Michael Campbell reached on a throwing error. Campbell moved to second base on the error, but moments later, he was eliminated trying to advance on a grounder by Dwayne Kemp.
Sydney added two runs in the fifth inning off of new pitcher Jin-Sun Bae. With the bases loaded and one out, a run was scored when Jake Levin walked. A grounder by Alex Howe then lifted the lead to 6-1.
In the sixth, Sydney made it an 8-1 score. Kemp led off, but flied out. Hereafter, Jacob Younis singled, stole second and scored on a triple by Taiwanese Hao-Wei Shen, who plays in the Taiwanese professional league for Fubon Guardians. Moments later, Shen scored himself on a grounder by American Jack Murphy.
Kemp collected his second single with one out in the eighth inning, but he was then forced out.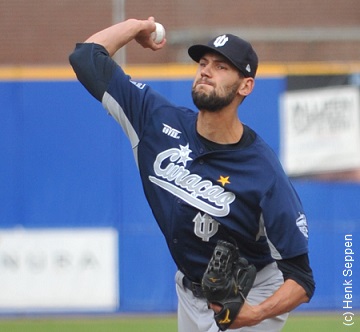 ...Loek van Mil earned a save in the opener...
(© Photo: Henk Seppen)

Defending champion Brisbane Bandits opened at home against Adelaide Bite at Wild Moose Stadium. The home of the Bandits is called Holloway Field, but it was renamed earlier this year to Wild Moose Stadium after the signing of a naming rights partnership with Asahi Premium Beverages. The stadium is located in Newmarket, which is a north-west suburb of Brisbane.

In the opening game, Loek van Mil closed the game for Brisbane, while Bas Nooij, the third Dutch player in Australia, did not get into action for Adelaide.
Brisbane opened the score in the bottom of the first inning off of American starter Kurt Heyer when Australian Andrew Campbell and American T.J. Bennett led off with back-to-back homeruns.
Adelaide cut the deficit in half in the top of the third inning when Mitchell Edwards led off with a homerun off of starter Sam Holland.
Brisbane took more distance by adding two runs in the fourth at bat off of Heyer. With one out, Daniel Nilsson singled and Cuban Danny De La Calle doubled. Hereafter, Andrew Campbell and T.J. Bennett followed with runscoring singles to make it a 4-1 score.
Both teams scored in the sixth inning. With two outs, Aaron Whitefield singled for Adelaide off of new Taiwanese pitcher Ko-Chien Lin and scored on a double by American Mikey Reynolds. In the bottom of the sixth, Danny De La Calle led off for Brisbane with a double, advanced on a grounder and scored on a single by T.J. Bennett. The home-team got the bases loaded when the next two batters walked, but the three runners were left behind.
With a 5-2 lead, Loek van Mil took the mound for Brisbane to pitch against his former team. Van Mil gave up two basehits and a run, but also struckout two batters and was credited with a save. Van Mil gave up a lead-off single to Mikey Reynolds, who then stole second base. After striking out the next batter, Reynolds scored on a double by American Michael Gettys to make it a 5-3 score. Van Mil followed with another strikeout, then a grounder ended the game.
(November 15)
Related Article:


Dwayne Kemp, Loek van Mil, Bas Nooij open season in Australia. (November 15)