The Neptununian offense was limited to only five basehits by Nick Peels, who was the surprising starting pitcher for Twins. While it was announced in advance that he would start today, Peels is no regular pitcher on the roster of Twins. Peels is an outfielder and made one relief appearance this season. Last year, Peels threw in seven games for Twins, including one as a starter.

Despite hitting only five hits, Neptunus also scored its three runs off of Peels. The first of them was scored in the top of the first inning. Stijn van der Meer then led off with a double, stole third base with one out and scored on a grounder by Dwayne Kemp.

Neptunus doubled its lead in the second inning. This time, Dudley Leonora led off with a single, stole second and third base and scored on an one-out single by Darryl Collins. With two outs, Jochem Koedijk was hit by a pitch, but two runners were left behind.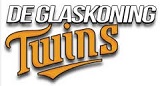 Peels retired the side in the third inning, but got some baserunners again in the fourth. Dudley Leonora again led off with a single, then Darryl Collins singled with one out. Moments later, Leonora was caught stealing after a successful pick-off. In this situation, Collins moved to second base, but was left behind.
Neptunus scored its third run in the fifth at bat. Jochem Koedijk and Stijn van der Meer began with a walk and moved on a sacrifice bunt by Benjamin Dille. The bases got loaded when Dwayne Kemp also walked, then a run was scored on a grounder by Gianison Boekhoudt. But Neptunus left runners behind on second and third base.
In the remainder of the game, Neptunus got only two more runners into scoring position. In the seventh, by reliever Jakob Syrén, Dwayne Kemp was hit by a pitch on his shoulder with two outs and stole second base, but stranded. Japanese righthander Shogo Nakashima retired the side in the eighth. He hit lead-off hitter Gregory Mulller with a pitch in the ninth, but he was left behind on third base.
Neptunus-starter Orlando Yntema retired the first eight hitters he faced. With two outs in the third inning, the righthander gave up a triple to Brian Biezen, who then scored on a wild pitch. This would be the lone run Twins scored in this game.
In the fifth inning, Yntema walked lead-off hitter Shurman Marlin, then Max Kops walked with one out, but they were left behind.
Twins got its final runner in scoring position in the bottom of the ninth off of Berry van Driel. He began with a strikeout, then also struckout next hitter Bram Grooten, but he reached on a passed ball. Next, Shurman Marlin walked, but Van Driel then struckout the next two hitters to give him four strikeouts in one inning! Van Driel was credited with his league-leading fourth save.