The game began with two starting pitchers throwing against their former team. 45-year old Neptunus-starter Elton Koeiman pitched for Twins in three different decades. He made his big league-debut playing for the squad in 1994 and 1995. Koeiman again played for Twins in 2004 and again in 2016. Twins-starter Misja Harcksen pitched for Neptunus the past few seasons, but also briefly played professionally in the organization of the Los Angeles Dodgers. Last year, Harcksen pitched in relief in 18 games for Neptunus when Koeiman also played there and was his Pitching Coach.

So far this season, Harcksen had some fine outings, but today, he walked four batters and gave up five baseshits and four earned runs in five innings.

The righthander retired the side (two strikeouts) in the first inning, but gave up a run in the second at bat. With two outs, Harcksen gave up a single to Shaldimar Daantji, who scored on a following double by Quintin De Cuba. The latter advanced on a wild pitch, then stranded on third base.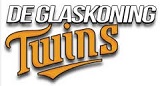 With two outs in the third inning, Neptunus added two runs. With one out, Stijn van der Meer doubled and with two outs, he scored on a triple by Dwayne Kemp. After Gianison Boekhoudt walked, Dudley Leonora delivered a runscoring single that made it a 3-0 score. On Leonora's single, Boekhoudt tried to advance to third base, but was eliminated there, ending the inning.
Neptunus scored another run in the fourth off of Harcksen. With one out, Quintin De Cuba and Darryl Collins walked. The bases got loaded when Jochem Koedijk was hit by a pitch. A run was scored on a grounder by Stijn van der Meer, but two runners were left behind.
In the next four innings, Neptunus was held scoreless by the Twins-pitching.

Elton Koeiman didn't encounter much problems in the first five innings, as he held Twins scoreless. In the first inning, the righthander gave up a 2-out double to Sam Kennelly, but he stranded. In the third inning, Twins got a runner on third base. With one out, Brian Biezen singled, moved on a wild pitch and advanced on a grounder, but also stayed behind. Koeiman then retired the side in the fourth and fifth inning.
With a 4-0 lead, Koeiman returned to the mound in the top of the sixth, but this time, he ran into problems and saw Twins come alongside. Brian Biezen led off with a triple and Sam Kennelly walked with one out. Both scored when Dennis De Quint followed with a double. Hereafter, Koeiman hit pinch-hitter Nick Peels with a pitch, then gave up another 2-run double, this time hit by (former Neptunian) Shurman Marlin that made it a 4-4 score! It also led to a pitching change, as Taylor Clemensia took over. He got a grounder and flyout that ended the inning.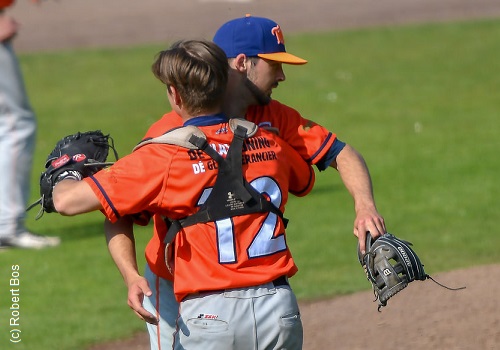 ...Pitcher Thijs Steenwijk and catcher Dave Janssen...
...embrace each other to celebrate the win...
(© Photo: Robert Bos)

Neptunus got a runner on third base in the bottom of the sixth off of new pitcher Jan Evertse, but failed to re-take the lead. With one out, Darryl Collins walked and stole second base, but later stranded on third base. In the seventh inning, a runner was left behind on second base.

In the top of the seventh, Twins also got into scoring position again. Taylor Clemensia walked lead-off hitter Bob van der Meer. He followed with a strikeout, then Van der Meer was caught stealing, but got another baserunner when he walked Ruar Verkerk, another former Neptunian. A pitching change followed and Brendan Schoemaker took over. Last year, the righthander pitched for Twins, but he transfered after the season to Neptunus to play for Tridents, the club's second team in the second highest league. Today, he made his first appearance in the main squad. Schoemaker walked Sam Kennelly, but a foul-out ended the at bat.

Schoemaker struckout the side in the top of the eighth, while Neptunus left runners behind on first and second base in its eighth at bat off of new pitcher Thijs Steenwijk.

Twins then struck in the top of the ninth. With two outs, Schoemaker walked Brian Biezen and gave up a single to Ruar Verkerk. Hereafter, Australian Sam Kennelly drove the ball over the leftfield-fence for a 3-run homerun that gave Twins a 7-4 lead. When next hitter Dennis De Quint singled, Berry van Driel took over the pitching and got an inning-ending grounder.

In the bottom of the ninth, Neptunus got two quick outs. Dudley Leonora then singled and moved on a wild pitch. Shaldimar Daantji followed with a runscoring single that made it a 7-5 score, but the game then ended when Quintin De Cuba popped out.