(Story by Marco Stoovelaar; Photos by Henk Seppen)

Las Tunas leads 2-0 in Cuban Championship Series
Nederlands



LAS TUNAS (Cuba) - Leñadores de Las Tunas leads the best-of-seven Final of the Serie Nacional de Béisbol in Cuba 2-0 against defending champion Alazanes de Granma Las Tunas opened on Saturday with a 6-5 victory. On Sunday, Las Tunas recorded a big 11-4 win. The Series continues on Tuesday at Granma. Last year, Granma reached the Final for the first time in its 40-year club-history, swept Tigres de Ciego de Ávila and captured its first title.

Las Tunas was founded in 1977, but has never has won a Cuban title. Playing at home in Estadio Julio Antonio Mella on Saturday, Las Tunas took an early lead, scoring four runs in the second inning. The team led 6-1 after three innings, then was held scoreless, while Granma narrowed the deficit to 6-5. Granma outhit Las Tunas, 12-10. Nine of these basehits were recorded by three players, as Roel Santos Martínez, Yordan Manduley Escalo and Raul Gonzalez Isidoria all hit three. Guillermo Aviles Difurno homered twice for Granma, while wellknown veteran National Team-player Alfredo Despaigne Rodriguez was held hitless, but he batted in a run.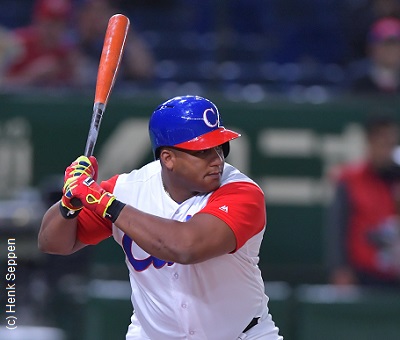 ...Alfredo Despaigne playing for Cuba during...
...the 2017 World Baseball Classic...
(© Photo: Henk Seppen)

Seven players of Las Tunas collected at least one basehit. Yosvany Alarcon Tardio was 3-for-4 and scored once.

In the bottom of the second inning, Las Tunas opened the score with four runs. With two runners on base, Yunior Paumier Oliva singled to bring in the first run. After a walk loaded the bases, the next run was added on a single by Yosvany Alarcon Tardio. Two more runs were then added on a sacrifice fly from Andres Quiala Herrera and a gounder by Yuniesky Larduet Domingo.

Granma got one run back in the top of the third inning when Guillermo Aviles Difurno led off with a homerun. But in the bottom of the third inning, Las Tunas took more distance, thanks to a 2-run double by Yunior Paumier Oliva, to increase the lead to 6-1.
In the sixth inning, Aviles homered again, this time with two runners on base, to make it a 6-4 score. Granma managed to score one more run in the eighth inning, but ended up empty-handed.
On Sunday, Las Tunas briefly trailed 1-0 halfway the first inning, but then rallied for six runs to take another early lead. Las Tunas led 10-1 after three innings, then scored its last run in the eighth.
In this game, Las Tunas collected 18 basehits, while Granma was limited to only six. Eight of the nine starting players in the Las Tunas-team had at least one basehit, led by Yordanis Alarcon Tardio, who was 4-for-5 and Jorge Yhonson Dixon and Yosvany Alcarcon Tardio, who both were 3-for-5.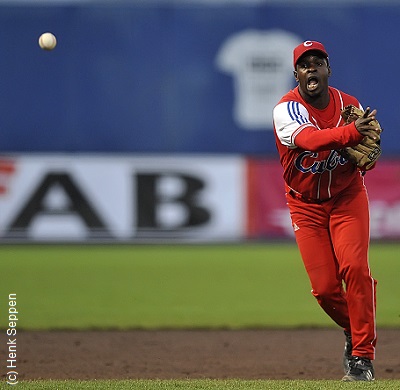 ...Danel Castro playing for Cuba during...
...the 2010 Haarlem Baseball Week...
(© Photo: Henk Seppen)

Trailing 1-0, Las Tunas scored six runs in the bottom of the first inning. A single by 41-year old veteran Danel Castro Muñagorri brought in the tying run, followed by an RBI-double from Yosvany Alarcon Tardio that made it 2-1. A grounder by Alexander Ayala García accounted for the third run, then Rafael Viñales Alvarez contributed with a 3-run homerun to make it a 6-1 score.

After adding a run in the second inning, Las Tunas scored three more in the third at bat, thanks to singles by Yuniesky Larduet Domingo, Jorge Yhonson Dixon and Yosvany Alarcon Tardio.

Trailing 10-1, Granma got three runs back in the top of the fourth inning. With the bases loaded, a run was scored on a passed ball. Hereafter, a walk re-loaded the bases, which led to a pitching change. A grounder by Raico Santos Almeida and sacrifice fly by Roel Santos Martínez then made it a 10-4 score. Granma was held scoreless in the remainder of the game.

Manager of Las Tunas is Ermidelio Urrutia Quiroga, who in 1992 was a member of the Cuban National Team that captured the Gold Medal at the Olympic Games in Barcelona (Spain). He also won the title with Cuba at the World Championship in 1988, 1990 and 1994.

One of the most successful former players of Las Tunas is Osmani Urrutia Ramírez, who led the Cuban league five seasons in a row in batting average. In 1999 and 2001, the outfielder participated with the Cuban squad in the World Port Tournament in Rotterdam (Netherlands). Urrutia, who retired after the 2008-2009 season, won the Olympic Gold Medal in 2004 in Athens (Greece) and won three World Championship-titles (2001, 2003, 2005). He is the cousin of Manager Urrutia.

One of the former players of Granma is outfielder Yoenis Céspedes Milanés, who plays in the Major League since 2012. Céspedes plays for New York Mets since 2015. Before that, he played for Oakland A's (2012-2014), Boston Red Sox (2014) and Detroit Tigers (2015).

(January 22)