(Story by Marco Stoovelaar; Photo by Henk Seppen)

Granma cuts lead Las Tunas in half in Cuban Championship Series
Nederlands



BAYAMO, Granma (Cuba) - Reigning champion Alazanes de Granma won 10-6 on Tuesday (January 23) in Game 3 of the best-of-seven Final of the Serie Nacional de Béisbol in Cuba to cut the lead of Leñadores de Las Tunas in half. Las Tunas opened on Saturday with a 6-5 victory and then added a bigger 11-4 win on Sunday. Game 4 will be played on Wednesday at Bayamo, the home of Granma.

Like Las Tunas did in its first two games at home, Granma struck early in its first home-game on Wednesday, scoring six runs in the first at bat.
Initially, Las Tunas took a 2-0 lead in the top of the first inning. With the bases loaded and one out, the first run was scored on a force play-grounder by Alexander Ayala García, then added a run on a single by Yunior Paumier Oliva.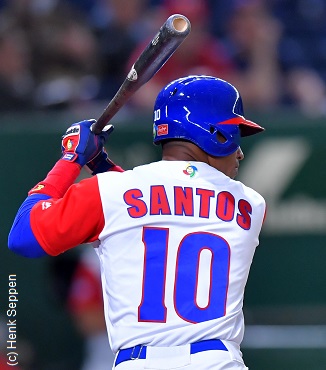 ...Roel Santos Martinez was 3-for-4...
...for Granma and scored one run...
...On the photo, he hits for Cuba during...
...the 2017 World Baseball Classic...
(© Photo: Henk Seppen)

In the bottom of the first inning, Granma rallied for six runs on six basehits off of starting pitcher Vladimir Baños Chacon to decide the game. Lead-off hitter Roel Santos Martínez singled, stole second base, moved on a wild pitch, then scored on a single by Yordan Manduley Escalona. Hereafter, Granma got runners at the corners when Guillermo Aviles Difurno also singled. Manduley then scored the tying run moments later on a sacrifice fly by Alfredo Despaigne Rodriguez. A walk for Carlos Benitez Perez followed, then a single by Lazaro Cedeño Gonzalez gave Granma a 3-2 lead. Hereafter, Raul Gonzalez Isidoria connected for a 3-run homerun to lift the lead to 6-2.

Granma took more distance in the following innings. With one out in the second at bat, Aviles singled, then scored when Cedeño added another runscoring single.
In the third inning, two more runs were scored. Lead-off hitter Yulexis La Rosa Aguila was hit by a pitch, then Geydi Soler Hinojosa singled, which led to a pitching change. The two runners then advanced on a sacrifice bunt by Santos. Hereafter, La Rosa scored on a single by Manduley, which was followed by a throwing error, which enabled Soler to score the next run to make it a 9-2 score.
Las Tunas got two runs back in the top of the fourth inning. Paumier led off with a single and scored when Rafael Viñales Alvarez followed with a 2-run homerun.
In the seventh and eighth inning, Las Tunas narrowed the deficit to 9-6 via two more homeruns. In the seventh, veteran Danel Castro Muñagorri homered with one out. And in the eighth, it was Yordanis Alarcon Tardio who homered, also with one out.
Granma scored one more run in its eighth at bat, thanks to a double by Gonzalez.
Granma collected 17 basehits in the game, including three by Roel Santos Martinez and Carlos Benitez Perez. Las Tunas recorded 12 hits with all nine players hitting at least one.
(January 23)
Related Article:


Las Tunas leads 2-0 in Cuban Championship Series. (January 22)