(Story by Marco Stoovelaar; Photo by Henk Seppen)

Granma comes alongside Las Tunas in Cuban Championship Series
Nederlands



BAYAMO, Granma (Cuba) - Reigning champion Alazanes de Granma has equaled the best-of-seven Final of the Serie Nacional de Béisbol in Cuba by winning Game 4 against Leñadores de Las Tunas with a 4-2 score on Thursday (January 24). Granma trailed 2-1 in the eighth inning, but then score three runs to turn the game its way. Las Tunas had opened on Saturday with a 6-5 victory and then added a bigger 11-4 win on Sunday. The Series then moved to Bayamo, where Granma won 10-6 on Tuesday to cut the lead of Las Tunas in half. Game 5 will be played on Thursday at Bayamo. The Series then returns to Las Tunas, where Game 6 will be played on Saturday.

Las Tunas opened the score in the top of the third inning. With one out, Yuniesky Larduet Dominguez doubled and stole third base. He then scored when Jorge Yhonson Dixon followed with a single.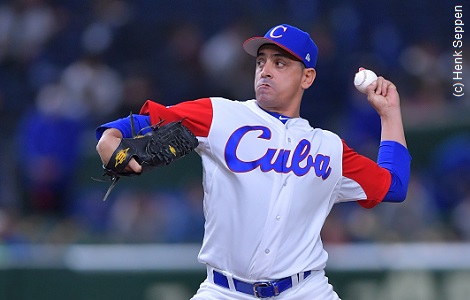 ...Leandro Martínez Figueroa was the winning...
...pitcher for Granma; On the photo, he pitches for Cuba...
...during the 2017 World Baseball Classic...
(© Photo: Henk Seppen)

Granma came alongside immediately in its third at bat. Roel Santos Martínez, who was 3-for-3, led off with a triple and scored on a grounder by next hitter Yordan Manduley Escalona.

The next three innings were scoreless. In the fifth inning, both teams left a runner behind in scoring position.

After Las Tunas stranded another runner in scoring position in the sixth inning, the team re-took the lead in the seventh. Rafael Viñales Alvarez led off with a single and advanced on a sacrifice bunt by Yordanis Alarcon Tardio. Viñales moved to third base on a grounder by Andres Quiala Herrera and scored the go-ahead run on a wild pitch with two outs from starter Lazaro Blanco Matos. The wild pitch also was ball four for batter Larduet and led to a pitching change.

The lead was shortlived, as Granma answered with three runs in the bottom of the eighth inning to take a 4-2 lead. This time, Santos led off with an infield-hit back to starting pitcher Luis Gomez Gamez and advanced to second base when the latter made a high throw towards first base. Hereafter, Gomez was relieved by José Garcia Sanchez, but he was greeted with a single from Manduley. That brought in Santos, while Manduley advanced to second base on the throw to the plate. When that was followed by a throwing error towards second base, Manduley continued to third base. With Manduley on third base and one out, veteran powerhitter Alfredo Despaigne Rodriguez was walked intentionally to set up a force play. But hereafter, Carlos Benitez Perez connected for a runscoring single to put Granma ahead, 3-2. Another error followed, which also enabled Despaigne to score. This also led to the next pitching change, as Diego Granado Acosta was brought in. He began with an intentional walk, this time for Lazaro Cedeño Gonzalez. With two outs, Yulexis La Rosa Aguila singled. Benitez tried to score the next run on this hit, but he was eliminated at the plate to end the inning.
In the top of the ninth inning, Las Tunas got a baserunner with one out off of reliever Leandro Martínez Figueroa. With two outs, a singled followed. With two runners on base, Raidel Martínez Perez took over the pitching for Granma and ended the game with a strikeout.
Las Tunas outhit Granma, 11-10. Yuniesky Larduet Dominguez (Las Tunas) and Roel Santos Martínez (Granma) both had three basehits.
(January 24)
Related Articles:


Granma cuts lead Las Tunas in half in Cuban Final. (January 23)


Las Tunas leads 2-0 in Cuban Championship Series. (January 22)