In the first five innings, HCAW got into scoring position twice, while Amsterdam Pirates got one runner in scoring position. But it was Amsterdam that got on base more times. Amsterdam got six baserunners, HCAW got only three.

HCAW was off to a good start off of Kevin Heijstek, as Jeandro Tromp and Delano Selassa led off the first inning with singles. The two moved into scoring position via a sacrifice bunt by Roelie Henrique, but that was to be it for the Bussum-squad. In the remainder of the game, HCAW got only one more baserunner. After Tromp and Selassa had reached, 26 of the next 27 hitters were retired! The Amsterdam-pitching faced only two more hitters than the minimum of 27.

Heijstek, as well as relievers Maickel Rietel and Jim Ploeger, were supported by some solid defense, which included some nice plays from infielders Zerzinho Croes (2B), Nick Urbanus (SS) and Rodney Daal (3B).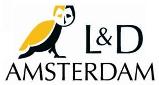 With runners on second and third base in the top of the first inning and one out, Vince Rooi lined out to second baseman Zerzinho Croes and Bryce Cherry grounded out. Starting with the sacrifice bunt by Henrique, Heijstek retired nine batters in a row. In the top of the fourth, Roelie Henrique reached on an infield-hit, but a double play-grounder followed. Starting with that grounder, Heijstek retired the next eleven hitters. Besides the two singles in the first inning, only three more balls were hit into the outfield during Heijstek's pitching. Hereafter, both Rietel and Ploeger retired the side.

For Amsterdam, Nick Urbanus reached on an infield-hit with two outs in the bottom of the first inning, but was forced out. Hereafter, Dennis Burgersdijk retired the side in the second and third inning. He also was supported with some nice defensive plays. After having retired eight batters in a row, the righthander gave up a 2-out single to Kenny Berkenbosch in the fourth. He then stole second base to become the lone Amsterdam-runner to get into scoring position in the first five innings. Berkenbosch stranded on second base.
In the fifth, Rodney Daal led off for Amsterdam with a single, but was caught stealing after a pick-off. Hereafter, Victor Draijer also singled, but later was forced out.
Amsterdam Pirates then opened the score in the bottom of the sixth inning. Remco Draijer led off with a walk and moved on a grounder by Zerzinho Croes. Moments later, Draijer scored on a double by Nick Urbanus. He hit the ball into leftfield, where a sliding leftfielder Kevin Weijgertse tried to stop the ball, but instead, it jumped away out of reach, enabling Urbanus to advance to second base with a double. Urbanus moved to third base when Kenny Berkenbosch flied out, then scored ona single by Linoy Croes to make it a 2-0 score.
In the top of the eighth, Timo van Ancum took over the pitching for HCAW and gave up two additional runs. With one out, Zerzinho Croes walked and Nick Urbanus singled. Next, Kenny Berkenbosch delivered a runscoring single. The bases got loaded when Linoy Croes walked. Hereafter, Rodney Daal hit the ball up in the air, where it appeared to become an infield-fly, but it traveled further backwards than expected. The ball was caught by centerfielder Jeandro Tromp and it became a sacrifice fly, as Urbanus scored to make it a 4-0 score.
Moments before, Daal had made a great defensive play on a grounder by pinch-hitter Seb Visser that ended HCAW's eighth at bat. That play came after reliever Maickel Rietel had struckout the first two hitters he faced. In the ninth, Jim Ploeger closed the game and retired the side, including one strikeout. With that, the final 17 hitters of HCAW were retired in order.