Neptunus opened the score with two runs in the top of the first inning off of Venezuelan starter Luis Figuera Roman. With one out, the righthander gave up a single to Benjamin Dille, who went on to score the first run when Dwayne Kemp followed with a triple. With two outs, Kemp scored the second run on a single by Dudley Leonora.

Quick Amersfoort got a chance to do something back in its first at bat, but left two runners behind. With one out, Jordy Burger was walked by Neptunus-starter Diegomar Markwell, who always appears to get some baserunners in the early innings, before controling the game. With Burger on first base, the lefthander gave up a single to Tijmen Takke, but a foul-out and force out followed.

Neptunus added a run in the top of the third inning. Stijn van der Meer led off with a double and scored on a following single by Benjamin Dille.
Now trailing 3-0, Quick got one run back in the bottom of the third, but again failed to do some additional scoring, leaving behind two more runners. With one out, Markwell gave up three consecutive basehits. Wesley Bernardus, Jordy Burger and Tijmen Takke all singled to load the bases. Despite having only one out, only one runner scored which was done by Bernardus on a sacrifice fly by Rachid Engelhardt. A strikeout ended the at bat. For Quick, this would be the lone run it scored tonight.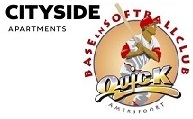 In the top of the fourth, Neptunus took some more distance. Dudley Leonora led off with a double, then scored when Quintin De Cuba followed with a homerun to increase the lead to 5-1.
Neptunus added two more runs in the top of the seventh off of reliever Jasper Popken. He walked lead-off hitter Darryl Collins, followed with a strikeout, but then also walked Stijn van der Meer. Runscoring singles by Benjamin Dille and Gianison Boekhoudt (with two outs) brought in the two runners to make it a 7-1 score.
Neptunus got another scoring opportunity in the eighth off of new pitcher Colin van Laar. After the lefthander got the bases loaded with two outs, he was relieved by Mark Kolner, who got an inning-ending flyout, meaning three runners were left behind.
After having scored in the third inning, Quick got only one more runner in scoring position in the remainder of the game. That happened in the sixth inning. Tijmen Takke then led off with a single and moved to second base when Jelle Blaauw walked with two outs. Hereafter, Diegomar Markwell closed with a strikeout.
Quick stranded a runner on first base in the seventh and eighth inning. In the ninth, the team was retired in order by Riki Saito, who had taken over from Markwell in the previous inning.