Neptunus got a productive start off of Quick-starter Brian van Laar, scoring two runs in the bottom of the first inning and adding three more in the second at bat. That was followed by two more after a pitching-change.

With two outs in the bottom of the first inning, Dwayne Kemp singled and stole second base, followed by a walk for Gianison Boekhoudt. After a double-steal, both runners scored on a single by Dudley Leonora.

In the second inning, Gregory Muller led off with a single and scored on a triple by Ruendrick Piternella. Jochem Koedijk then walked and Stijnvan der Meer followed with a runscoring single. Hereafter, the bases got loaded when Benjamin Dille walked. Next, Dille was forced out on a grounder by Dwayne Kemp, but that also brought in Koedijk and lifted the score to 5-0.

Neptunus increased its lead to 7-0 in the third inning. After Darryl Collins had led off with a walk, Jurjen van Zijl took over the pitching for Brian van Laar. Collins stole second base and moved to third base when Van Zijl gave up a single to Gregory Muller. The veteran righthander got the bases loaded when he walked Ruendrick Piternella. A force play-grounder from Jochem Koedijk followed. Piternella was eliminated at second base and Collins scored, but a throwing error to first base trying to complete a double play followed and that also enabled Muller to score.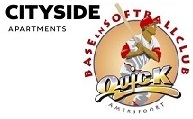 Neptunus-starter Orlando Yntema struckout the side in the first inning. The righthander added three more strikeouts in the next three innings, but also walked four hitters.
In the second inning, Yntema walked three batters, but eliminated one of the runners himself. He walked lead-off hitter Remian Denis, who stole second base with one out. Jelle Blaauw then also walked. With two runners on base, Yntema eliminated Denis at second base with a pick-off, but then followed with a walk for Jos de Jong. A flyout ended the at bat.
Trailing 7-0, Quick Amersfoort scored its lone run in the top of the fifth. Jos de Jong led off with an infield-hit, which was the first basehit off of Yntema. With one out, Jordy Burger walked. Moments later, De Jong moved to third base on a wild pitch, then scored on a single by Wesley Bernardus. Burger and Bernardus both into scoring position on a grounder by Tijmen Takke, but were left behind.
Neptunus scored three more runs with two outs in the bottom of the fifth inning. With one out, Ruendrick Piternella and Jochem Koedijk singled. The latter was forced out on a grounder by Stijn van der Meer, but Benjamin Dille followed with a 2-run double down the leftfield-line. Dwayne Kemp followed with a runscoring single that made it a 10-1 score and also led to a pitching-change.
T'Shawn James, who closed the previous inning for Quick, got some baserunners in the sixth in which Neptunus again scored three runs. He gave up a lead-off double to Dudley Leonora, then an one-out single to Gregory Muller. The bases got loaded when Ruendrick Piternella walked. Hereafter, Mees Cremer became the new pitcher for Quick and he got a runscoring grounder from Jochem Koedijk. With runners on second and third base, Stijn van der Meer singled through the right side into short rightfield. Muller scored and when an outfield-error in rightfield followed, 3B Coach Wim Martinus also waved home Piternella to score and make it a 13-1 score. Martinus was the 3B Coach today instead of Head Coach Ronald Jaarsma, who also is the 3B Coach himself. Martinus also took over the duties at third base in the fifth inning of last Thursday's opener.
Orlando Yntema retired the side in the sixth inning, then was relieved by Loek van Mil, who pitched the seventh inning for Neptunus. The righthander hit lead-off hitter Kai Berkel with a pitch. He moved on a grounder, but stranded on second base, as a strikeout and flyout ended the lopsided game.