Twins opened the score with three runs in the top of the first inning. The team scored the runs the easy way, as the first five hitters all walked, resulting in the first two runs. Timo van Lingen made his first appearance of the season for DSS after having returned a few days before from the USA, where he studies and plays baseball. However, Van Lingen walked the first five batters he faced. He got the bases loaded by walking Brian Biezen, Ruar Verkerk and Sam Kennelly. By the way, the first two runners didn't advance because of the walk to the next hitter. Biezen stole second base, then moved to third base when the walk to Verkerk ended in a passed ball. Moments later, Verkerk advanced to second base on another passed ball, before Kennelly walked. Hereafter, Van Lingen also walked Dennis De Quint and Shurman Marlin, resulting in two runs and keeping the bases loaded. It also led to a pitching change, as Robyn Clara took over from Van Lingen, who threw 25 pitches, five of them a strike. Clara got a force play-grounder from Bram Grooten, which eliminated Marlin at second base, but also enabled Kennelly to score. A double play ended the at bat, but DSS faced an early 3-0 deficit without giving up a basehit. Initially, Australian Greg Mosel was announced as the probable starter for today, but Van Lingen started in stead.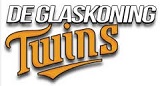 Twins rallied for five runs in the second inning on four basehits. Again, the team got the bases loaded quickly. Dave Janssen led off with a single, Nick Peels followed with a bunt-single and Brian Biezen walked. The first run was then scored when Ruar Verkerk also walked. With one out, the bases were cleared when Dennis De Quint delivered a 3-run double that lifted the lead to 7-0. And that also led to another pitching change. Probably because the team already faced an early big deficit, no other regular pitchers were inserted by DSS. The team is bothered by several injuries in its pitching staff and to keep pitchers available for Sunday's game, only position-players took the mound in the remainder of the game. Lars Vogelaar, Bayron Cornelisse and Nick Keur are all injured. Reggie Bomberg, who was sidelined with an injury, pitched again a week ago. However, this week, the righthander was not available due to an elbow-injury he sustained on his work. Sander Paap, who is a catcher and started the game as designated hitter, took over from Robyn Clara. Paap got a grounder, but then gave up a runscoring single to Bram Grooten.

DSS scored what would be its lone run in the second inning off of Misja Harcksen, who went the distance for Twins. Denzel Richardson led off with a single, stole second base with one out, then scored on a 2-out single by Sander Paap. Harcksen closed with a strikeout. In his seven innings on the mound, the righthander struckout ten hitters.
Twins also scored five runs in the third at bat. Like in the previous two innings, the team got the bases loaded, but this time with two outs. Dave Janssen led of with a single, as he had done in the previous at bat, then Nick Peels walked. With two outs (one strikeout), Paap walked Sam Kennelly to load the bases. A walk for Dennis De Quint then brought in the first run in this inning and next hitter Shurman Marlin connected well and hit a grand slam homerun down the rightfield-line, which made it a 13-1 score. Last season, Paap and Marlin were teammates when they played for Hoofddorp Pioniers.
In the fourth inning, first baseman Tino van Erk took over the pitching and did fine. With one out, he gave up a triple to Dave Janssen, who then scored on a single by Nick Peels.
Van Erk held Twins scoreles in the fifth, but then gave up two unearned runs in the sixth. With out, Dave Janssen doubled and scored with two outs when Brian Biezen reached on an error. Hereafter, Biezen scored on a double by Ruar Verkerk.
In the seventh, centerfielder Denzel Richardson took the mound for DSS and gave up three additional runs. He walked lead-off hitter Dennis De Quint, who went on to score on a double by Shurman Marlin, which gave him six runs batted in. With one out, Bob van der Meer singled. An error on a grounder by Dave Janssen led to the next run, then the bases got loaded when an error was made on a force play-grounder by Max Kops. A following walk for Brian Biezen brought in the next run, but DSS avoided giving up the 20th run when a strikeout and flyout ended the at bat.
After having scored in the second inning, DSS got into scoring position only one more time. In the fourth, Tino van Erk led of with a single and with one out, Kevin Nieveld did the same. But a strikeout and flyout followed.
In the fifth, Odion Gouverneur walked for DSS with two outs, but stranded on first base. The home-team got its final runner in the bottom of the seventh. Omar Williams led off with a single, but a double play followed. A flyout finally ended the lopsided game.