(Story by Marco Stoovelaar; Photo by Henk Seppen)

Las Tunas wins in 9th inning to force seventh game in Cuban Final
Nederlands



LAS TUNAS, Las Tunas (Cuba) - Leñadores de Las Tunas opened the best-of-seven Championship Final of the Cuban Serie Nacional de Béisbol last weekend with two victories at home. Hereafter, reigning champion Alazanes de Granma won its three home-games to take a 3-2 lead. On Saturday-evening (January 27), with the Final now back again in Las Tunas, the roles were reversed once more. Las Tunas won Game 6 with a 6-2 score to force an all-deciding seventh game, which will be played on Sunday. Las Tunas won the game on a walk-off grand slam homerun with two outs. Or was it just a walk-off single and did the game end with a 3-2 score?
Continue reading...

Las Tunas had opened last weekend with a 6-5 victory and then added a bigger 11-4 win the next day. The Series then moved to Bayamo, where Granma won 10-6 on Tuesday to cut the lead of Las Tunas in half and equaled the Final by winning 4-2 on Wednesday. Granma then took a 3-2 lead in the Final by winning 11-5 on Thursday.
Granma led 2-0 halfway the sixth inning and with that, the team was closing in on the Championship-title. However, Las Tunas came alongside in the bottom of the sixth, then decided the game with two outs in the ninth.
Granma opened the score in the top of the third inning. Lead-off hitter Raul Gonzalez Isidoria walked and advanced on a sacrifice bunt by Yulexis La Rosa Aguila. Moments later, Gonzalez stole third base and scored on a following error.
Granma doubled its lead in the sixth inning. This time, Roel Santos Martínez led off with a single and stole second base. He then moved on a grounder and scored on a sacrifice fly by Guillermo Aviles Difurno.

Las Tunas came into scoring position in the first and third inning, but stranded runners on first and second base. In the fifth, the home team reach third base for the first time. With one out, Andres Quiala Herrera doubled down the leftfield-line and stole third base. But he was left behind, as two flyouts followed.
Trailing 2-0, Las Tunas came alongside in the bottom of the sixth inning. With one out, Yosvany Alarcon Tardio doubled and scored on a following single by Alexander Ayala García. With two outs, Rafael Viñales Alvarez singled, which brought Ayala to second base. He then scored the tying run when next hitter Yordanis Alarcon Tardio also singled. That also led to the end of the inning, as Viñales overran second base and was eliminated in a rundown between second and third base.
In the seventh inning, both teams left a runner behind on first base. Granma then came close to re-taking the lead in the top of the eighth. Yoelkis Cespedes Maceo led off with a walk. After a pitching change, he advanced on a sacrifice bunt by Roel Santos Martínez, then moved to third base on a grounder by Yordan Manduley Escalona. But then he stranded, as a grounder ended the at bat. In the bottom of the eighth, Las Tunas was retired in order.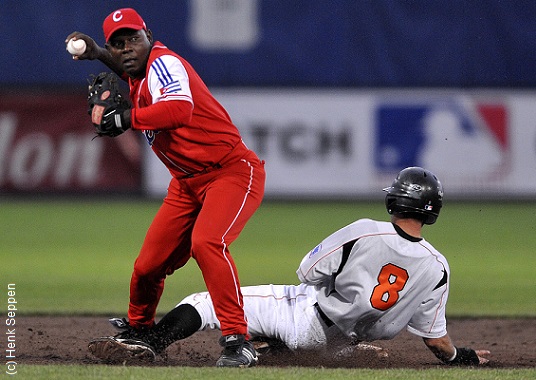 ...Danel Castro was the hero for Las Tunas in Game 6...
...On the photo, he eliminates Netherlands Team-player...
...Michael Duursma during the 2010 Haarlem Baseball...
...Week in Haarlem (Netherlands)...
(© Photo: Henk Seppen)

Granma was retired in order in the top of the ninth and that set up the deciding home half, which ended with a rare situation. With one out, Yordanis Alarcon Tardio singled for Las Tunas. Hereafter, Andres Quiala Herrera reached on an infield-hit down the third base-line, while the throw to first base also was high from the third baseman, who had to run foward. A good throw might have eliminated the batter, but it would have been close. Quiala was then forced out at second base on a grounder by Yuniesky Larduet Dominguez. Alarcon advanced to third base, but he ran over it too far. The ball was then thrown to third where third baseman Raul Gonzalez Isidoria tagged the diving Alarcon, who was called out in a close play, which was the third out! A video-review followed and the call was overruled, as Alarcon indeed had touched the base moments before being tagged. And so, Las Tunas now had runners on first and third base with two outs. A passed ball followed. That kept Alarcon at third base, but it enabled Larduet to move to second base. With first base now open, it was decided to create a force play and loading the bases by intentionally walking Jorge Yhonson Dixon. That decision backfired. 41-year old veteran Danel Castro Muñagorri was the next batter. After a high inside pitch, the experienced player drove the ball into deep centerfield. There, it cleared the fence for a 'walk-off grand slam homerun'! Or was it just a walk-off single?

What happened? At the moment, Castro made contact, his teammates erupted in celebration. While Alarcon scored from third base, Castro was dancing and celebrating with the first base coach, before touching the base. At the same time, the players of Las Tunas all ran across the field towards first base to celebrate with and hug Castro, who never completed his run around the bases to complete the homerun! Also, the runners from second and first base never scored, as they joined they celebrating teammates. So, what's the ruling in this? A batter-runner of course has to touch all bases to complete a homerun, according to the baserunning-rules. For instance, the batter-runner or any of the other runners can miss touching a base and therefore can been called out in an appeal-play. It is also important in a situation like this that the batter-runner touches first base. When he doesn't do that, he can be called out on appeal and the inning would have been over with no runs scored! However, Castro did touch first base. When he or the runner from either first or second base would have been declared out for failing to touch the next bases, the winning run was scored anyway by the leading runner from third base, making it a 3-2 score. Umpires can judge that a player is obstructed to remain in his running path and with that touching the next bases. But that's in a situation with fan-interfence.

Rule 9.06 'Determining Value of Base Hits' reads as follows:
The official scorer shall score a base hit as a one-base hit, two-base hit, three-base hit or home run when no error or putout results, as follows:
(a) Subject to the provisions of Rule 9.06(b) and 9.06(c) (Rules 10.06(b) and 10.06 (c)), it is a one-base hit if the batter stops at first base; it is a two-base hit if the batter stops at second base; it is a three-base hit if the batter stops at third base; and it is a home run if the batter touches all bases and scores.

So, according to the rules, the final score should have been 3-2!

There was some confusion afterwards, as the tv-coverage initially showed a 3-2 final score, while newspapers listed 6-2 as the final score.

(January 27)

Related Articles:


Granma wins again to take lead in Cuban Final. (January 25)


Granma comes alongside Las Tunas in Cuban Final. (January 24)


Granma cuts lead Las Tunas in half in Cuban Final. (January 23)


Las Tunas leads 2-0 in Cuban Championship Series. (January 22)