In the top of the first inning, Hoofddorp Pioniers opened the score. While the Storks-defense committed three errors, Pioniers was able to score only once. Lead-off hitter Joey de Koning reached on an error. Moments later, De Koning stole second base and advanced when a throwing error followed. With one out, he scored on a grounder by Mervin Gario. Hereafter, Ibo Redan reached on an error and Jelle Kroft singled, but a force out ended the at bat.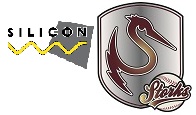 Storks answered with two runs in the second inning off of Pioniers-starter Dion Steijl. With two outs, the lefthander gave up a single to Aldi Guzman, then a runscoring double to Quinlan de Windt that tied the score. Next hitter Tijani Dunlop also singled to bring in De Windt, giving Storks a 2-1 lead. From this moment on, Storks hold onto the lead.
Pioniers got a chance to re-take the lead in the top of the third inning off of veteran righthander Jurrian Koks. With one out, Leandro Anasagasti singled and Mervin Gario doubled. Ibo Redan followed with a line drive, but that was caught by second baseman Tyron de Windt. To set up a force play, Jelle Kroft was walked intentionally to load the bases. A force play indeed followed on a grounder by Glenn Bakker and so, three runners were left behind.
In the fourth inning, Pioniers got runners on first and second base, but they also were left behind.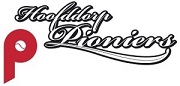 Storks then added two runs in the bottom of the fourth to take some more distance. Kendrick Delima led off with a single and moved on a sacrifice bunt by Nick Nefs. Hereafter, Aldi Guzman drove the ball over the leftfield-fence for this third homerun of the season, which increased the lead to 4-1.
In the top of the fifth, Pioniers again left a runner behind in scoring position. Lead-off hitter Mervin Gario was hit by a pitch, but later stranded on third base.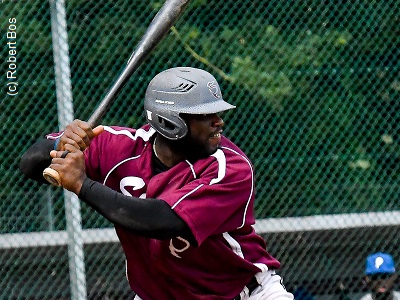 ...Aldi Guzman homered again for Storks...
(© Photo: Robert Bos)

Storks took even more distance in the bottom of the fifth thanks to a 4-run rally on four basehits. There also were three errors, but despite that, only one run was unearned. Jurriaan Dijk led off with a walk and moved to third base on a single by Imco Rudolph, who was able to advance to second base on a throwing error. Next, Kendrick Delima reached on another error, which also led to the first run in this at bat. It also led to a pitching change. Luuk ter Beek took over, but he was greeted with a runscoring double by Nick Nefs and a runscoring infield-hit by Aldi Guzman. With runners at the corners, next hitter Quinlan de Windt reached on a bunt-single, which loaded the bases. The fourth run in the inning was then scored on a sacrifice fly by Tijani Dunlop. That was followed by another error, which put runners on second and third base, but they were left behind.

Storks was again productive in the bottom of the sixth inning, adding two more runs. With one out and Imco Rudolph (fielder's choice) on first base, Kendrick Delima and Nick Nefs hit back-to-back doubles. Nefs batted in two runs with his double, which led to another pitching change. Luuk ter Beek was relieved by Andrew Wanapa. After a flyout, the got the bases loaded when Quinlan de Windt reached on an infield-hit and Tijani Dunlop walked, but three runners were left behind.

Trailing 10-1, Pioniers got a run back in the top of the seventh. With one out, Mervin Gario, Ibo Redan and Jelle Kroft all singled, which resulted in the run, but two runners were left behind.

Pioniers narrowed the deficit to 10-4 by scoring twice in the eighth off of Gijs Timmer, who took over this inning from starter Jurrian Koks. With one out, Duco Nuijten and Joey de Koning singled. A single by Brian Raap and an error resulted in the two runs, but were to be the last ones scored by Pioniers.

Storks had one run left in the eighth off of new pitcher Daniel Vos, which was scored on a throwing error.

In the top of the ninth, Jelle Kroft and Glenn Bakker led off for Pioniers with singles. With one out, the bases got loaded when Tyler Boersma also singled, but the game then ended with a double play.

And with that, Storks recorded a surprising comfortable win after having lost the first two games against Pioniers.