DSS opened the score with two runs in the bottom of the first inning off of Quick-starter Luis Figuera Roman. Junior Martina led off for the home team with a double in his first big league at bat. He moved to third base on a single by Odion Gouverneur, who himself ended up on second base on the throw to third base. Both scored when Tommy van de Sanden delivered a 2-run single.

After being retired in order in its first at bat, Quick Amersfoort got one run back in the second when Bryan Engelhardt led off with a homerun off of starter Sander Helmendach.

In the bottom of the second inning, DSS took some more distance by again scoring two runs. With one out, Koen Halderman and Mitchel Dautzenberg both singled. A run was then scored when Junior Martina again connected for a double. A sacrifice fly by Odion Gouverneur made it a 4-1 score.

DSS scored two more runs in the third inning. With one out, Kevin Nieveld doubled, then the bases got loaded when Sander Paap walked and Koen Halderman singled. That led to a pitching change, as Brian van Laar took over. He got a force play-grounder from Mitchel Dautzenberg, which eliminated Nieveld at the plate. But hereafter, the lefthander walked Junior Martina and Odion Gouverneur, which led to two automatic runs. Hereafter, Van Laar did fine, as he struckout six hitters.
The first three hitters in the DSS batting order accounted for the runs. In his big league-debut, Martina, who was the lead-off hitter, scored once and batted in two runs. Gouverneur and Van de Sanden both also batted in two runs. Junior Martina joined the team earlier in the week. Last year, he was a teammate of Denzel Richardson when the two played on Curaçao.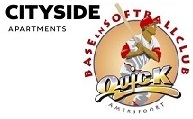 In the next innings, DSS got several baserunners, but some of them were eliminated on the basepaths.
In the fourth, with one out, Tino van Erk reached on an error and with two outs, Sander Paap singled, but Van Laar closed with a strikeout. In the next inning, Mitchel Dautzenberg led off with a single, overran first base and was eliminated after all on a throw from centerfield. With two outs, Odion Gouverneur walked and moved on a balk. He then advanced to third base on a comeback-infield-hit by Tommy van de Sanden, but overran the base and also was eliminated. In the sixth, with two outs, Kevin Nieveld singled, but moments later, he was eliminated after a pick-off.
In the seventh, Koen Halderman singled with one out and moved on a wild pitch with two outs. Junior Martina then walked. Hereafter, Jasper Popken became the new pitcher for Quick and he got a force play-grounder.
In the eighth, Tommy van de Sanden led off for DSS with a double, but was eliminated at third base trying to stretch it into a triple. With two outs, Tino van Erk and Kevin Nieveld singled. Another pitching change followed and new pitcher Mark Kolner then closed with a strikeout.
After leaving a runner on second base in the fourth, Quick Amersfoort scored another run in the top of the fifth. Jos de Jong led off with a walk, but was forced out on a grounder by Jordy Burger. The latter then stole second base and Jelle Blaauw was hit by a pitch. After Burger had moved to third base on a wild pitch, the bases got loaded when Wesley Bernardus walked. Another wild pitch followed, which enabled Burger to score. Hereafter, two runners were left behind.
The DSS-defense turned a double play in the sixth, then Quick left two runners behind in the seventh. The Amersfoort-squad scored its third run in the eighth at bat off of new pitcher Mike Groen. With one out, he gave up a double to Tijmen Takke, who moved to third base on a grounder by Rowan van Hoek and scored on a wild pitch.
Quick got its final runner in scoring position in the top of the ninth. Jos de Jong led off with a single, but hereafter Mike Groen struckout the next two hitters. De Jong then moved to second base on a wild pitch, but stranded there.