(Story & Photos by Marco Stoovelaar)
IN MEMORIAM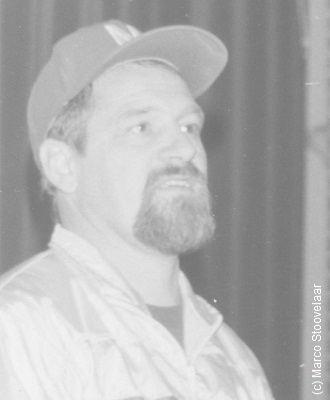 ...Huub Kohl...
(1945 - 2019)
(© Photo: Marco Stoovelaar)

Former big league-catcher and coach Huub Kohl passed away
Nederlands

ROTTERDAM (Neth.) - Huub Kohl, who was a former big league-catcher and infielder for eleven years and then coached at both the club-level and for National Teams, passed away on Thursday-evening (February 28) at age 73 after an unequal battle he unfortunately couldn't win. Kohl played in the highest division for Sparta, Feyenoord and Haarlem Nicols. He coached at Feyenoord, Haarlem Nicols and Neptunus. Kohl also was a member of the coaching-staff of the Netherlands National Baseball Team in three different age groups, winning the European Championship-title twice.

The memorial and cremation service will be held on Thursday, March 7, at 11:30 AM at the Yardenhuis van Rotterdam at the Maeterlinckweg 101 in Rotterdam.

Huub Kohl was born on April 16, 1945 in Rotterdam and started playing baseball for Feyenoord when he was 14 years old. Four years later, he made his debut in the main-squad of the Rotterdam-based club, which then played in the Second Division (third highest league). At Feyenoord, Kohl became the first player of the club to represent the Netherlands on an international tournament. In 1960, he played for the Rotterdam BRL-Team, which won the Dutch title for regional team. With that, the team qualified to represent the Netherlands in the European BRL-Championship in Ramstein (then West-Germany).

After having played in the main-team of Feyenoord for two seasons, Kohl transfered to Sparta, also in Rotterdam, as he was ambitious and wanted to play at the big league-level. With Sparta, at age 20, he indeed made his debut in the Dutch big league, but played in only six games during the 1965 season, as he was sidelined with an ankle-injury. He also hit his first homerun. After the season, he decided to return to Feyenoord, the club he always had loved. Initially, powerhitting outfielders Hamilton Richardson and José Faneyte also were to move from Sparta to Feyenoord, but in the end, that didn't happen and they stayed with Sparta.

Back at Feyenoord, Huub Kohl not only became a solid catcher and third baseman, but also a feared powerhitter. With that, he was one of the cornerstones of the team which climbed to the top in the First Division.

In 1968, Feyenoord won the championship-title and promoted to the Dutch big league. It was Huub Kohl, who then was the short stop, who had a major contribution in what was the title-clinching game of Feyenoord. On September 22, 1968, Feyenoord played at home on its site 'Varkenoord' against Giants Diemen, which was its rival for the title, and won 5-2. The game remained scoreless for five innings, but then Giants scored twice in the top of the sixth. Rob Tromp then scored the first run on a single by Martin Gaus, who in later years went on to become a TV-personality and hosted many animal shows. In the same at bat, Ruud Koene scored the second run for Giants on a double by Mink Ferwerda off of pitcher Marcel de Bruyn, who became the winning pitcher. Feyenoord answered in the bottom of the sixth. With Ton Steenbruggen and Ton van Uitert on the bases, Huub Kohl homered off of pitcher Piet Ferwerda to put Feyenoord ahead, 3-2. In the eighth inning, Feyenoord added two insurance runs. Kohl (who was 4-for-4) led off with a bunt-single, but was forced out on a grounder by Jan van Gent. Hereafter, Irvin Simmons homered to make it a 5-2 score. For Kohl, this was a truly memorable moment, as the day before, he had become the father of his second son, Geoffry. One-and-a -half year earlier, his first son Dave was born. Dave (catcher) and Geoffry (pitcher) both went on play baseball and played for Feyenoord and Neptunus. Both also played for the Netherlands Juniors Team. Geoffry pitched many years for the Netherlands National Team and became the Chairman of the Board of Neptunus some years ago.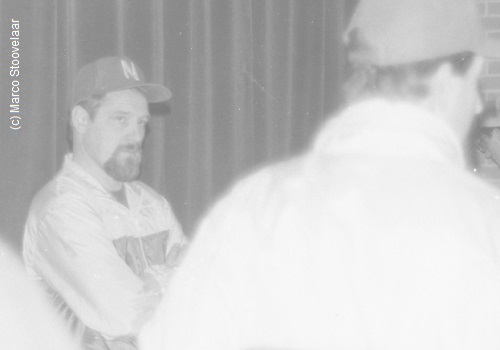 ...Huub Kohl listens to an instruction by Cees Santifort...
...at the Baseball School in Zwanenburg in 1985...
(© Photo: Marco Stoovelaar)

And so, in 1969, Feyenoord made its debut in the highest Dutch league, which then had two Rotterdam-based teams, the other one being Sparta. This created an unique situation, as the multi-sports clubs Feyenoord and Sparta not only played in the highest baseball-league, but also both played in the highest professional soccer-league (Honor Division). The first games between Feyenoord and Sparta in the 1969 season were main attractions. The first game at Feyenoord was attended by more than 2,000 spectators. Feyenoord surprised with a 4-2 victory. In the first inning, Kohl walked and scored on an error to put Feyenoord ahead. Sparta came alongside in the fourth inning, but in the sixth, Feyenoord scored three runs. Ton Steenbruggen then scored the go-ahead run on a single by Kohl. Moments later, Kohl and Herbert Ramlal scored on a single by Harry Blijden to make it a 4-1 score. The next day, at Sparta, more than 3,000 spectators looked on and saw Sparta win 10-0. Many years later, in 1997, an unthinkable merge followed between the baseball- and softball-sections of the two clubs who continued as Sparta-Feyenoord. Unfortunately, the club was dissolved after the 2012 season.

In 1969, his first full big league-season, Huub Kohl also showed his offensive power. He batted .288 with four homeruns and was credited with 16 runs batted in. One of his homeruns was a grand slam, which he hit on August 17 at home against Kinheim (which then was known as HCK). Halfway the seventh inning, Feyenoord trailed 5-2, but then turned the game its way. In the bottom of the seventh, a run was scored, then Feyenoord got the bases loaded thanks to Marcel de Bruyn, Ton Steenbruggen and Frank Luyando. Huub Kohl was the next batter to face new pitcher Bert Paalman and he drilled the ball over the fence for a grand slam homerun. Feyenoord added a run in the eighth and won 8-5.

Kohl, who also was the team-captain, continued to play for Feyenoord in 1970 and 1971. However, towards the end of the 1971 season, Kohl announced his retirement, as he is lacking the pleasure of playing. Kohl plans to give more attention to another major hobby of him, homing pigeon. Through the years, he was very active in the sport of pigeon racing. However, a few months later, Kohl decided to continue playing baseball. Back then, he stated that he simply cannot be without baseball and enjoys the game. He would play seven more seasons.

During the 1972 season, Kohl batted himself into the record-books, as he became one of a few players to hit three homeruns in one game at the big league-level. On July 22 of that year, Feyenoord played against Haarlem Nicols and won 4-2. Kohl hits a homerun in the first, seventh and ninth inning, all three off of Nol Beenders.

Hereafter, Kohl also played for Feyenoord in 1973, 1974 and 1975. In this last year, Kohl also made his coaching debut, as he is the Assistant Coach of Jan Kramer Freher. Amongst his teammates at Feyenoord were Fred Beckers, Harry Blijden, André Boddendijk, Marcel de Bruyn, Jan Collins, Henk Daniels, Hudson John, Paul Koster, Frank Luyando, Paul van den Oever, Ricky Placidus, Ton Pols, Herbert Ramlal, Ton Steenbruggen and Aad Verheul and in later years, Ronald Janse, Henk van 't Klooster, Fred van Krimpen, Henk Kruik, Laurens Louisa and Erik Schouten with Wim Onderstal being the Head Coach.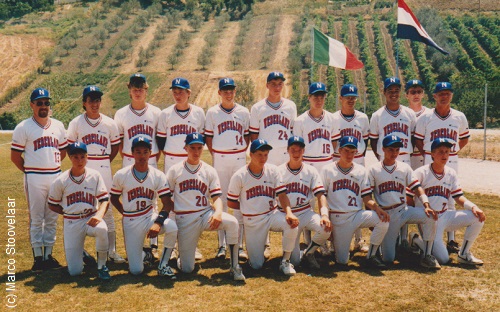 ...The successful Netherlands Cadets Team that captured...
...the European Championship-title in 1985 in San Marino...
...Huub Kohl stands at left; Standing at right is Manager...
...Floor Blaauw with Wim Hageman besides him...
(© Photo: Marco Stoovelaar)

After the 1975 season and after having played for Feyenoord for seventeen years, Kohl transfered to Haarlem Nicols. There, he played in three more seasons. With Nicols, he won the Dutch Championship-title in 1976 and 1977. He then briefly played in the 1978 season, before retiring as an active player. At Nicols, Kohl played together with Jersey van Doornspeek, Garry Holland, Henny Jenken, Ton de Jager, Fokke Jelsma, Bill Kelly, Jan Dick Leurs, Boudewijn Maat, Robert Maat, Douglas Morton, Leo Naaktgeboren and Harry van der Vaart. In following years, Kohl would work together in coaching with Leurs, Maat, Naaktgeboren and Van der Vaart.

Kohl started a coaching career after the 1978 season. He was named Head Coach of Haarlem Nicols, whom he led in 1979 and 1980. Hereafter, Kohl was succeeded by Jan Dick Leurs, while he himself returned to Feyenoord. There, Kohl was the Head Coach for three seasons when Feyenoord played in the First Division. Initially, he was to coach the team again in 1984, but in the off-season, he suffered a heart attack. He recovered well, but only served as an adviser of interim-coach Dick Lamet.

Later in 1984, Kohl was named Assistant Coach of the Netherlands Cadets Team, which was led by Manager Floor Blaauw. The following year, Kohl again assisted Blaauw, as was Wim Hageman, during the European Cadets Championship in San Marino. There, the Netherlands captured the title. Amongst the players in the successful Cadets-team were future big league and National Team-players, including Ron Agterberg, Roy Berrevoets, Michael Crouwel, Patrick van Doorn, Rikkert Faneyte, Martijn Kant, Erik Lommerde, Clive Mendes, Caspar van Rijnbach and Byron Ward.

In 1986, Kohl was a member of the coaching-staff of the Netherlands Junior Team, with Harry van der Vaart being the Manager. Also in these years, Kohl was one of the instructors of the Baseball School, which was located in Zwanenburg and led by Cees Herkemij and Cees Santifort. There, Kohl was the catching instructor.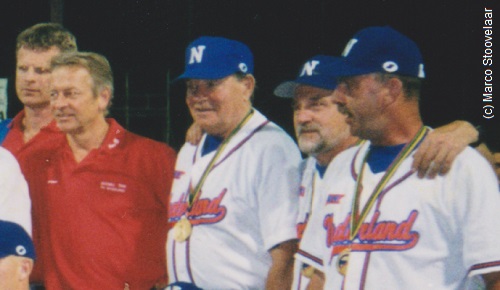 ...Huub Kohl (second from right) with Frank Nusse (Team...
...Doctor), Maarten Koper (Physical Therapist), Tom Petroff...
...(Coach) and Leo Naaktgeboren (Coach) after winning the...
...European Championship-title in 1999 in Parma (Italy)...
(© Photo: Marco Stoovelaar)

In 1986, Kohl also filled in as coach again at Feyenoord. After having taking off a year, Kohl succeeds Hamilton Richardson as Head Coach of Neptunus in 1988. He also led the team in 1989 and 1990, assisted by Leen Staub and Jan Collins. In these years, Neptunus reached the Holland Series three times, but was left empty-handed each time. In 1987, led by Richardson, Neptunus was beaten 2-1 by Amsterdam Pirates in a best-of-three in the first-ever Holland Series. In 1988, there was no Holland Series, as Haarlem Nicols won both the first and second half of the regular season to become the Dutch champion. In 1989, a Play-Off system was adopted to avoid this situation. Neptunus then qualified again for the Holland Series, which then was a best-of-seven, but Haarlem Nicols wins the Series, 4-3. In 1990, the Holland Series was a best-of-five and Neptunus was then swept in three games by Amsterdam Pirates.

In 1997, Huub Kohl was named to the coaching-staff of Manager Jan Dick Leurs of the Netherlands National Team, along with Boudewijn Maat, Dave Daniels and Brian Farley. In that year, the Orange-squad finished in second place in the World Port Tournament in Rotterdam (Netherlands) and the European Championship in Paris (France). In 1998 and 1999, Kohl returned as an assistant of Leurs, while Leo Naaktgeboren, Jim Hovorka and Tom Petroff became new members of the staff. In 1998, the Netherlands participated in the Haarlem Baseball Week in Haarlem (Netherlands), then finished in sixth place at the World Championship in Italy. In 1999, the year belonged to the Netherlands. The team first wins the World Port Tournament, then also captured the European title in Parma (Italy). Hereafter, Kohl retired from coaching.

While he was a very productive batter and a solid catcher and third baseman, Huub Kohl never played for the Netherlands National Team, as he was having the German nationality. In 1966, he did play in a few games for the Netherlands B-Team. In the seventies, Kohl played several international games for the National Team of then West-Germany, with whom he participated in the European Championship in 1969 and 1971. During the European Championship of 1993, Kohl is an Assistant Coach of the German Team, assisting Manager Roland Hoffmann.

It always has been a pleasure to work together with Huub Kohl, who mostly had a big smile on his face, but when he was in uniform, he was the coach and in charge of the team. Huub always was very passionate while playing and coaching and was able to bring the best out of a player. He surely will be missed by many.

The webmaster of Grand Slam * Stats & News offers his condolences to Huub's wife Sini, his sons Dave and Geoffy and other family and wishes them a lot of strength with this big loss.

(March 1)