(Story by Marco Stoovelaar; Photo by Henk Seppen)


Twins-catcher Jarreau Martina to play for Bologna this season
Nederlands



BOLOGNA (Italy) - Dutch catcher Jarreau Martina will play this season for UnipolSai Fortitudo Bologna in the Italian Serie A1. Bologna announced the addition of Martina on January 28. Last year, the 28-year old Martina played for De Glaskoning Twins in the Dutch big league.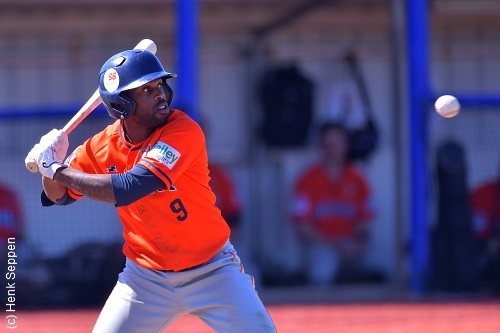 ...Jarreau Martina hitting for Twins in the 2018 season...
(© Photo: Henk Seppen)

In his youth, the catcher/outfielder played for Rotterdam-based Unicorns, but he then moved to Curaçao. There, he played baseball and returned to the Netherlands in 2010. That year, at age 20, he made his big league-debut, playing in two games for Sparta-Feyenoord. A year later, he played in 33 games for ADO and batted .273.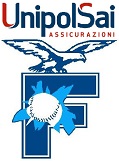 Next, Martina went on to play for Zwijndrecht and then Twins in the second highest league. He returned to the highest division in 2015 when he played for HCAW in Bussum. There, he led the team with a .266 batting average and in basehits (33).
But after the 2015 season, he returned to Twins, which had promoted to the big league. With a .299 average, he was the second best hitter of team behind Jeffrey Arends (.303), who this season will make his debut as the Head Coach of the team. Martina also started to show his speed on the bases, as he led Twins with nine stolen bases.
After the 2016 season, Martina initially stopped playing at the highest level. He transfered to Neptunus to play in its second team (Tridents), but he didn't play much. Another move then followed after the season. Martina not only again returned to Twins, but he also made his comeback at the highest level last year. He played in 38 games, batted .272, had 24 runs batted in and was second-best in the team with 28 runs scored. Martina led the team with 20 stolen bases, which was only one behind league-leader Roelie Henrique (HCAW).
Last year, Gilmer Lampe played for Bologna, which then captured its eleventh Italian Championship-title. The team of Manager Daniele Frignani then won the best-of-five Italian Series 3-1 against Parma Clima. This season, Lampe will play again for L&D Amsterdam Pirates in the Dutch big league.
In June, Bologna will be the host of the European Champions Cup-tournament. The Netherlands will be represented there by Curaçao Neptunus and L&D Amsterdam Pirates.
(March 1)