(Story by Marco Stoovelaar; Photo by Henk Seppen)

Brisbane Bandits captures 4th straight title; First for Loek van Mil
Nederlands



THORNLIE, Perth, Western Australia (Australia) - Defending champion Brisbane Bandits defeated Perth Heat 9-4 on Saturday (February 2) in Game 2 of the best-of-three Australian Baseball League Championship Series to complete a 2-game sweep and capture the title for the fourth consecutive year. With this, Brisbane again won the Claxton Shield and became the first team to win the title in four consecutive years. The only other team with four ABL-titles overall is Perth Heat.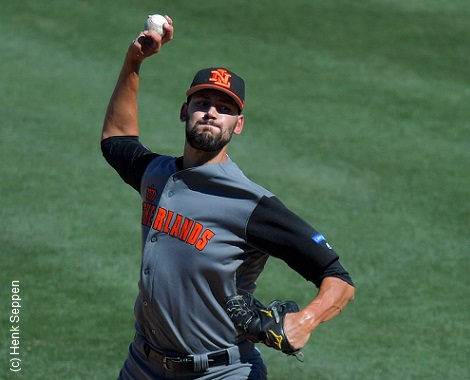 ...First Australian title for Loek van Mil...
(© Photo: Henk Seppen)

For pitcher Loek van Mil, this ended an emotional season. He not only was a member of an Australian champion for the first time, but he was able to comeback after sustaining severe head wounds early December, which led to him being hospitalized in critical condition. At that time, it was not known how he would recover and if he would be able to play baseball again. Luckily, Van Mil recovered very well and returned to the mound two weeks ago.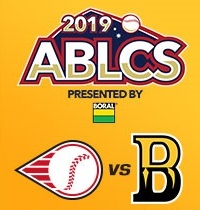 In his first three seasons in Australia, Loek van Mil pitched for Adelaide Bite, but he transfered to Brisbane after last season. While his season was interrupted, he was able to celebrate his first Australian title on Saturday. It is now also expected that the righthander will be fully available from the beginning for defending Dutch champion Curaçao Neptunus, which opens the new season on April 4.
On Thursday, Brisbane opened the Final with a 3-2 victory. Van Mil pitched two scoreless innings in that game and earned a hold. Today, he didn't pitch.
At Perth Harley-Davidson Ballpark in Thornlie, Brisbane struck in the third inning. Leading 2-0, the team rallied for six runs to decide the game. Trailing 8-0, Perth was able to do something back from the fourth inning on, but never could turn the game its way to force a deciding third match-up on Sunday. By the way, Perth scored all its four runs on homeruns. Brisbane homered three times.
Brisbane opened the score in the first inning when Andrew Campbell homered with two outs off of starter Conor Lourey. Wade Dutton added a lead-off homerun in the second at bat.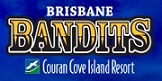 In the third inning, Brisbane took more distance by scoring six runs. The team got the bases loaded when Riley Unroe (who was 3-for-5) led off with a single and both T.J. Bennett and Andrew Campbell walked. A pitching change followed and Nick Veale took over from Lourey. He was greeted with a runscoring single from Logan Wade, but then struckout the next two batters. However, a wild pitch then accounted for the next run and the bases were re-loaded when Wynton Bernard walked. Hereafter, David Sutherland delivered a baseclearing, 3-run double, advanced to third base on a throwing error and moments later scored on another wild pitch. Veale closed with a strikeout, but the damage had been done, as Brisbane had a commanding 8-0 lead.
Perth scored its first run in the top of the fourth off of starter Tim Atherton when Pete Kozma homered with one out.
Brisbane got the run back immediately in its fourth at bat when T.J. Bennett hit a homerun with one out.
The scoring from Brisbane stopped after the fourth inning, but its lead never get into jeopardy, as its pitching and defense allowed only three more runs.
In the top of the fifth, Chris Clare led off with a homerun for Perth, but the team then stranded runners on first and second base.
In the sixth, it was Robbie Glendinning who led off for Perth and homered. In the eighth, Glendinning homered again, this time with two outs. But all Perth-homeruns were hit without baserunners.
Leading 9-4 in the top of the ninth, closer Ryan Searle took the mound. Brisbane-starter Tim Atherton again had strong outing. In eight innings, he struckout ten batters, walked two and gave up seven basehits. With one out, Searle gave up a double to Chris Clare, but hereafter, two pop-flies followed to end the game.
(February 2)
Related Articles:


Brisbane and Loek van Mil open Australian Final with win. (January 31)


Van Mil (Brisbane) in Australian Final; Kemp (Sydney) eliminated. (January 27)


Canberra and Perth force 3rd game in Australian Play-Offs. (January 26)


Kemp & Van Mil win Australian Play-Off openers. (January 25)


Canberra wins Australian Wild Card; Kemp leads in basehits. (January 23)


Loek van Mil returns to mound in Australia for Brisbane. (January 20)


Loek van Mil stable, recovering in Australian hospital. (December 11, 2018)


Loek van Mil hospitalized is critical condition in Australia. (December 10, 2018)