(Story by Marco Stoovelaar; Photo by Western Kentucky University)

Hoofddorp Pioniers adds American/British pitcher Paul Kirkpatrick
Nederlands



HOOFDDORP (Neth.) - Hoofddorp Pioniers has expanded its pitching-staff with the addition of American/British righthander Paul Kirkpatrick, the club confirmed on Tuesday (April 2). The pitcher arrived earlier on the day and was with the team in the evening during a practice session. Pioniers opens the regular season on Thursday at DSS in Haarlem.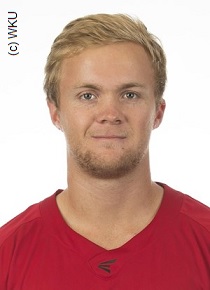 ...Paul Kirkpatrick...
(© Photo: Western
Kentucky Univ.)

The 22-year old Kirkpatrick was born in London, England, but grew up in the USA. There, he attended Westlake High School in Texas and was 11-6 as a pitcher. His mother Gayle played tennis at Wake Forest University and Wittenberg University. His sister Olivia did rowing at San Diego State University.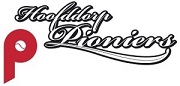 After High School, Kirkpatrick went on to study and play baseball at Wake Forest University in 2015 He appeared in 20 games (six starts) of the Demon Deacons and was 3-2 with 39 strikeouts in 47 2/3 inning and a 6.61 ERA. He already showed having a good control, as he walked only 13 batters.
Thereafter, Kirkpatrick pitched for McLennan Community College in the 2016 college-season. There, he was 4-3 with two saves and a 6.09 ERA, pitching in twelve games (eight starts, two complete) for the Highlanders and struckout 33 batters in 44 1/3 inning.
Hereafter, Kirkpatrick transfered to Western Kentucky University, which plays in Division I with its baseball-team. In between, he played in Summer League in 2016 in the Coastal Carolina League, playing for Savannah Bananas, with whom he won the championship. A year earlier, he played for Martinsville Mustangs in the same Summer League.
In his first season for Western Kentucky University in 2017, he was 2-9 with a 7.55 ERA, pitching in 14 games (all starts). The next season (2018), the righthander was 4-6 with a 5.68 ERA for the Hilltoppers, again pitching in 14 games, In 28 games (27 starts) in these two seasons, Kirkpatrick struckout 92 batters in 133 2/3 inning and walked only 29. He gave up 178 basehits.
Last year, Paul Kirkpatrick pitched for Stuttgart Reds in the Southern Division of the German 1.Bundesliga. He pitched in five games (all starts, two complete) and was 2-3 with a 3.74 ERA, striking out 36 batters in 33 2/3 inning, giving up 28 basehits and walking 16.
In 2016, Kirkpatrick was a member of the National Team of Great Britain during the World Baseball Classic Qualifier in Brooklyn, New York. During this event, he pitched in relief in two games. Against Pakistan, he took over the pitching from starter Greg Hendrix in the fifth inning with a 10-0 lead. As Hendrix didn't pitch five complete innings, Kirkpatrick was credited with the win. In the Final of the Qualifier, Kirkpatrick pitched against Israel. He then entered the game in the eighth inning with the British team trailing 7-1. Israel went on to qualify for the 2017 World Baseball Classic.
(April 2)