In tonight's game, Darryl Jamoena started for Storks and the righthander had a good outing, striking out nine batters in four innings, giving up four basehits.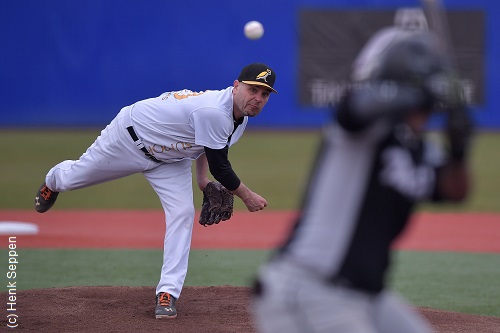 ...Rob Cordemans started for Amsterdam Pirates...
...He struckout 8 batters and now has 1,993 in his career...
(© Photo: Henk Seppen)

Veteran Rob Cordemans started for Amsterdam Pirates and also delivered another fine performance. The righthander struckout eight batters in five innings and also gave up only four hits.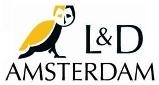 With this, Jamoena began his third season at the highest level and pitched in his 24th game, but only his sixth start. On the other hand, 'milestone-collector' Cordemans started his 26th season in the highest division (his tenth with Pirates). For Cordemans, this was his 323rd game and 284th start, both all-time records he extended tonight. As mentioned above Cordemans can strikeout his 2,000th career batter in his next start, as he needs only seven to reach this milestone. This season, Cordemans can become the first pitcher in Dutch big league history with 2,000 strikeouts, 2,000 innings pitched and 200 victories.
Cordemans began the game with his 1,996th strikeout, but then gave up a single to Jurriaan Dijk. That was hit at 7:34 PM and was the first basehit in the 2019 big league-season. The first run was scored in the game between Quick Amersfoort vs. Twins Oosterhout, the first homerun was hit in the match-up between Curaçao Neptunus and HCAW.
For Amsterdam, Linoy Croes led off the bottom of the first inning with a single. He was awarded second base on a balk to become the first runner in scoring position. But both Dijk and Croes were left behind.
Darryl Jamoena struckout the side in the second inning. He also struckout three batters in the third, but also gave up two runs in that at bat. With one out, Delano Selassa singled and stole second base. With two outs, Niels van Weert walked. Both scored when Gilmer Lampe followed with a double. Jamoena closed with his eighth strikeout in three innings, but trailed 2-0.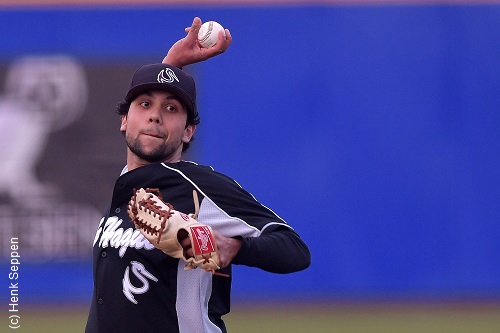 ...Darryl Jamoena started for Storks...
...He struckout a career-high 9 batters...
(© Photo: Henk Seppen)

Cordemans did not allow a runner to get into scoring position in the first four innings, but then gave un an unearned run in the fifth. In the previous innings, two debuting Storks-players reached a milestone. In the second inning, Luuk Visser singled in his first big league at bat, but then was caught stealing. And in third, Hungarian player Krisztián Tóth did the same, but he was picked off first base by Cordemans. By the way, Tóth became the first Hungarian player in the Dutch big league. Tóth also plays for the National Team of Hungary with whom he last year participated in the European Championship C-Pool Qualifier in Kropyvnytskyi in Ukraine.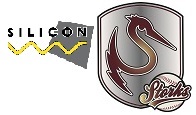 With two outs in the top of the fifth and Krisztián Tóth (fielder's choice) on first base, Roy Winkel singled. Winkel made his big league-debut in 2011, playing in one game of ADO, then also played in one game the next season for ADOLakers. As he went 0-for-4 in those two games combined, this was Winkel's first big league-basehit. A pick-off at first base by catcher Max Clarijs then resulted in two errors. That enabled Tóth to score and Winkel to reach third base. Next batter Giovanny Perez walked, but Cordemans then closed with his eighth and final strikeout of the evening.
In the next four innings, Storks was retired in order by relievers Nick Veltkamp, Mike Groen and Maickel Rietel.
Amsterdam Pirates took more distance in the bottom of the fifth inning off of David van Heyningen, who also made his big league-debut. Storks had four players tonight who made their debut, the fourth being Stephon Mohamed. With one out, Niels van Weert walked and he moved to third base when a pick-off ended in a throwing error. Next batter Gilmer Lampe also walked, then stole second base. The two runners advanced on a wild pitch, which led to a run. Moments later, Lampe also scored on a wild pitch to make it a 4-1 score.
Pirates added another run in the sixth inning. The team got the bases loaded when Victor Draijer and Delano Selassa walked and Linoy Croes reached on a bunt-single. With two outs, Draijer scored when Denzel Richardson also walked. That led to a pitching change. Sem Lauf took over with the bases loaded and the inning ended when third baseman Krisztián Tóth caught a line drive from Kenny Berkenbosch.
Amsterdam also got the bases loaded again in the eigth inning. The inning then ended when Lauf started a 1-2-3 double play on a grounder by Denzel Richardson.