DSS and Hoofddorp Pioniers played an interesting and suspenseful game that was decided in the final three innings. The first six innings remained scoreless, as both starting pitchers had a good outing. DSS-starter Juan Carlos Sulbaran saw Pioniers get into scoring position two times, but gave up only two basehits in the five innings he pitched, striking out six batters. Pioniers-starter Lars Huijer struckout 12 batters in six innings, while giving up only three basehits. Off of Huijer, DSS also got into scoring position twice, but ran itself out of a scoring opportunity in the fourth.

Pioniers got into scoring postion for the first time in the top of the second inning. Jelle Kroft then led off with a walk, moved on a sacrifice bunt by debuting Nolan Beugeling and reached third base on a 2-out single by Joey de Koning. But the two runners stranded.

In the bottom of the second inning, Koen Halderman led off with a single for DSS, but was forced out on a grounder with one out by Diamond Silberie. The latter advanced on a wild pitch, but was left there.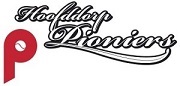 After Sulbaran had struckout three batters in the third inning, he gave up a lead-off double to Paul Brands in the fourth inning. He moved to third base on a following grounder, but then was left behind. For Brands, this was his first regular season-game in the big league since 2015. In that season, he appeared in seven games for Pioniers. He also played in five games for the Hoofddorp-team in the Championship Pool 2017. Brands played professionally in the organization of the Pittsburgh Pirates in 2015-2018. In his first three seasons, he played in Rookie League. Last year, he played in Single-A, but he was released on November 6.

In the bottom of the fourth, DSS got runners on first and third base with no outs. Runai Coran led off with a double, then moved to third base on a wild pitch. Next batter Aldi Guzman walked. After Lars Huijer had struckout the next batter, he had a successful pick-off at first base. Guzman was eliminated in a rundown, then Coran tried to score, but he was eliminated at the plate to complete a double play.
Pioniers got into scoring position in the top of the sixth off of reliever Moreno Vork. With one out, Paul Brands singled, but he stranded on second base.
Pioniers then opened the score in the seventh. New pitcher Ben Neijndorff made his debut, but he got the bases loaded quickly. Tyler Boersma and Joey de Koning walked and Duco Nuijten was hit by a pitch. DSS' new Head Coach Marco Wels quickly made another pitching change and brought in Robyn Clara. He faced debuting Raul Jacobs, who flied out. Clara then walked Mark Smit, which brought in the first run. Hereafter, De Koning was forced out at the plate on a grounder by Joey Eeman, then the inning ended when Paul Brands lined out.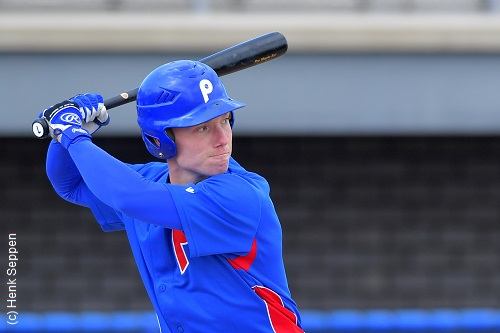 ...Joey Eeman batted in the tying run for Pioniers in the 9th...
...then scored the fourth run for his team...
(© Photo: Henk Seppen)

DSS answered with two runs in the bottom of the seventh off of new pitcher Nick Loos. He walked lead-off hitter Aldi Guzman. His pinch-runner Daniël Heiligers moved into scoring position via a sacrifice bunt by Koen Halderman, then reached third base on a wild pitch. Hereafter, he scored the tying run on a single by Leandro Anasagasti, who last season played for Pioniers. Next batter Diamond Silberie reached on an infield-hit, then Anasagasti advanced to third base on a flyout by Koen Werkman. Moments later, Anasagasti scored on a single by Devano Pieter to give DSS a 2-1 lead, before a flyout ended the at bat.

Both teams got into scoring position in the eighth inning. For Pioniers, Jelle Kroft led off with a single, then his pinch-runner Bodhi de Vreede moved to second base on a sacrifice bunt. With two outs, Joey de Koning grounded towards third base where De Vreede was eliminated. For DSS, pinch-hitter Brian Raap singled with two outs. Raap, who last season also played for Pioniers, moved on a wild pitch, but stranded on second base.

In the top of the ninth inning, Pioniers scored three runs off of Tim Halderman, who had come on in relief in the previous inning. With one out, he gave up the first big league-basehit to Raul Jacobs, then walked Mark Smit. Next batter Joey Eeman delivered a runscoring single to bring in the tying run and make it a new ball game. As the single was followed by an outfield-error, Smit moved to third base. He then scored the go-ahead run when debuting Jaison Gijsbertha singled in his first big league at bat. With two outs, Gijsbertha got into a rundown after a pick-off, but reached second based safely on an error, which enabled Eeman to score. With Pioniers now leading 4-2, Nolan Beugeling walked and Jorrit Penseel followed with a single. Gijsbertha tried to score, but was eliminated at the plate.

In the bottom of the ninth, DSS got the bases loaded with only one out and with that, the possibilty of extra innings was in the making. Debuting reliever Nathan Diaby, who had taken over the pitching for Pioniers in the eighth, began with a strikeout, but then gave up a single to Koen Werkman and walked Devano Pieter. He got the bases loaded when Mitchel Dautzenberg also singled. That led to a pitching change. Daniël Vos took over and began with a strikeout. The game then ended when Runai Coran flied out. With that, Diaby became the winning pitcher in his debut and Vos earned a save.