www.grand-slam.nl
Baseball
Headlines
Compiled and Copyright © 1997-2019 by Marco Stoovelaar

(Story by Marco Stoovelaar; Photo by Robert Bos & Henk Seppen)

Neptunus shuts out HCAW on Opening Night
Nederlands



ROTTERDAM (Neth.) - Defending champion Curaçao Neptunus opened the 2019 season on a chilly Thursday-evening (April 4) at home with a convincing 10-0, mercy-rule win against HCAW.
Last year, the season opened on April 26, which was one of the latest opening dates in history. Tonight was one the earliest season openers. It is the earliest since the 2012 season opened on Thursday, April 5.
There was another interesting fact in tonight's four games, as a huge total of 91 batters struckout, 40 of them in the first three innings. This is by far the highest total on an Opening Day in years. The previous high in the past fourteen years was 63 in 2011. This underscores that the timing of the batters still needs the necessary adjustments after a short period of preparations for the season. After several exhibition games were cancelled, the eight teams only had two weeks to play some games.
16 of these strikeouts were rcorded in the game between Neptunus and HCAW. Seven of them were thrown by Neptunus-starter Diegomar Markwell, his highest Opening Day-total since he also struckout seven in 2013 and 2014. Markwell's Opening Day-record is nine, which he accomplished in 2006.
(April 4)

Neptunus had three rallies tonight that accounted for the ten runs. The team scored three runs in the second inning, added four in the fifth and closed the game with three runs in the eighth at bat.

HCAW got into scoring position only twice, both times off of starting pitcher Diegomar Markwell.
In the second inning, Rodney Daal led off for HCAW with a single, then moved on an one-out single by Patrick Bok. The two advanced on a grounder by Berend Ruben, but stranded on second and third base.
In the sixth inning, Jeandro Tromp led off with a walk and then Rodney Daal singled with two outs. They were left behind on first and second base.

Neptunus stranded a runner on second base in the first inning, but then scored three runs in the second inning on only one basehit. With one out, HCAW-starter Chris Pfau ran in control-problems. He walked Shaldimar Daantji and Gregory Muller, then gave a runscoring single to Jochem Koedijk. Hereafter, the bases got loaded when the lefthander hit Stijn van der Meer with a pitch. Next, Pfau walked Benjamin Dille, which led to the second run. A force play-grounder by Dwayne Kemp made it a 3-0 score.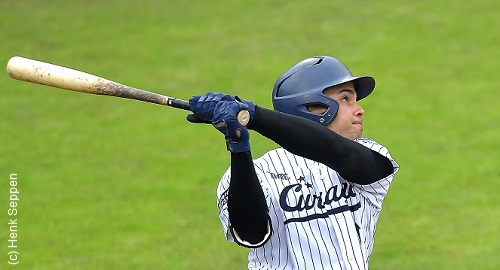 ...Quintin De Cuba homered for Neptunus...
(© Photo: Henk Seppen)

Neptunus added four runs (two unearned) in the fifth inning off of new pitcher Ian Delemarre. Dwayne Kemp led off with a double, then was unable to advance when Dudley Leonora reached on an error with one out. Next batter Quintin De Cuba connected well and hit a 3-run homerun, which he did at 9:04 PM. With that, De Cuba hit the first homerun of the 2019 big league-season. The first basehit was recorded in the game between L&D Amsterdam Pirates and Silicon Storks. The first run was scored in the game between Quick Amersfoort and Twins Oosterhout. After the homerun, Delemarre gave up a single to Shaldimar Daantji, who moved to third base on a 2-out single by Jochem Koedijk and scored on a following double by Stijn van der Meer.

Neptunus reached the 10-run difference in the bottom of the eighth off of reliever Norbert Jongerius, who made his comeback in the highest league. In 2017, he played for Amsterdam Pirates. In the eighth, Jochem Koedijk led off with a walk, then Stijn van der Meer hit his second double of the evening. Benjamin Dille added an RBI-single. After Dwayne Kemp had popped out, Gianison Boekhoudt doubled to lift the lead to 9-0. With Dille on third base, the game ended when Dudley Leonora hit a walk-off sacrifice fly.
...Left: Neptunus Head Coach Ronald Jaarsma and HCAW Assistant Coach Rudy Dirksen bring the...
...starting line-ups to HP Umpire Edwin Louisa, as watched by Umpires André Ficken and Winfried Berkvens...
...Right: Diegomar Markwell was the starting and winning pitcher for Neptunus...
...Left: Chris Pfau was the starting pitcher for HCAW...
...Right: Rodney Daal (HCAW) dives back to 1st base in the 2nd inning...
...Left: Jochem Koedijk singles in the first run for Neptunus in the 2nd inning...
...Right: Dudley Leonora is forced out and sees short stop Oliver van der Wijst Severino...
...complete a double play in the 3rd inning...
...Left: Berend Ruben (HCAW) breaks his bat hitting a pop-fly in the 5th inning...
...Right: Quintin De Cuba hits a 3-run homerun for Neptunus in the 5th inning...
...Left: Oscar Meuris pitched in relief for HCAW...
...Right: Kevin Kelly closed for Neptunus...
(© All Photos: Robert Bos)
Curaçao Neptunus - HCAW 10-0 (8 inn.)
R
H
E
HCAW
000
000
00
-
0
4
1
Curaçao Neptunus
030
040
03
-
10
11
0
(two outs when 10-run difference was reached in the eighth inning)
pitchers HCAW
inn.
SO
BB
H
R
ER
Chris Pfau, L (0-1)
4
3
6
2
3
3

---

Ian Delemarre
1
1
-
5
4
2

---

Timo van Ancum
1
-
-
1
-
-

---

Oscar Meuris
1
2
-
-
-
-

---

Norbert Jongerius
0.2
-
1
3
3
3

---

pitchers Neptunus
inn.
SO
BB
H
R
ER
Diegomar Markwell, W (1-0)
6
7
1
4
-
-

---

Kevin Kelly
2
3
-
-
-
-

---

Homerun: Neptunus: Quintin De Cuba (1)(5th,3-run,1 out,off Delemarre).
Umpires: HP-Edwin Louisa, 1B-André Ficken, 3B-Winfried Berkvens.
Official Scorer-Dieks Bannink.
Play-by-Play Scorer-Alex van den Berg.
Public Address Announcer-Hélène van Eijk-Kloos.
Scoreboard Operator-Lex Looijen.
Starting Time-7:30 PM.
Time Played-2:25 hrs.
Site-Neptunus Familiestadion, Sportpark Abraham van Stolkweg, Rotterdam.

Game Notes:


Opening Night 2019.


Renaigel Martis (HCAW) makes his debut in the Dutch big league.


Quintin De Cuba (Neptunus) hits the first homerun in the 2019 big league-season in the 5th inning at 9:04 PM.
Weather conditions at game time: Cloudy, 8,8° C (47,8° F); wind direction east-southeast;
wind speed 13 kmh (8,1 mph); wind force 2 Bft; humidity 60%.

Thank you for visiting this site.
Mail your suggestions and questions to stoov@wxs.nl
Copyright © 1997-2019 Marco Stoovelaar / Grand Slam * Stats & News.