Twins-starter Thomas Roijers made his debut in the Dutch big league. Last season, the righthander played for PSV, which finished in third place in the First Division (third highest league). Roijers not only struckout nine batters, he also took a No-Hitter into the sixth inning! But that ended with one out in the sixth inning. There has been only one No-Hitter pitched on an Opening Day. That was done in 1984 by Bart Volkerijk of ADO.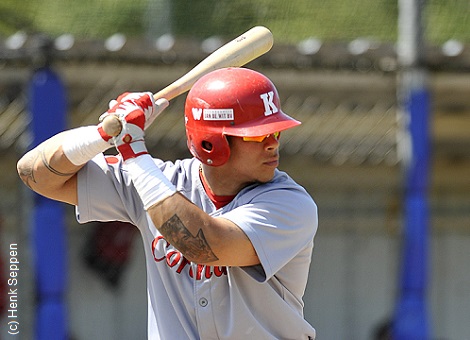 ...Jason Halman was 4-for-6 with two doubles...
...He also scored twice, had 2 RBI's and stole a base...
...in his first big league-game since 2011...
...On the photo, he hits for Kinheim in the 2010 season...
(© Photo: Henk Seppen)

For Quick-starter Taylor Clemensia, this also was his first big league-game as a starting pitcher. Last season, the lefthander was used only in relief when he played for Curaçao Neptunus. Clemensia made his debut in the 2014 season while playing for Hoofddorp Pioniers, but then played as an outfielder and also was used as a designated hitter, pinch-hitter and pinch-runner. In 2015, he pitched in five games in relief for Pioniers. Clemensia didn't play in the regular season for the Hoofddorp-team in 2016 and 2017. In those two years, he played professionally in the organization of the Minnesota Twins at the Rookie League-level. Clemensia was released on March 19, 2018 and he then returned to the Netherlands where he joined Neptunus. After the season, he transfered to Quick Amersfoort.

Both pitchers retired the side in the first inning. In the top of the second inning, Clemensia gave up a lead-off double to Jason Halman in his first big league at bat since August 7, 2011 when he was 3-for-4 for Kinheim against UVV. Back then, he was a teammate of Bryan Engelhardt, who now played for opponent Quick Amersfoort. Also playing in that game for UVV was Glenn Romney, who tonight made his debut as Head Coach of Quick. Halman is the brother of former Major League-player Greg Halman, who passed away in November 2011.
With Halman on second base and one out, Clemensia walked four straight batters. He first walked Joshua Zara and Max Kops, which loaded the bases. Hereafter, the lefthander walked Jerzy van Gool and Brian Biezen, which led to two runs and an early lead for Twins. Halman scored his run at 7:52 PM, which was the first run scored of the 2019 big league-season. The first basehit was recorded in the game between L&D Amsterdam Pirates and Silicon Storks. The first homerun was hit in the game between Curaçao Neptunus and HCAW.
After Clemensia had struckout the side in the third inning, he gave up another run in the fourth. With one out, Max Kops singled, stole second base and scored on a 2-out single by Brian Biezen.
Three more runs were added in the fifth. With one out, Clemensia was relieved by Jasper Popken, who was greeted with a single by Dennis De Quint, then the second double by Jason Halman. Both scored when next batter Shurman Marlin singled. After a walk for Joshua Zara, another run was scored on a double by Max Kops, who was 3-for-4. Like Halman, Zara also made a comeback in the highest league, as he played in his last big league-game in 2014 when he played for ADOLakers.

In the top of the sixth, off of new pitcher Mitchell Berghmans, Twins scored another run. Stijn Janssens led off with a walk, was awarded second base on a balk, moved on a grounder and scored on a sacrifice fly by Dennis De Quint.
In the meantime, debuting Thomas Roijers was pitching a No-Hitter for Twins. He retired the first eight batters he faced (four strikeouts), then hit debuting Denzel Brooks with a pitch with two outs in the third inning. Brooks stole second base, advanced on a throwing error, but stranded on third base, as Roijers closed with a strikeout. After having retired six batters in a row, Roijers got his next runners with two outs in the fifth when Dakota van der Heyde reached on an error, but he was then forced out. Van der Heyde was one of seven players tonight who make their big league-debut. Last year, the first baseman played in three games for HCAW in the Championship Pool, but he didn't play in the regular season for the Bussum-team.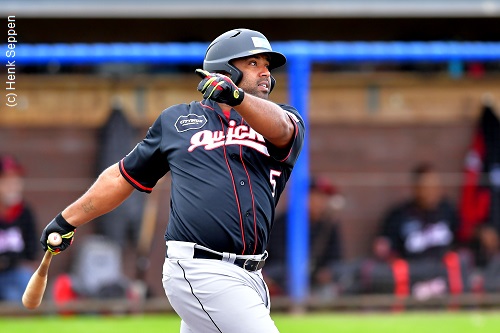 ...Bryan Engelhardt homered for Quick Amersfoort...
(© Photo: Henk Seppen)

With a 7-0 lead, Thomas Roijers returned to the mound in the bottom of the sixth for Twins. He then hit lead-off hitter Denzel Brooks again in his second at bat of the game. While Roijers struckout the next batter, Brooks stole second base. Moments later, he scored the first run for Quick on a double by debuting Sam van der Ploeg. That not only broke the No-Hitter and the ShutOut, but also was Van der Ploeg's first big league-basehit. Hereafter, Roijers closed with two more strikeouts to give him nine in his debut on the mound.

In the top of the seventh, Twins rallied for four runs with two outs to take an 11-1 lead. With one out, Max Kops singled, stole second base and scored on a 2-out double by Brian Biezen, who last season set a single-season big league-record with eight triples. Hereafter, Stijn Janssens was hit by a pitch. After Biezen had stolen third base, he scored on a single by Ruar Verkerk, who last season hit four basehits in the opening-game of Twins. Next batters Dennis De Quint and Jason Halman delivered runscoring singles to put Twins on a 10-run difference lead.

Twins now needed only three outs to end the game via the mercy-rule and become the first of tonight's four games to come to a close. Marvin Brown took over the pitching from Thomas Roijers to make his big league-debut. However, he wasn't supported by his defense, which committed three errors, resulting in two unearned runs for Quick and in the end, the game was the last to finish tonight. First, a fly by lead-off hitter Rowan van Hoek was missed in the outfield. He then scored when Jules Cremer followed with a double. Next, a throwing error was made on a grounder by Dakota van der Heyde. That moved Cremer to third base and with one out, he scored when Denzel Brooks also reached on an error. With two outs, Sam van der Ploeg walked, but Quick left three runners behind when Brown closed with a strikeout, his third in this inning. But the 10-run difference deficit was erased and so, the game continued.

In the top of the eighth, Twins was held scoreless by reliever Jan-Willem Geerts. Quick then added another run in its eighth at bat when Bryan Engelhardt led off with a homerun off of debuting Jan van den Hurk. For Engelhardt, this was the 84th homerun in his long big league-career. Engelhardt's homerun was only the third (and last) basehit for Quick in this game.

Now leading 11-4, Twins scored one more run in the top of the ninth off of Pastor Enrique Martínez Chavez. Last season, Martínez played for Twins, where he was mostly used as a starter and was 1-3 with a 4.53 ERA. With one out, the righthander gave up a double to Ruar Verkerk, who moved on a single by Dennis De Quint, who was 3-for-5. De Quint was forced out on a grounder by Jason Halman, but that brought in Verkerk.

Raf Cocu pitched the ninth inning for Twins. He walked two batters, but didn't gave up additional runs. A flyout then ended the game, whch was the longest tonight with three hours and 14 minutes.