www.grand-slam.nl
Baseball
Headlines
Compiled and Copyright © 1997-2019 by Marco Stoovelaar

(Story by Marco Stoovelaar; Photos by Robert Bos)

Quick Amersfoort strikes late to beat Neptunus
Nederlands



ROTTERDAM (Neth.) - Quick Amersfoort failed to hold onto an initial lead, but then struck with four runs in the final three innings to win 6-2 against Curaçao Neptunus on Saturday (May 4). It was a chilly day with an average temperature of 9,4 degrees Celsius (48,9 F), but with a windchill of 4,4 C (39,9 F). Besides that, there were some strong winds.
In the opening-game on Thursday, Neptunus also faced a deficit, but was able to turn the game around from the seventh inning on an won 7-3.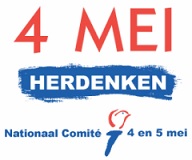 Today was National Memorial Day in the Netherlands. On May 4, there are several Memorials throughout the country. At 8 PM, the National Memorial takes place at the National Monument at the Dam Square in Amsterdam.
In several previous seasons when May 4 was also a day in the weekend, games started earlier. Not only to finish the game in time, but also to enable those who wanted to attend Memorials to do so.
Today, only HCAW had moved up its starting time to 1 PM, instead of 2:30 PM. The home-games of Curaçao Neptunus and L&D Amsterdam Pirates started at their regular time of 2:00 PM. Twins Oosterhout moved up its starting time up 30 minutes to 2:30 PM. Remarkable enough, there were a few games in lower divisions that started their game today at 6 PM.
(May 4)

Neptunus-starter Orlando Yntema had a good outing. The veteran righthander struckout ten batters and gave up only three hits in six innings. However, he also gave up two runs and left the mound with a 2-0 lead for Quick Amersfoort. He ended up with a no-decision, as Neptunus came alongside. But herefater, the bullpen gave up four runs, which resulted in a win for Quick Amersfoort.

Yntema struckout the side in the top of the first inning, but got a runner in scoring position in the second. He then gave up a lead-off single to Bryan Engelhardt, who stole second base and was awarded third base on a balk with one out. But he stranded there.

Quick was retired in order again in the third inning (two strikeouts), but then opened the score in the fourth. With Rachid Engelhardt (fielder's choice) at first base and one out, Bryan Engelhardt walked. The game was then delayed for six minutes due to rain and when it resumed, the bases got loaded when Taylor Clemensia also walked. Rowan van Hoek followed with a infield-hit that led to a run and kept the bases loaded. Quick failed to add more runs and left three runners behind, as Yntema closed with two strikeouts.
Quick doubled its lead in the top of the sixth. With one out, Bryan Engelhardt doubled and Taylor Clemensia walked. Engelhardt then stole third base and scored on a sacrifice fly by Rowan van Hoek, who batted in his second run.
Quick-starter Sem Robberse also had another good performance. The young righthander saw Neptunus get into scoring position only once in the first five innings. Four batters who reached base were forced out on second base, while another runner was caught stealing. With one out in the second, he gave up a double to Dudley Leonora, who reached third base on a wild pitch, but then was left behind.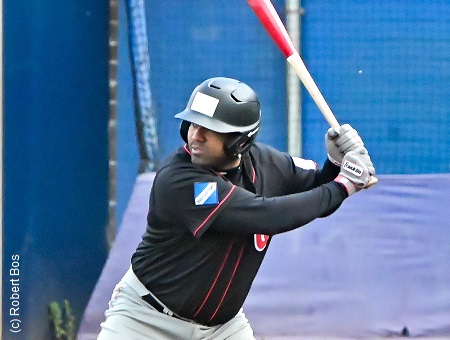 ...Bryan Engelhardt...
...3-for-4, double, run scored, RBI, 2 stolen bases...
(© Photo: Robert Bos)

But in the bottom of the sixth, Neptunus came alongside. Stijn van der Meer led off with a single, then was safe at second base on a force-play grounder by Dwayne Kemp. The bases got loaded when Gianison Boekhoudt walked and Shaldimar Daantji followed with a single that brought in two runners and tied the score. Neptunus got runners on second and third base on a grounder by Dudley Leonora, but hereafter, Sem Robberse closed with two strikeouts.

Quick immediately re-took the lead in the top of the seventh off of new pitcher Brendan Schoemaker. With one out, Kevin Windster Adelina walked and Joran Berkhout reached on a bunt-single. The two moved on a grounder by Jules Cremer and both scored on a single by Rachid Engelhardt to make it a 4-2 score.

Neptunus got an opportunity to do some scoring itself in the bottom of the seventh, but failed to do so. Lead-off hitter Jochem Koedijk was hit by a pitch, then moved into scoring position when an error was made on a sacrifice bunt by Tyriq Kemp, who was today's second baseman for Neptunus. The rookie filled in for Benjamin Dille, who was not with the team due to sickness. Hereafter, Koedijk was forced out on third base on a grounder by Stijn van der Meer, but the bases got loaded when Dwayne Kemp singled. The inning ended when Gianison Boekhoudt grounded into a double play.

Quick Amersfoort added two runs in the top of the ninth inning off of Elton Koeiman, who had taken over the pitching during the previous inning. The veteran righthander got the bases loaded when Jordy Burger and Kevin Windster Adelina both singled and Joran Berkhout was hit by a pitch. Next batter Jules Cremer grounded to short, but that was followed by a throwing error to the plate, resulting in a run. With the bases still loaded, a successful force out at the plate followed on a grounder to short by Rachid Engelhardt. A run was then added on a single by Bryan Engelhardt, but the inning ended when Taylor Clemensia grounded into a double play.

In the bottom of the ninth, Pastor Enrique Martínez Chavez retired the side to end the game.
...Orlando Yntema and Sem Robberse were the starting pitchers for Neptunus and Quick Amersfoort...
...Left: Tyriq Kemp hits a single for Neptunus in the 3rd inning...
...Right: Neptunus short stop Stijn van der Meer and 3rd baseman Dwayne Kemp show that it was a cold afternoon...
...Left: Stijn van der Meer tags Rachid Engelhardt in the 4th inning, but the batters walks, so he advances to 2nd base...
...Right: After this play, the game is delayed by rain for six minutes...
...Left: Neptunus-coaches Jan Collins, Ronald Jaarsma and Wim Martinus look on from the dug-out...
...Right: Quintin De Cuba is forced out by short stop Sam van der Ploeg in the 5th inning...
...Left: Bryan Engelhardt hits a double for Quick Amersfoort in the 6th inning...
...Right: Quick Amersfoort Pitching Coach Cliff Foster and 3B Coach Reinier de Vries...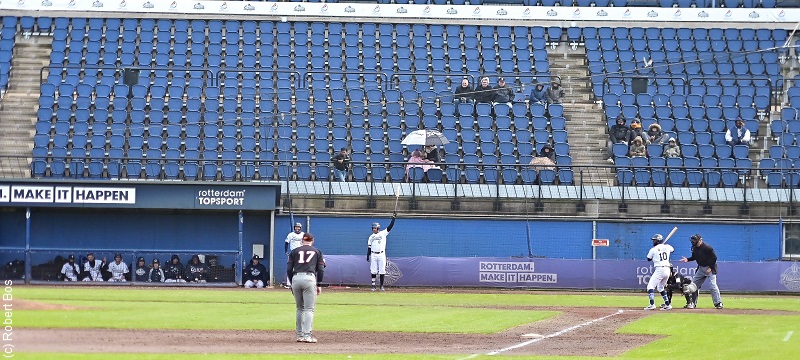 ...An overview during the 6th inning; Dudley Leonora is the batter for Neptunus...
...Left: Brendan Schoemaker took over the Neptunus-pitching in the 7th inning...
...Right: Joran Berkhout reaches on a bunt-single in the 7th, while 1B Dudley Leonora waits for the ball...
...Left: 2B Tyriq Kemp is unsuccessful in making a catch in th 7th inning, resulting in a 2-run single...
...Right: Tyriq Kemp reaches on an error on a bunt in the 7th; 1B Dakota van de Heyde waits for the ball...
...Left: Rowan van Hoek is picked off and tagged out by 1B Dudley Leonora in the 8th inning...
...Right: Jan-Willem Geerts took over the Quick-pitching in the 8th inning...
...Left: Elton Koeiman became the new pitcher for Neptunus in the 8th inning...
...Right: Runner Jordy Burger, Short Stop Stijn van der Meer and Umpire Winfried Berkvens in the 9th inning...
...Left: Bench Coach Jan Collins has a talk with pitcher Elton Koeiman and catcher Gianison Boekhoudt in the 9th inning...
...Right: Pastor Enrique Martínez Chavez closed the game for Quick Amersfoort...
...Left: 1B Taylor Clemensia makes the final out of the game, as seen by Umpire André Ficken...
...Right: The players of Quick Amersfoort congratulate each other with the win...
(© All Photos: Robert Bos)
Curaçao Neptunus - Quick Amersfoort 2-6
R
H
E
Quick Amersfoort
000
101
202
-
6
9
2
Curaçao Neptunus
000
002
000
-
2
7
1
pitchers Quick
inn.
SO
BB
H
R
ER
Sem Robberse, W (4-1)
7
5
1
7
2
2

---

Jan-Willem Geerts, H (1)
1
-
-
-
-
-

---

Pastor Enrique Martínez Chavez
1
1
-
-
-
-

---

pitchers Neptunus
inn.
SO
BB
H
R
ER
Orlando Yntema
6
10
4
3
2
2

---

Brendan Schoemaker, L (2-1)
1.1
2
1
3
2
2

---

Elton Koeiman
1.2
-
-
3
2
1
Umpires: HP-Henri van Heijningen, 1B-André Ficken, 3B-Winfried Berkvens.
Official Scorer-Rob Schuurman.
Play-by-Play Scorer-Alex van den Berg.
Public Address Announcer-Hélène van Eijk-Kloos.
Scoreboard Operator-Lex Looijen.
Starting Time-2:04 PM.
Time Played-2:41 hrs.
Site-Neptunus Familiestadion, Sportpark Abraham van Stolkweg, Rotterdam.

Game Notes:


6-minute rain-delay in top 4th inning with runners on 1st and 2nd base, one out and a 0-0 score.
Weather conditions at game time: Partly cloudy, 9,6° C (49,3° F); wind direction north-northwest;
wind speed 32 kmh (19,9 mph); wind force 5 Bft; humidity 64%.

Thank you for visiting this site.
Mail your suggestions and questions to stoov@wxs.nl
Copyright © 1997-2019 Marco Stoovelaar / Grand Slam * Stats & News.