The game between Neptunus and Parma remained scoreless in the first five innings.

It was Neptunus that got into scoring position first. In the top of the first inning, Coco Johnson led off the game with an infield-hit off of starter Erly Casanova. After Johnson had stolen second base, Stijn van der Meer struckout, but the runner then moved to third base on a grounder by Dwayne Kemp. Next batter Gianison Boekhoudt walked, but both runners were left behind when Casanova closed by striking out Dudley Leonora.

After being retired in order in the second inning, Neptunus also got into scoring position in the third and fourth inning, but again was unable to open the score. In the third, Jochem Koedijk led off with an infield-hit, but was caught stealing moments later. Coco Johnson then walked and stole second base, but was left behind.

In the fourth, Neptunus got the bases loaded. With one out, Dudley Leonora and Shaldimar Daantji walked, then moved on a grounder by Quintin De Cuba. With two outs, Benjamin Dille walked, but the three runners stranded when next batter Jochem Koedijk struckout.
In the fifth, Dwayne Kemp singled with two outs, but then was caught stealing.
In the meantime, Neptunus-starter Orlando Yntema held the Parma-offense hitless in the first four innings. With two outs in the first inning, the righthander walked Charlie Mirabal, but then closed with a strikeout for Sebastiano Poma.
Yntema retired the side in the next three innings. After having retired eleven consecutive batters, Yntema gave up an one-out single to Alex Sambucci in the fifth, but the Neptunus-defense then turned a double play.
In the top of the sixth, Neptunus was able to open the score. Gianison Boekhoudt led off with a walk and was moved into scoring position via a sacrifice bunt by Dudley Leonora. Boekhoudt then advanced to third base on a grounder by Shaldimar Daantji and scored when Quintin De Cuba followed with a single.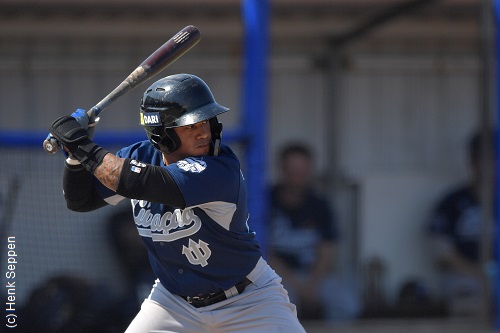 ...Dwayne Kemp accounted for the tying run with an error...
...He then batted in the winning run in the 9th inning...
(© Photo: Henk Seppen)

In the bottom of the sixth, Yntema gave up his second basehit, when Segundo Paolini led off with single into centerfield. An attempt to move him over with a bunt by Luca Scalera failed, as he was forced out at second base. Scalera, who reached on a fielder's choice, advanced on a grounder, but was left behind.

With two outs in the top of the seventh, Neptunus got the bases loaded again and thus got a chance to add some runs. New pitcher Yomel Rivera struckout the first two batters, but then saw how a pop-fly hit by Stijn van der Meer was missed by short stop Charlie Mirabal It enabled Van der Meer to reach second base. With first base open, Dwayne Kemp was walked intentionally to set up a force play. But hereafter, Rivera walked Gianison Boekhoudt and got the bases loaded. That led to another pitching change. Marc-André Habeck took over to face Dudley Leonora. The Canadian righthander got to a 3-0 count, but Leonora then went after the next pitch and flied out.

Parma left a runner behind on second base in its seventh at bat, then came alongside in the eighth when Neptunus also went to the bullpen. Diegomar Markwell, who normally is a starter, took over from Orlando Yntema and also got a runner as a result of an error. With one out, Luca Scalera hit a grounder to third baseman Dwayne Kemp, but he made a fielding error. That brought Scalera to second base and he moved to third base on a sacrifice bunt by Stefano Desimoni. Hereafter, Kevin Kelly took over the Neptunus-pitching, but he was greeted with a double by Aldo Koutsoyanopulos that brought in the tying run. Kelly hit next batter Charlie Mirabal with a pitch, but then closed with a strikeout.

Neptunus re-took the lead in the top of the ninth. With one out, Coco Johnson recorded his second basehit in the game. He stole second base (his third in the game), but then was eliminated trying to advance on a grounder to short by Stijn van der Meer. With two outs, Van der Meer advanced on a wild pitch, then scored when Dwayne Kemp followed with a single.

In the bottom of the ninth, Kevin Kelly retired the side to seal the win.