The first six innings of this game in The Hague remained scoreless, but both teams got several scoring opportunities. Visiting Amsterdam Pirates left four runners behind scoring position, including two on third base. Home-playing Storks stranded two runners in scoring position, one of them on third base.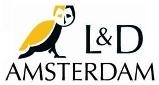 In the top of the first inning, Storks-starter Gijs Timmer walked Niels van Weert with one out, but he stranded on second base. Storks then got on third base off of Amsterdam-starter Kevin Heijstek in its first at bat when two errors were made. Lead-off hitter Giovanny Perez reached on an error, but was caught stealing. Jurriaan Dijk then singled and with two outs, he moved to third base when a throwing error was made on a comeback-grounder by Kris Morris. But the two runners also stranded.
Linoy Croes (walk, stolen base) was left behind on second base by Amsterdam in the third at bat. In the fourth, Denzel Richardson led off with a double, but stranded on third base. And in the fifth, it was Delano Selassa, who hit a double and also was left behind on third base.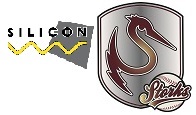 Storks was retired in order in the second, third and fourth inning by Kevin Heijstek. He got another runner with one out in the fifth when Joost van den Bergh reached on an error, but the next two batters were eliminated.
Storks got some more baserunners in the sixth off of debuting Jhan Rifaela, who took over the pitching from Heijstek. With one out, he gave up a single to Jurriaan Dijk, but he was forced out. Kris Morris followed with a single, but a flyout ended the at bat.
Amsterdam Pirates then opened the score with two outs in the top of the seventh. Rashid Gerard led off with a single and moved to second base on a sacrifice bunt by Max Clarijs. With two outs, Delano Selassa singled to put runners at the corners. José Moreno was brought in as new pitcher, but was greeted with runscoring singles from Linoy Croes and Niels van Weert that put Amsterdam ahead 2-0.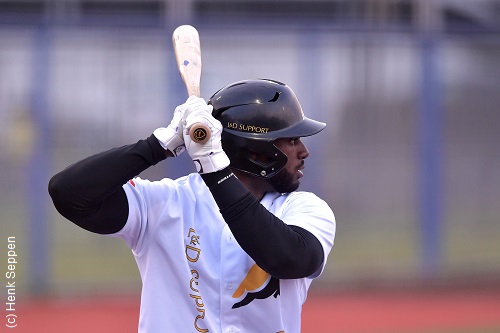 ...Denzel Richardson homered for Amsterdam Pirates...
(© Photo: Henk Seppen)

Storks got on third base again in the bottom of the seventh. Glennton Poulo led off with a single, moved on a sacrifice bunt and a wild pitch, but stranded on third base.

Pirates increased the lead with a run in the top of the eighth when Denzel Richardson led off with a homerun. Hereafter, Kenny Berkenbosch reached on an infield-hit. With one out, Max Clarijs walked, which led to the next pitching change. Stephon Mohamed took over the pitching, but got the bases loaded when he gave up a single to Victor Draijer. The Storks-defense prevented more runs, as it turned an inning-ending double play on a following grounder.

Now leading 3-0, Tom Stuifbergen took over the Amsterdam-pitching in this save-situation. With two outs, he gave up a single to Kevin Nieveld, who last year was a teammate of him when the two played for DSS. A grounder ended the inning.

The visitors scored two more runs in the ninth. Linoy Croes led off with a single, moved on a wild pitch with one out, then reached third base on a single by Gilmer Lampe, who ended up on second base himself. Croes then scored on a grounder by Denzel Richardson and Lampe later scored on a wild pitch.

In the bottom of the ninth, Stuifbergen retired the side to end the game and earn a save. Debuting Jhan Rifaela was the winning pitcher.