Both Head Coaches had adjusted their batting order as opposed to last Thursday's game. For DSS, the first four batters (and the ninth) were the same, but the next three dropped a spot, as Brian Raap was inserted into the fifth spot as the designated hitter. For Pioniers, there were more changes, as only the first, fifth and eight batter were the same. Rookie Raul Jacobs, who batted ninth on Thursday, moved up to the number two position in the batting order, taking the spot of Joey Eeman, who today batted fourth. Last Thursday, that was the spot of Jelle Kroft, who today had moved up to the third position. From the sixth position on, three players were inserted who didn't start on Thursday.

Pioniers left a runner behind on first base in the first inning, then was retired in order in the next two at bats. But the home-team then opened the score in the bottom of the fourth off of starter and former teammate Alexander Valdez, who last year was 3-4 with a 2.36 ERA for Pioniers. In the fourth, Raul Jacobs led off with a single and stole second base. Jacobs advanced on a single by next batter Jelle Kroft and the two moved on a wild pitch, which led to the first run. Kroft stranded on second base, as the next three batters were retired.
Pioniers added a run in the fifth inning. Jorrit Penseel led off with a walk, advanced on a sacrifice bunt by Duco Nuijten and then scored on a 2-out single by Mark Smit.
In the sixth, Alexander Valdez struckout three batters (and walked oned).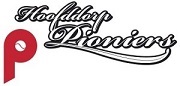 Pioniers-starter Luuk ter Beek encountered not much problems in the first six innings, but he got two runners into scoring position in these at bats. In the second inning, with two outs, Koen Halderman walked and moved to third base on a single by Leandro Anasagasti, who himself advanced on an outfield-error, but the two were left behind on second and third base.
After having retired ten batters in a row, Ter Beek walked lead-off hitter Devano Pieter in the sixth inning. He stole second base, but the next three batters were eliminated.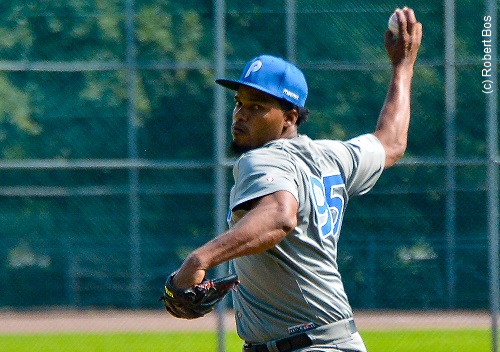 ...Alexander Valdez was the winning pitcher for DSS...
...Last year, he pitched for Hoofddorp Pioniers...
(© Photo: Robert Bos)

With a 2-0 lead, Ter Beek ran into problems with two outs in the top of the seventh. He then walked Koen Halderman and gave up an RBI-double to Leandro Anasagasti. Hereafter, a single followed by Diamond Silberie. With runners on first and third base, Silberie stole second base, but a throwing error from catcher Paul Brands (who had just entered this inning) followed, enabling Anasagasti to score the tying run. Moments later, Ter Beek gave up a runscoring single to Devano Pieter that gave DSS a 3-2 lead. Daniël Vos was then brought in take over from Ter Beek. He walked Mitchel Dautzenberg, but then a grounder ended the at bat.

Pioniers got the tying run on third base in the bottom of the seventh off of Sander Helmendach, who took over from Alexander Valdez. With two outs, Bodhi de Vreede walked, stole second base and moved on a single by Mark Smit, who himself ended up on second base on the throw to third base. But Helmendach then closed with a strikeout.

In the top of the eighth, DSS added two insurance runs. Runai Coran and Koen Werkman opened with walks, which led to another pitching change. Nick Loos took over and saw the runners advance on a sacrifice bunt by Brian Raap. With first base open, Koen Halderman was walked intentionally to set up a force play. But hereafter, it was former Pionier Leandro Anasagasti, who delivered a 2-run single to make it a 5-2 score. Hereafter, Loos followed with a strikeout and the inning ended when Anasagasti was picked off at first base by the catcher.

In the bottom of the ninth, Pioniers scored a run and got some more opportunities. Paul Brands and Jorrit Penseel led off with singles. The latter was forced out on a grounder by Duco Nuijten, but hereafter, Bodhi de Vreede singled to bring in Brands and narrow the deficit to 5-3. Nuijten and De Vreede advanced on a grounder by Mark Smit, then the bases got loaded when Raul Jacobs was hit by a pitch. However, the game then ended when next batter Tyler Boersma opted to hit on the first pitch he saw and that ended in a grounder.