Neptunus was outhit 11-9, but four HCAW-pitchers walked ten batters. This wasn't the best game Neptunus played, as its defense committed four errors. The last time that Neptunus made four (or more) errors in a regular game was on July 2, 2016 against Hoofddorp Pioniers.

Neptunus started well, scoring six runs on four hits off of starter Kaj Timmermans, but the scoring stopped after the first inning, except for one run in the eighth. Stijn van der Meer led off with a single, then moved to third base when a throwing error followed on a single by Benjamin Dille. The bases got loaded when Timmermans hit Dwayne Kemp with a pitch. Next, the righthander struckout powerhitter Gianison Boekhoudt, but then he walked Dudley Leonora and Quintin De Cuba, which led to the first two runs. An infield-hit by Shaldimar Daantji and another walk for Gregory Muller raised the lead to 4-0. With the bases still loaded, Jochem Koedijk delivered a 2-run single to make it a 6-0 score. Hereafter, a force out and a flyout ended the at bat.
With a 6-0 lead, it appeared that Neptunus was en route to another big win. However, the scoring stopped. In the next three innings, the team was unable to get into scoring position. In the second inning, Gianison Boekhoudt singled with one out, but stranded on first base. In the third, Shaldimar Daantji led off with an infield-hit, but was picked off first base by Timmermans.
Neptunus-starter Orlando Yntema gave up two runs in the first two innings. With two outs in the first, he walked Seb Visser, who then scored on a following double by Rodney Daal.

In the bottom of the second, HCAW scored another one and had a chance to score some more runs off of Yntema, who needed lot of pitches (he threw 100 in five innings). Patrick Bok led off with a single, but was forced out on a grounder by Oliver van der Wijst Severino. HCAW got runners at the corners when next batter Berend Ruben singled. After a strikeout, Yntema gave up a runscoring single to Jeandro Tromp, which made it a 6-2 score. Hereafter, Ruben and Tromp advanced to second and third base on a passed ball, but a grounder ended the inning.
In the fourth inning, HCAW got another scoring opportunity. Oliver van der Wijst Severino led off with a walk and stole second base with one out. With two outs, he advanced to third base on an infield-hit to deep short by Jeandro Tromp and tried to score. But he was eliminated at the plate to end the inning.
In the top of the fifth, it was Neptunus that failed to score. Gianison Boekhoudt led off with a single, then Dudley Leonora drove the ball into leftfield, but there, Norbert Jongerius made a nice catch in front of the fence. Hereafter, Quintin De Cuba also hit a basehit. With two outs, the bases got loaded when Gregory Muller walked, but the inning ended with a groundout.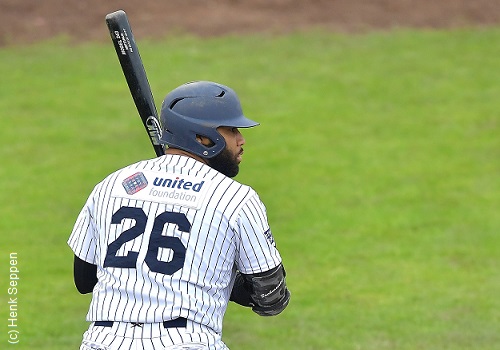 ...Gianison Boekhoudt was 3-for-5 with a double and an RBI...
(© Photo: Henk Seppen)

Neptunus again left two more baserunners in the sixth. Timo van Ancum took over the pitching for HCAW, but he walked Stijn van der Meer and Benjamin Dille. But a flyout and double play followed.

In the bottom of the sixth, HCAW threatened again off of new pitcher Elton Koeiman. The veteran righthander gave up singles to Patrick Bok and Oliver van der Wijst Severino, but followed with a strikeout. He then got the bases loaded when he gave up a single to pinch-hitter Arthur Lugtmeijer, who made his debut and thus singled in his first big league bat bat. Lugtmeijer played in a total of three games for HCAW in the Championship Pool in 2017 and 2018, but never played in a regular season-game. And so, today, he officially made his big league-debut. With the bases loaded, the Neptunian defense turned a double play on a grounder by Jeandro Tromp to save itself from giving up some runs.

After having left behind three runners in the fifth and two in the sixth, Neptunus left two more runners in the seventh at bat. Quintin De Cuba (fielder's choice) was on first base with one out, then advanced on a throwing error after a pick-off attempt. Shaldimar Daantji then walked, which brought in new pitcher Oscar Meuris. He got an infield-fly and a flyout that closed the at bat.

Neptunus made another double play in the bottom of the seventh, then added what could be called an insurance run in the eighth. Stijn van der Meer then led off with a walk and scored on a 2-out double by Gianison Boekhoudt, who was 3-for-5.

The run was a welcome addition, as HCAW scored twice in the bottom of the eighth off of new pitcher Berry van Driel. With one out, Patrick Bok (who was 3-for-4) doubled, but was unable to advance when Oliver van der Wijst Severino reached on a throwing error. He then scored when next batter Berend Ruben hit a single. As that was followed by an outfield-error, Van der Wijst advanced to third base, then scored on a grounder by Arthur Lugtmeijer to make it a 7-4 score. With Ruben on third base, the inning ended with a grounder.

HCAW got another runner on third base in the bottom of the ninth off of closer Kevin Kelly. With one out, Seb Visser reached on an error, advanced on a wild pitch and reached third on a grounder. But the game then ended when former Neptunian Ruendrick Piternella grounded out.