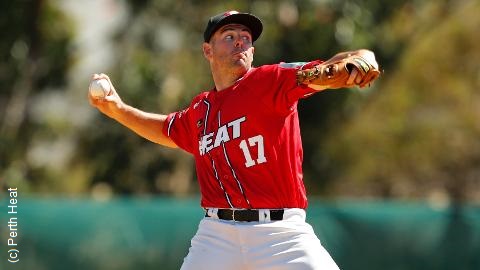 ...Nick Veale was the winning pitcher in his Dutch debut...
...On the photo, he pitches for Perth Heat in...
...the Australian Baseball League...
(© Photo: Perth Heat)

Australian righthander Nick Veale started for Twins. He struckout six batters in the six innings he pitched and gave up only four basehits, but he did get several baserunners. In the top of the first inning, Veale hit the first batter he faced, Joran Berkkhout, with a pitch. Hereafter, Sam van der Ploeg hit a line drive to short stop Dennis De Quint, which was caught and led to a double play.

Last weekend, Veale made his debut for Twins during the In Memoriam Charles Urbanus, Sr. Tournament. He then walked three batters, gave up four hits and five runs in a 9-0 loss to L&D Amsterdam Pirates.

Veale played college-baseball in the USA, before turning professional in Australia. He pitched for North Iowa Area Community College in 2013-2014, then for Minnesota State University in 2015. Later that year, he made his debut in the Australian Baseball League, pitching in the 2015-2016 season for Perth Heat. Veale pitched for this team since then. In his four seasons in the ABL, Veale was 13-11 with a 4.81 ERA and 152 strikeouts in 206 innings pitched. He walked 113 batters and gave up 220 basehits. Early February, Perth was swept by Brisbane Bandits in two games in the best-of-three Championship Series. Veale pitched 1 2/3 inning in relief in the second game and then gave up three hits and four runs. In 2016, Veale was a member of the Australian Under-23 Team that won the Silver Medal at the World Championship Under-23 in México.

Twins got a chance to open the score in its first at bat off of starter Sem Robberse, who also hit a batter. He first gave up a lead-off single to Stijn Janssens, but he was forced out on a grounder by Ruar Verkerk. Robberse then hit Dennis De Quint with a pitch, but another force play-grounder followed. Twins stranded two runners.
Both teams got into scoring position again in the third inning, but only Twins was able to score.

For Quick, Jordy Burger led off with a single, but was forced out on a grounder by Denzel Brooks. He stole second base with two outs, but Veale then closed with a strikeout.
In the bottom of the third inning, Twins scored two unearned runs. Lead-off hitter Brian Biezen reached on a throwing error, then scored when next batter Stijn Janssens hit a triple. With two outs, Janssens scored the next run on a single by Jason Halman.
In the next three innings, Twins was retired in order by Sem Robberse.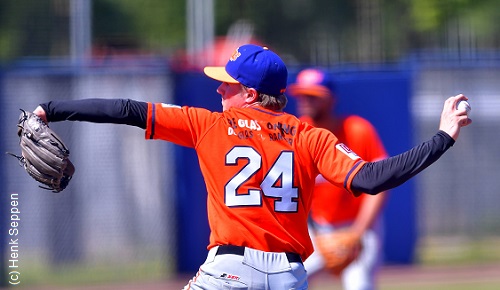 ...Mic van de Ven earned his first save...
(© Photo: Henk Seppen)

With two outs in the top of the fifth inning, Jordy Burger reached for Quick on a bunt-single and advanced on a passed ball, but stranded on second base when Veale again closed with a strikeout.

But in the sixth inning, Quick Amersfoort cut the deficit in half. With one out, Sam van der Ploeg hit a double and was able to advance to third base on a throwing error. He scored on a following double by Rachid Engelhardt, who would be left behind on second base.

Quick got a chance to turn the game its way in the top of the seventh. With a 2-1 lead, Marvin Brown took over the pitching for Twins, but he hit Taylor Clemensia and Jules Cremer with a pitch. Hereafter, Raf Cocu was brought in as new pitcher and struckout the first two batters he faced, but then walked Joran Berkhout. With the bases loaded, the inning ended when Sam van der Ploeg popped out.

In the top of the eighth, there was another hit batter. This time, Bryan Engelhardt was by a pitch from Cocu with one out. With two outs, he stole second base, but Cocu then closed with a strikeout.

Mic van de Ven pitched for Twins in the ninth inning, which also saw the first ejection of the season. With one out, Jordy Burger flied out, said something and was ejected by Home Plate Umpire Jos van Eijsden. Hereafter, a pop-up ended the game. With that, Van de Ven earned the first save in his big league-career.