Beforehand, a loss would not be damaging for Neptunus, thanks to the 21 runs Parma scored on Wednesday against Rouen. And a loss became a possibility when Rouen came alongside for the second time in today's game. However, in case the French team should end up victorious it had to score a lot of runs to erase the 21 runs (plus the runs given up against Neptunus) to finish above either Parma or Neptunus in case of a 3-way tie.

Aaron de Groot started for Neptunus and did well. Last year, he pitched briefly in the main-squad of Silicon Storks in the Dutch big league, this season, he is on the roster of Tridents, the second team of Neptunus in the second highest league. With one out in the first inning, De Groot gave up two singles, but the runners stranded on first and second base.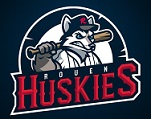 In the bottom of the first inning, Neptunus opened the score off of veteran Yoann Vaugelade, but the team failed to take more distance, leaving three runners behind. With one out, Stijn van der Meer walked and Dwayne Kemp singled. After the two had executed a double-steal, the bases got loaded when Gianison Boekhoudt walked. Moments later, Boekhoudt was forced out on a grounder by Dudley Leonora, which also brought in the first run. The bases got loaded again when Quintin De Cuba was hit by a pitch. However, the three runners were left behind when Vaugelade closed by striking out Greg Muller.
Rouen came alongide in the top of the third and this time, it was the French team that stranded three runners. Valentin Durier led off with a walk, then advanced to third base when short stop Stijn van der Meer made an error on a force play-grounder by Angel Soriano. The French champion got the bases loaded when next batter Maxime Lefevre walked. Aaron de Groot then also walked David Gauthier, which resulted in the tying run. But hereafter, De Groot struckout the next three batters to end this threat.
In the bottom of the third inning, Neptunus re-took the lead by scoring twice. Dwayne Kemp led off with a double and moved on a single by Gianison Boekhoudt. He then scored when Dudley Leonora also singled. After Boekhoudt and Leonora had advanced on a wild pitch, the next run was scored on a sacrifice fly by Quintin De Cuba.
But again, Rouen managed to come alongside, this time in the top of the sixth inning. Bastien Dagneau led off with a walk and with one out, Louis Brainville was hit by a pitch. The bases then got loaded when Dylan Gleeson followed with a single. That led to a pitching change, as Berry van Driel took over from Aaron de Groot, who had struckout ten batters and gave up only three basehits. Van Driel was greeted with a runscoring single by Hugo Blondel, then got a sacrifice fly from Martin Vissac that brought in the tying run.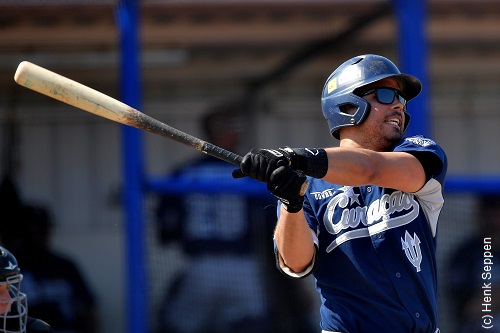 ...Quintin De Cuba batted in three runs for Neptunus...
(© Photo: Henk Seppen)

Neptunus appeared to come back immediately in the bottom of the sixth when Jochem Koedijk and Tyriq Kemp (bunt) both opened with a basehit. However, Coco Johnson then lined into an unassisted double play. Third baseman Angel Soriano caught the ball and tagged out Koedijk. Hereafter, Kemp stole second base and moved to third base on a single by Stijn van der Meer, but a flyout ended the at bat.

Misja Harcksen became the new pitcher for Neptunus in the seventh and he retired the side. Moments later, the team took the lead for the third time in its seventh at bat when the French defense made two errors. With one out, Dudley Leonora reached on an error, then moved to third base when an outfield-error followed a single by Quintin De Cuba. The latter was then forced out on a grounder by pinch-hitter Benjamin Dille, but that enabled Leonora to score to put Neptunus ahead again.

Neptunus took more distance by scoring four runs in the eighth inning off of Yoann Vaugelade, who went the distance for Rouen. Like the run in the previous at bat, all four runs were unearned, as the inning started with an error on a grounder by lead-off hitter Tyriq Kemp. He then moved to third base on two consecutive wild pitches, but was eliminated at the plate trying to score on a grounder towards first base by Stijn van der Meer. At this moment, Rouen already could have had three outs, but instead, it would give up four more runs. Van der Meer advanced on a single by Dwayne Kemp, then scored on a single by Gianison Boekhoudt. A runscoring double by Dudley Leonora and 2-run single by Quintin De Cuba followed to lift the lead to 8-3.

In the bottom of the ninth, Kevin Kelly took over the Neptunus-pitching. After a lead-off flyout, the righthander left the mound again, as designated hitter Gianison Boekhoudt then took over. The catcher retired the two batters he faced, one of them with a strikeout, to end the game.

Neptunus collected 13 basehits, eight of them were hits in its final three at bats. Dwayne Kemp and Gianison Boekhoudt both had three hits. Dudley Leonora and Quintin De Cuba both batted in three runs.