(Story by Marco Stoovelaar; Photos by ANP Photo & Marco Stoovelaar)
IN MEMORIAM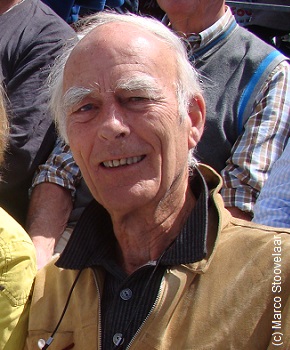 ...Jan Smidt...
(1929 - 2019)
(© Photo: Marco Stoovelaar)

Dutch baseball pitching-legend, former National Team-player Jan Smidt passed away
Nederlands

HAARLEM (Neth.) - Jan Smidt, a pitching-legend in Dutch baseball, who was one of the dominating righthanded pitchers in the forties through sixties, has passed away on Wednesday, January 2, sixteen days before his 90th birthday. Throughout his life, Jan Smidt always has been fortuned with a good health and has been very active, but last year, he unfortunately suffered some setbacks. A private memorial has taken place, as Jan Smidt had decided to donate his body to science.

Jan Hindrik Smidt, who was born on January 18, 1929, was known for his side-arm pitching in his glory-days. Many batters didn't like his way of pitching, but it was a natural movement by Smidt. It was frequently said that Smidt had a 'rubber arm', as he was able to throw very frequently. In an interview with Grand Slam * Stats & News-webmaster Marco Stoovelaar in 1995, Smidt said: ,,For me, baseball was pitching''. However, in his career, Smidt sustained some arm-injuries. Smidt: ,,I sometimes pitched with a lot of pain. Back then, you had to care for it yourself, as there was no athletic trainer. Due to a back-injury, I also played at third base for awhile''.

Jan Smidt, who was a designer and decorator and could make beautiful drawings, first got acquainted with baseball via his nephew Max Rietbergen, who then was a catcher playing for Amsterdam-based club De Kanaries. Later, Rietbergen became more known as a coach, which he did for many years. Rietbergen coached at Rap (the predecessor of Amsterdam Pirates), HCAW, OVVO and Sparks Haarlem. Rietbergen is the grandfather of former player (and Major Leaguer) Rikkert Faneyte.

In the 1995 interview, Smidt looked back to his start in baseball. ,,Max frequently came to Haarlem to play with Kanaries. I was taken to the games and Max teached me to play baseball. I realized at an early age, that I was able to throw well. When I saw some small stone, I simply had to throw with it. This is my sport, I thought and I played until my 37th'', Smidt tells.

Jan Smidt could always tell very enthusiastically and with color about his days in baseball. When he started playing, Henk Schijvenaar and Cor Wilders were pitching legends. ,,Back then, everyone had his own style of pitching and catching. They looked like charicartures to me. And you wanted to copy them, players like Schijvenaar and Wilders, but also Joop Odenthal and Roel de Mon. They were my idols.''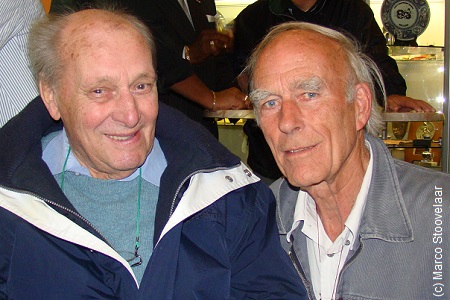 ...Jan Smidt with Henk Keulemans during a...
...Hall of Fame-ceremony in 2009...
(© Photo: Marco Stoovelaar)

Smidt starting playing for SC Haarlem, but after a few years, he transfered to HHC, with whom he played in the highest division for many seasons. He retired as a player in 1966. For Smidt, games against Schoten and OVVO were the highlights. Smidt: ,,We mostly ended up in second place. In the games against Schoten, players as Henk Keulemans and Joop Geurts were able to disturb you. They succeeded in the beginning, as I was mentally weak in those days, but I was able to overcome that through the years''.

In the forties and early fifties, Jan Smidt developed into a well-respected and feared pitcher. That resulted in a highlight in 1954 when he was invited to participated in the Major League Spring Training-camp of the New York Giants. It was Albert Balink, who has done a lot for the development of Dutch baseball in the fifties and sixties, who saw Smidt pitching for HHC against OVVO during a vacation in the Netherlands. Pitching for OVVO was another legend, Han Urbanus, who also was invited to practice with the New York Giants. Looking back, Smidt said: ,,It was a dream. I wasn't as good as Hannie, he was offered a minor league-contract. I loved it, but I didn't want to stay there. Neither did Hannie''.

During his stay with the Giants, Smidt somewhat adjusted his pitching-style and learned a new pitch. Smidt: ,,Before going to America, my fastball was my best pitch. With the Giants, I learned a drop-curve, which later became a feared weapon of me. I altered that with my sideways pitching. I have a long arm, so the ball was really sailing across the plate. Most batters didn't like that''.

Albert Balink, born in Den Bosch, was a Dutch-Indonesian journalist and filmmaker. Balink was a film-pioneer in the Dutch East Indies (now Indonesia), where he two feature films and a documentary. In 1938, Balink immigrated to the USA and later became the founder and editor of The Knickerbocker, a publication for Dutch Americans. Balink became a baseball-fan and via his contacts, he was able to invite Smidt and Urbanus to the New York Giants. In 1953, he also coordinated relief efforts during the North Sea flood, which struck the Dutch province of Zeeland.

In the 1995 interview, Jan Smidt looked to the current style of baseball. ,,Players looked more different, much more athletic and muscled. Our trousers weren't as filled with muscles, our trousers fluttered. We recognized our players for their o-legs, for example. Nowadays, it a lot better, running, catching, hitting. Of course, the sport has developed, but we also played smart baseball. We were more on ourself, as we mostly had no coach. As a runner, you had to come up with something, together with the batter. The rest of the team didn't know what we were planning to do. That was funny to do, you could take the initiative yourself.''

While playing for SC Haarlem, Jan Smidt first played in the Netherlands National Team in 1948 when he made his debut at age 19 pitching against Belgium. Also in those years, the National Team played several games against teams compiled from crew-members of American war-ships, who visited Amsterdam. ,,They ensembled a team and we were teached a lesson by them, as we weren't that good back then'', said Smidt.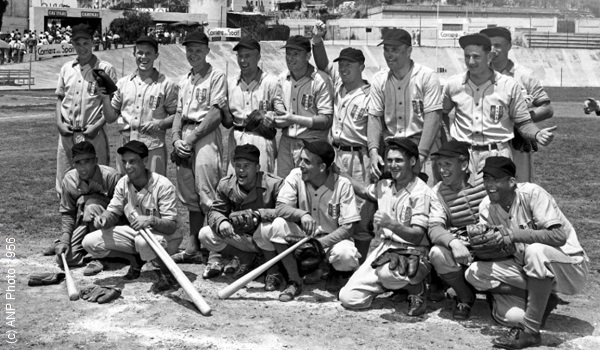 ...The Netherlands Baseball Team after capturing the title...
...at the 1956 European Championship in Rome (Italy)...
...Jan Smidt is seated at far right...
(© Photo: ANP Photo)

With the Orange squad, he participated in five European Championships (1956, 1957, 1958, 1960, 1962), which al were won by the Netherlands. In those days, the games between the Netherlands and Italy also were the highlights, as they are today. It were pitching match-ups of Smidt and Urbanus against Italian legend Giulio Glorioso. As winner of the European title, the Netherlands was invited twice to participate in the Global World Series in the USA. Smidt was one of the pitchers when the team participated in 1956 (Milwaukee) and 1957 (Detroit). Smidt also traveled to the USA with the Netherlands Team in 1961 for a a series of games against the wellknown Sullivans in Grand Rapids, Michigan. In 1961 and 1963, Smidt participated in the first two Haarlem Baseball Weeks. Smidt played his last international game in 1963. In total, Smidt played in 27 official international games for the Netherlands.

In 1949, Smidt played in the Netherlands Team together with two of his idols, Joop Odenthal and Cor Wilders. Amongst his teammates in the Netherlands Team in the fifties were Nico Brands, Joop Geurts, Gé Hoogenbos, Nol Houtkamp, Martin Jole, Henk Keulemans, Leo Kops, Piet de Nieuwe, Hennie Regeling, Han Urbanus and Dolf de Zwart. Amongst the players joining the team in the sixties were Simon Arrindell, Herman Beidschat, Flip le Cuivre, Wim Crouwel, Rudi Dom, Simon Heemskerk, Rob Hoffmann, Rickey Kersout, Ruben Leyssner, Boudewijn Maat, Gé Oosterbaan, Hugo Walker and Ruud Zijlstra.

In the sixties, the rivarly between Smidt and Urbanus continued, but at the end of the fifties, they got company from a young pitcher, who also went on to become a legend, Herman Beidschat. In 1953, best players of the season were honored for the first time. It was Albert Balink, who provided the medals for this. From 1953 through 1966, Smidt, Urbanus and Beidschat dominated. Jan Smidt was named Best Pitcher of the big league in 1956, Urbanus won the title five times, Beidschat was named Best Pitcher in a record eight consecutive years.

Jan Smidt always was modest about his career, but he simply was one of the best pitchers in Dutch baseball-history. Smidt led the league in strikeouts in 1964 with 115. In his impressive career, Smidt threw four No-Hitters (1955, 1956, 1957, 1958). He trailed only Han Urbanus in career strikeouts. Official statistics for most of his early years unfortunately are not available, but calculations gave him more than 1.800 strikeouts.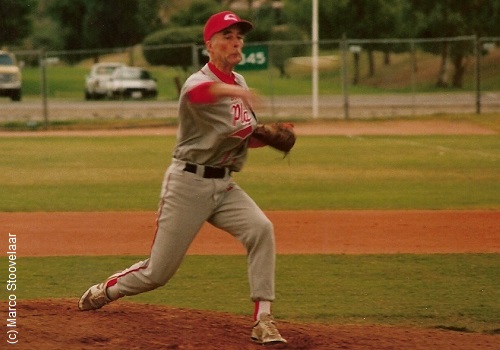 ...Jan Smidt pitching at age 65 for Kinheim during the...
...1994 Senior World Series in Phoenix, Arizona (USA)...
(© Photo: Marco Stoovelaar)

In November 1994, Jan Smidt returned to the mound at age 65. In that month, he traveled to Phoenix, Arizona (USA) with a veteran-squad of Kinheim to participate in the Senior World Series. Amongst his teammates were former Dutch big league-players as Ruud Zijlstra, Wim Crouwel, Hans van Driel Krol, Jersey van Doornspeek, Ed Halman, Fokke Jelsma and Ricky Placidus. The team was coached by Simon Heemskerk.

After the tournament, Smidt only followed baseball via the newspapers and television. In the meantime, his sons Thijs Smidt and Floris Smidt also went on to play baseball. Pitcher Thijs and catcher Floris both played in the big league for Kinheim. Thijs also pitched several years in the National Team.

However, Smidt remained an almost daily visitor of games during the bi-annual Haarlem Baseball Week after he had concluded his playing career. When the Netherlands Baseball and Softball Museum and Hall of Fame was founded in 1983, Jan Smidt was one of the first persons to be associated with this initiative. It was Jan Smidt who designed and made all the Hall of Fame-columns that are displayed in the Museum. Smidt did a lot of work for the Museum, as he also helped constructing the photo displays and did much more. ,,Jan has done a lot for us, we will miss him very much'', said Karel van Veen, the Chairman of the Museum and Hall of Fame. When the Museum and Hall of Fame was open for the public during international events in Haarlem, Jan Smidt was there on a daily basis. Smidt also attended most of the annual Netherlands Team Alumni-meetings throughout the years.

Looking back to his career, Jan Smidt said he always has enjoyed it. In 1995, he said: ,,Baseball was one of the things you could outshine. And then, you're going for it, you tried to be even better. It had given me a lot of self-confidence in my life. Baseball has been very good to me. It was sleeping, eating and thinking''.

The webmaster of Grand Slam * Stats & News offers his condolences to Jan's wife Annelies, his sons Thijs and Floris, grandchildren and other family and wishes them a lot of strength with this loss.

(January 7)