(Story by Marco Stoovelaar; Photo courtesy of the National Baseball Hall of Fame)
IN MEMORIAM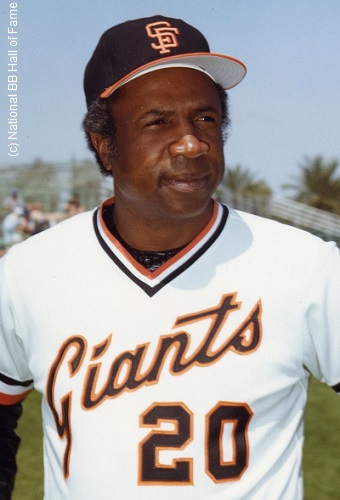 ...Frank Robinson...
(1935 - 2019)
(© Photo: National BB Hall of Fame)

Major League-legend and Hall of Famer Frank Robinson passed away
Nederlands

LOS ANGELES, California (USA) - Frank Robinson, who became the first African-American Manager in the Major League and had a long and impressive playing career of 21 years, passed away on Thursday (February 7) at age 83. It was reported that Robinson had been ill for awhile, suffering from bone cancer. Frank Robinson is the lone player to be named Most Valuable Player in both the American and National League. He was elected into the Hall of Fame in 1982.

Frank Robinson, who was born August 31, 1935 in Beaumont, Texas, played both baseball and basketball in high school. He signed a baseball-contract with Cincinnati Reds in 1953. After having played at mostly Single-A level in 1953, 1954 and 1955, the powerhitting outfielder made his Major League-debut at age 20 on April 17, 1956.

In his first Major League-season, Robinson immediately impressed and led the National League with 122 runs scored. He batted .290 (166-for-572) with 38 homeruns and batted in 83 runs. In what was a great first season, he also was chosen for the All Star Game. After the season, he was voted Rookie of the Year and finished in seventh place for Most Valuable Player.

Robinson played for Cincinnati for 10 years (1956-1965). In this span, he played in seven more All Star Games, including two in 1959 and 1961. There were two All Stars Games played annually in 1959 through 1962.

In 1961, Robinson batted .323 with 37 homeruns and 124 runs batted and was named Most Valuable Player of the National League. After the 1965 season, Robinson was traded to Baltimore Orioles, where he played the next six seasons. While playing for Baltimore in 1966-1971, the team won the title in the American League East Division four times. Robinson was a major contributor in the successes of the Orioles and he played in five more All Star Games. 1966, his first with Baltimore, was one of his best seasons. He led the American League with a .316 batting average, 49 homeruns and 122 runs batted in. With that, he won the Triple Crown. Robinson also led the league with 122 runs scored and he was named Most Valuable Player of the American League afterwards. With that, he became the lone player to be crowned MVP in both leagues.

On June 26, 1970, Robinson hit a grand slam homerun in two consecutive innings (5th and 6th) in a game of Baltimore against Washington Senators. Overall, Robinson hit homeruns in 32 different stadium.

With Baltimore, Robinson played in the World Series four times, winning the title in 1966 and 1970. He was the World Series MVP in 1966. Robinson also played in the World Series with Cincinnati Reds in 1961.

In these years, Baltimore had some great players and was one of the best teams with Robinson in rightfield. The team had powerhitter Boog Powell at first base, great defensive Brooks Robinson at third base and Paul Blair in centerfield. The second baseman was Davey Johnson, who in 2003 was the Manager and Bench Coach of the Netherlands Baseball Team and in 2004 the Assistant Manager. Playing as short stop first was Luis Aparicio and later Mark Belanger. Other wellknown players in these years were Elrod Hendricks, Bobby Grich, Dave May, Johnny Oates and Don Baylor. Included in the pitching-staff were Mike Cuellar, Dave McNally and Jim Palmer.

In December 1971, Robinson was part of a 6-player trade with Los Angeles Dodgers. Robinson and pitcher Pete Richert went to Los Angeles in exchange for four players. In his lone season with the Dodgers, Robinson batted .251.

In November 1972, Robinson was part of another big trade. He was one of five players that was traded by Los Angeles to California Angels for two players. In 1973, he batted .266, playing in 147 games and hit 30 homeruns at age 37.

The next year, Robinson played in 129 games for the Angels, hitting .251 with 20 homeruns, while playing in another All Star Game. But on September 12, the Angels traded him to Cleveland Indians. In the remainder of the season, Robinson played in 15 games, hitting two more homeruns.

After completion of the 1974 season, Robinson was named Manager of the Indians, but was also asked to continue playing. With that, he became the first African-American Manager in Major League Baseball. In his first game as Manager on April 8, 1975, Cleveland played at home against New York Yankees. In the first inning of that game, Robinson hit a homerun. As first African-American Manager, Robinson opened doors for others in the future.

In both 1975 and 1976, Robinson was the Player-Manager of Cleveland. He played in 49 games himself in 1975 and in 36 in 1976, the year when he retired as player as age 40. In his 21 seasons as player, Robinson played in 2,808 games and batted .294. He collected 2,943 basehits, including 586 homeruns. Robinson scored 1,829 runs and batted in 1,812.

Robinson also led the Indians in 1977 as Manager, but was fired in June after the team was 26-31.

In 1981-1984, Frank Robinson was the Manager of San Francisco Giants. Hereafter, he worked in the front office with Baltimore Orioles, who named him Manager in 1988 when the team started the season with six losses. Robinson took over, but the team added 15 more losses. Baltimore lost 107 games and won only 54 that season, but Robinson was given the trust by the club. And so, he returned in 1989 and that became a complete turnaround for Baltimore, which then won 87 games and almost won the Division-title. Robinson was named Manager of the Year. After the team began the 1991 season with a 13-24 record, Robinson was fired.

In the following years, Robinson worked for Major League Baseball, included being the Vice-President of On-Field Operations (1999-2002). In 2002, he was chosen to be the Manager of Montreal Expos, which then was owned by MLB. Robinson also was with the Expos in 2003 and 2004 and moved with the team to Washington. There, he was the first Manager of Washington Nationals in 2005 and 2006.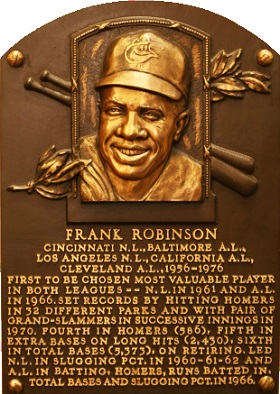 ...Robinson's plaquette at the...
...National BB Hall of Fame...

In his career as Manager, Frank Robinson won 1,065 games in 16 seasons.

After his managerial career had ended, Robinson again worked for Major League Baseball. This time, he was a Special Advisor for Baseball Operations in 2007-2009. Hereafter, he was the Special Assistant to MLB Commissioner Bud Selig in 2009-2010. Next, Robinson was Senior Vice-President for Major Operations (2010-2011) and Executive Vice-President of Baseball Development (June 2012-February 2015). He then became the Senior Advisor of the Commissioner and the Honorary American League President.

Frank Robinson also was known to being a leader in the team and on the field and was a proponent of civil rights. In 1982, Frank Robinson was elected into the Hall of Fame in his first year of eligibility, receiving 89.2 of the votes. He also has been inducted into four club Halls of Fame. In 1978 in the Orioles Hall of Fame and the Cincinnati Reds Hall of Fame, then in 2015 to the Washington Nationals Ring of Honor and in 2015 into the Cleveland Indians Hall of Fame.

Robinson is one of only two players who have his uniform number retired by three different organizations. The other is pitcher Nolan Ryan. Robinson's number 20 has been retired by Cincinnati, Baltimore and Cleveland. These three clubs also unveiled a statue of Robinson at their stadium. On November 9, 2005, Robinson was awarded the Presidential Medal of Freedom by President George W. Bush.

In a statement, Major League Commissioner Rob Manfred said: ,,Frank Robinson's resume in our game is without parallel, a trailblazer in every sense, whose impact spanned generations. He was one of the greatest players in the history of our game, but that was just the beginning of a multifaceted baseball career. We are deeply saddened by this loss of our friend, colleague and legend, who worked in our game for more than 60 years. On behalf of Major League Baseball, I send my deepest condolences to Frank's wife Barbara, daughter Nichelle, their entire family and the countless fans who admired this great figure of our national pastime.''

(February 7)