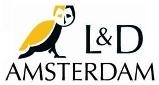 On Saturday, Amsterdam Pirates struck late, today, the team decided the game early. The team scored three runs in the first inning and led 6-0 after six innings.

With two outs in the bottom of the first inning, Amsterdam scored three runs off of starter Nick Winkel to take an early lead. With one out, Niels van Weert and Gilmer Lampe singled and with two outs, the bases got loaded when Kenny Berkenbosch walked. Hereafter, Rashid Gerard connected for a 2-run single, then the third run was scored when Max Clarijs reached on a throwing error.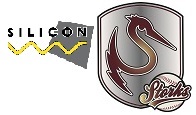 After being retired in order in the second inning, Amsterdam Pirates added a run in the third at bat, again with two outs. With one out, Denzel Richardson reached on an error and Kenny Berkenbosch singled. With two outs, the two executed a double-steal. Moments later, a wild pitch accounted for the run.
Amsterdam lifted the lead to 5-0 in the fourth when Delano Selassa hit a triple with one out and scored on a sacrifice fly by Linoy Croes.
Facing new pitcher David van Heyningen in the sixth inning, the home-team added another run. This time, Max Clarijs led off with a double, stole third base and scored on a single by Victor Draijer.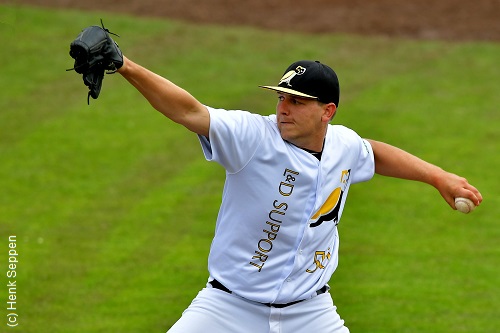 ...Jim Ploeger had a strong outing for Amsterdam Pirates...
(© Photo: Henk Seppen)

In the meantime, Amsterdam-starter Jim Ploeger threw six strong innings in which he gave up only one basehit. He didn't get a runner in scoring position, as he was supported with good defensive plays. With one out in the second inning, rookie Luuk Visser singled for Storks, but he was then eliminated in a double play.

Ploeger struckout the side in the third inning and from the second inning on, the lefthander retired twelve batters in a row. With two outs in the sixth, he hit Roy Winkel with a pitch, but he then closed with his sixth strikeout.

In the seventh inning, Mike Groen took over the Amsterdam-pitching. He gave up a lead-off single to Jurriaan Dijk, who advanced to third base on two following grounders. He was the lone Storks-runner to come into scoring position.

Amsterdam Pirates scored two more runs in the eighth inning off of veteran Jurrian Koks. With one out, Victor Draijer singled and scored on a double by Delano Selassa. With two outs, Selassa scored the eighth Amsterdam-run on a single by Niels van Weert.